Recently, on social media, news about former Deputy Minister of Industry and Trade Ho Thi Kim Thoa circulated on social media that she was arrested in France and was about to be sent back to Vietnam to take responsibility for her wrongdoings.
This single source of information was posted on Facebook by blogger Bui Thanh Hieu on November 16, but no official press has yet to confirm.
Ms. Thoa was wanted for corruption charges along with Minister Vu Huy Hoang who was arrested, but she fled to France before the main decision of the public security agency.
Blogger Bui Thanh Hieu was the person who informed the public that Trinh Xuan Thanh was kidnapped by Vietnam's security forces in Berlin and then everything was verified by the German Federal Police. Thanh was later taken back to Vietnam and convicted.
Mr. Bui Thanh Hieu is also an independent source who speaks before all international press about the abduction of journalist Truong Duy Nhat in Bangkok and in the end the truth shows that Bui Thanh Hieu's discovery is authentic and grounded.
Along with famous journalists for having sources ahead of all other mainstream newspapers such as journalists Truong Huy San, Truong Chau Huu Danh, and Le Nguyen Huong Tra, etc. Mr. Bui Thanh Hieu is followed by many people because he gives special news page style Portrait of Power blog a few years ago specializing in the internal affairs of the Communist Party of Vietnam (CPV).
Therefore, the news released by Mr. Bui Thanh Hieu was immediately spread widely on social networks. The Vietnamese side even had an online news report that Major General To An Xo- chief of the Ministry of Public Security's Office said that he had not heard of the extradition of Ms. Thoa to Vietnam.
"Regarding the incident, Vietnam's Doanh Nghiẹp  (Enterprises) newspaper reporter contacted the Ministry of Public Security to verify the incident. The representative of the Ministry of Public Security – Gen. Xo said that the ministry has not received official information about this, so it has not confirmed whether the source is true or false," according to the online newspaper Doanh Nghiep reported on the incident.
"Former Deputy Minister of Industry and Trade Ho Thi Kim Thoa was arrested by Vietnam's secret service about a week ago in France, currently detained at a Vietnamese diplomatic base in Paris and waiting for his flight back to Vietnam.
Details of this arrest will be told when Ms. Thoa returns to Vietnam," Hieu said in his first newsletter on the case.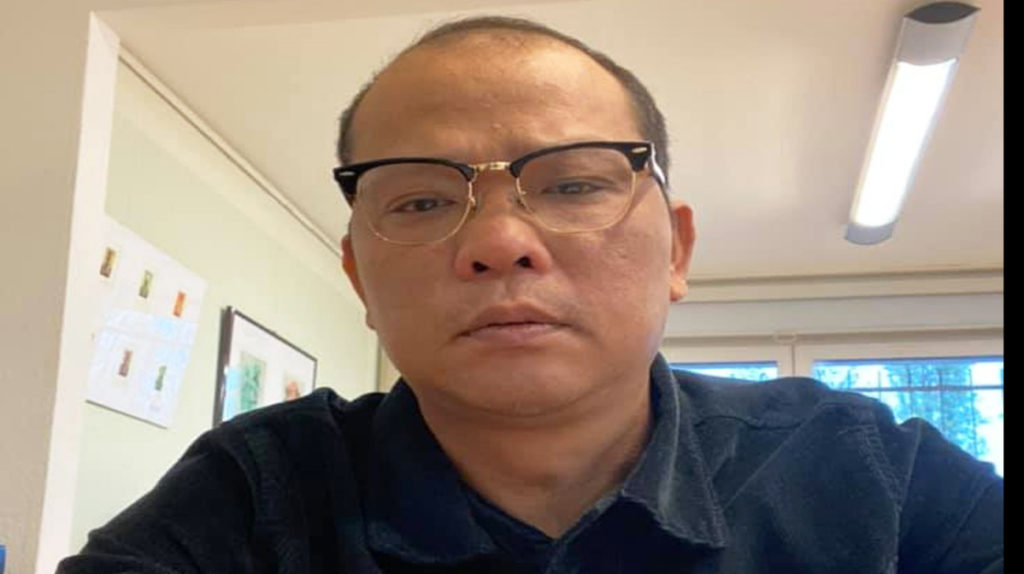 "Mrs. Ho Thi Kim Thoa is being held at the Vietnamese embassy in France, there is a high possibility that she would be sent back to Vietnam and it seems that the Macron government has been informed about this through the secret visit of the Vietnamese high-ranking official a month ago.
There is a flight from France to Vietnam tomorrow and Thoa is likely to be deported in this flight. Those who have interests in the case may learn which airport her flight to land to get pictures.
Mrs. Thoa had reportedly blood pressure fall when she got arrested. She was set to be taken back on Nov 11 but the agreement had not been reached at that time.
The group sent from Vietnam that took part in her arrest included medical doctor Le Khac Phe who was born in 1960.
Despite being warned early, Ms. Thoa was not cautious and did not believe that the Vietnamese secret service dares to arrest her in France. She did not realize that Macron had a secret agreement with Putin and would do the same with Vietnam," Mr. Bui Thanh Hieu added.
However, in the latest news, Mr. Bui Thanh Hieu said that the possibility of the extradition case has obstacles "Since her status is not clear at present, it is difficult for the French side to agree to her extradition to Vietnam."
Since July 2020, many Vietnamese outlets have commented on the possibility that former Deputy Minister of Industry and Trade Ho Thi Kim Thoa could be extradited under the new Vietnam-France extradition agreement that took effect from May 1, 2020.
The extradition agreement between the Socialist Republic of Vietnam and the French Republic was signed in on September 6, 2016 in Hanoi and became effective in early May this year.
Ms. Thoa will most likely be the first to be returned to the country under this extradition agreement.
On July 28, 2017, Ms. Thoa applied for retirement after being disciplined by the CPV's Central Inspection Commission. And after the Ministry of Industry and Trade approved her retirement from September 1, 2017, Ms. Thoa moved to live in France.
The legal conditions required by the Vietnam-France extradition agreement have been fulfilled, such as on July 10, 2020, the Police Investigating Agency of the Ministry of Public Security issued a decision to prosecute Ms. Thoa for management and use of State property causing loss and waste. On July 13, 2020, the agency issued a decision of arrest warrant against Ms. Thoa. After that, Vietnam also sent a wanted order to Interpol International.
The French-Vietnamese extradition agreement includes 24 articles. Under Article 7, each party shall designate a central authority to implement this Agreement. Accordingly, for Vietnam, the central agency is the Ministry of Public Security; for France, the central body is the Ministry of Justice.
In particular, Ms. Ho Thi Kim Thoa can be urgently arrested under Article 16 of the Vietnam-France Extradition Agreement.
However, not every urgent arrest will naturally be extradited to the country afterwards.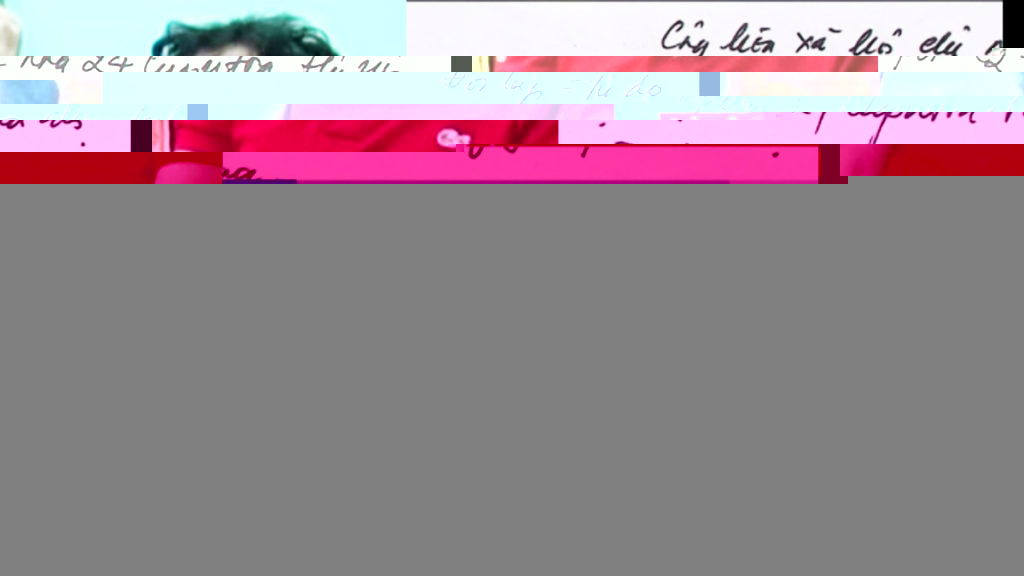 Thus, after the Vietnamese Ministry of Public Security requests extradition and Ms. Ho Thi Kim Thoa is urgently arrested, a legal battle will take place between the French Ministry of Justice and Ms. Thoa's lawyer in France.
The case is definitely not going to be simple because the right to a lawyer is a solid principle in France and Europe.
It is possible to bring the Hua Wei case when Princess Hua Wei Meng Wanzhou was arrested in Canada and requested by the US side to be extradited to investigate according to the alleged violations, in the view of the US FBI. But more than a year, the Canadian side has not yet decided to approve the extradition of meng Wanzhou to the US.
So assuming Mrs. Ho Thi Kim Thoa is really arrested in France, the possibility of extradition back to Vietnam is still a question.
After Trinh Xuan Thanh's kidnapping, the whole of Europe understood the rather illegal behavior of the Vietnamese Communist regime, so by official means of extraditing Ms. Thoa to Vietnam, there must be a lot of proceedings to be approved in the spirit of the Law of France because it is in the French territory. And the human rights principles that Ms. Thoa's lawyer will make the most of against the need for extradition of the Vietnamese state.
Before fleeing and being wanted, former Deputy Minister of Industry and Trade Ho Thi Kim Thoa had an accomplice with former Minister Vu Huy Hoang.
According to the investigation conclusion, in May 2010, Ms. Ho Thi Kim Thoa (born 1960) was appointed to the position of deputy minister of Industry and Trade.
Ms. Thoa is assigned to be directly in charge of the Light Industry Department (now Industry Department) and Sabeco Corporation.
She is held accountable to the minister for the exercise of the rights, responsibilities and obligations of the state ownership in state-owned enterprises and the State capital invested in other enterprises (including Sabeco Corporation) through the State Capital Management Division (VNMN) at Sabeco Corporation.
The Vietnam Management Office at Sabeco Corporation must report and consult in writing on the contents under the authority and responsibility of the State ownership and must be considered, decided, and directed by the Ministry of Industry and Trade.
Ms. Thoa knew that the land at Hai Ba Trung 2-4-6 (Ho Chi Minh City) was arranged, assigned the Ministry of Industry and Trade, and Sabeco Corporation (a state-owned enterprise under the ministry, with state capital accounting for 89.59%) to manage management, use, investment, and construction of 6-star hotels, commercial centers, conference centers, seminars and offices for lease and no new legal entity can be established.
However, the accused still reported to former Minister Vu Huy Hoang for approval, signed documents approving policies for Sabeco Corporation to form a joint venture or association to establish Sabeco Pearl.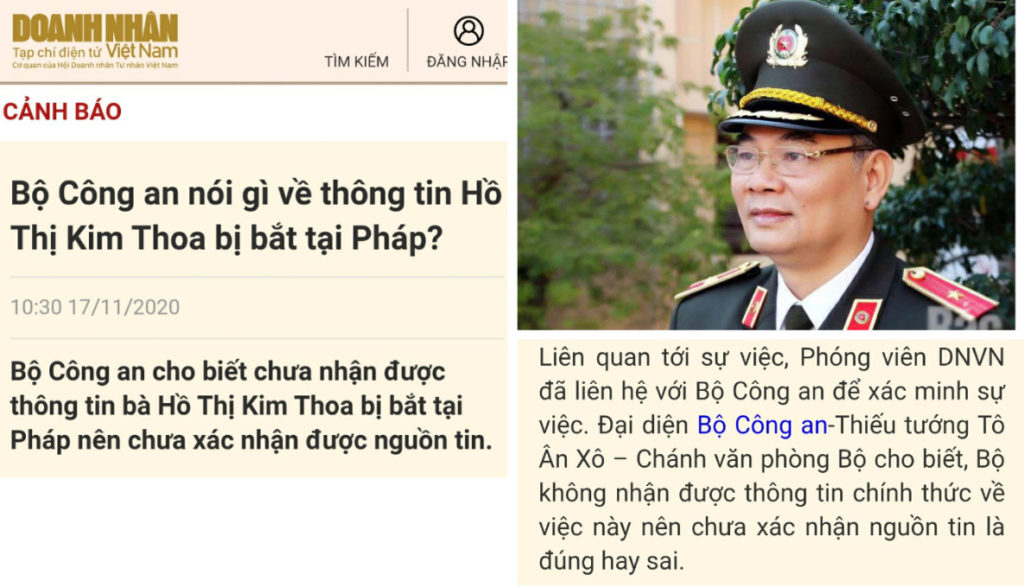 Ms. Thoa also took advantage of the arrangement of state-owned real estate facilities as a trick to gradually transfer the land use right of the 2-4-6 Hai Ba Trung land from Sabeco Corporation to Sabeco Pearl (from State property to private).
By means of carrying out the above-mentioned criminal acts of Ms. Ho Thi Kim Thoa, the land use right of Hai Ba Trung 2-4-6 (area 6,080 square meters) was transferred from a state-owned enterprise to a private enterprise.
The investigation conclusion shows that the wrong behavior of Ms. Ho Thi Kim Thoa took place for a long time, systematic, deliberately violating the provisions of the law, the guidelines and policies of the Party and State on management and use of state assets, causing particularly great damage to the state budget, constituting a crime Breaching regulations on the management of state assets which led to wasteful loss.
Thoibao.de (Translated)