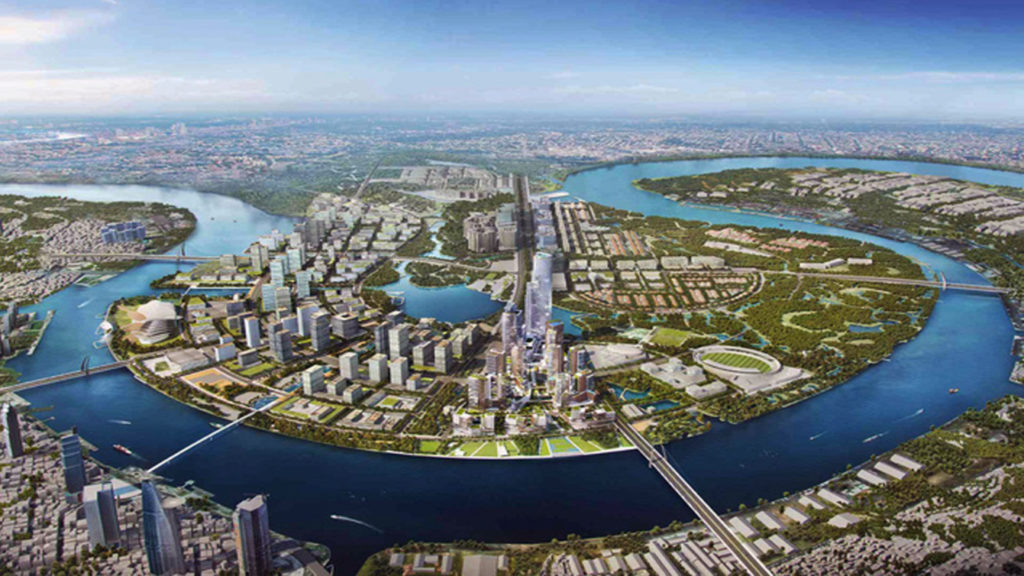 The Investment Management Board – Construction of Thu Thiem New Urban Area in Ho Chi Minh City on November 19, 2020, said it sent Report No. 917 to the city People's Committee which consists of "Results of implementing tasks in 2020 and tasks and solutions for 2021." In particular, Mr. Nguyen The Minh- head of Project Management Board said that by 2021, it will definitely solve problems related to temporary resettlement in Thu Thiem new urban area.
What do Thu Thiem people say about report of the Thu Thiem New Urban Area Construction – Investment Management Board?
Ms. Lung, a land petitioner in Thu Thiem, who once followed a group of petitioners to Hanoi to file a complaint with the Central Government about mistakes in Thu Thiem New Urban Area, when responding to Radio Free Asia on November 20, 2020 , said she is not sure that by 2021 the city government will finish:
"I don't believe it very much, but I also pray that the above blessings will be resolved soon for Thu Thiem's ​​relatives, while I do not believe it. Nothing very good, say, they talk all the time, now only the Government Inspector, the Government Office, the Central Committee for the Reception of the People's Denunciation, I still think about that side, they have a mind that they can solve. But I cannot believe in the city government anymore. When new people change, it's lucky. I hope so too, but if we went out there (Hanoi), they gave people to encourage this and that, but our relatives only trusted the Central Committee for People's Denunciation Reception, seeing this man willing to help us. We don't want to go to Hanoi because it is costly. However, we have to go."
Thu Thiem New Urban Area is a new urban development project in Thu Thiem peninsula, District 2, HCM City. To build this new urban area, the City has cleared almost the entire Thu Thiem peninsula. More than 14,000 households with more than 60,000 people have lost their homes, so the past 20 years have complained due to inadequate compensation.
Mr. Cao Thang Ca, a Thu Thiem petitioner, when talking to Radio Free Asia, on November 20, 2020, regarding this issue, said that Thu Thiem's land petitioners have no hope:
"Thu Thiem New Urban Area Project Management Board, they only manage projects that have nothing to do with the people, but what they said that is the kind of respect for their projects, and put the people then aside. They say 160 hectares for people's resettlement land … while they have lost the land. With 160 hectares of land for resettlement within 5 wards, they divided into 64 projects, sold among themselves, but nowhere else to ask the government. They added one more sentence that after having concluded their opinion, they will request the government to use administrative coercive measures. It is true that they do not need to know the people, just put their money in their pockets, leaving people to live and die.
In the report on November 19, the Thu Thiem New Urban Area Construction and Investment Management Board said that in 2021, it would coordinate to implement related recommendations and conclusions after the test results were about 160 ha of resettlement land of the Prime Minister and the direction of the city People's Committee.
Mr. Nguyen Dinh De, also a land petitioner of Thu Thiem, when speaking to Radio Free Asia, on November 20, 2020, said that the government could not finish it in 2021, because former City Party Secretary Le Thanh Hai arbitrarily changed many contents in the government's Decision 367:
"I think it will not be possible because they are entangled a lot because if we want to solve the problem of Thu Thiem, it must be based on Decision 367 of the Prime Minister to solve it. But they are based on the 1997 decision which is completely wrong. So now all directives and decisions are based on the 1997 decision to settle for relatives, but this decision itself was wrong. That is why saying 2021 will never completely solve the Thu Thiem problem. Simply because such a mistake cannot be resolved, how can it be solved in 2021, but they rely on the extremely wrong decision of Le Thanh Hai signed in 1997. For the past two decades, they have been avoiding and The 1997 decision made it unreasonable. Nothing has been solved for two decades."
In January 2020, the party's Central Inspection Commission proposed to discipline Mr. Le Thanh Hai, former Secretary of the Ho Chi Minh City Party Committee, for mistakes in the project of Thu Thiem New Urban Area. Specifically, the Standing Committee of city's Party Committee, headed by Mr. Le Thanh Hai, was irresponsible, so there were many serious violations in the process of implementing the investment project of Thu Thiem New Urban Area, causing great damage to money and property of the state, causing problems in society …
In addition, a number of other high-ranking leaders of Ho Chi Minh City were identified by the Central Inspection Commission: former Deputy Secretary of the Party Committee Tat Thanh Cang, Mr. Le Hoang Quan, former deputy secretary of the City Party Committee cum former chairman of the People's Committee; Mr. Nguyen Van Racing, former deputy secretary of the City Party Committee, former vice chairman of the People's Committee; and Mr. Vu Hung Viet, former vice chairman of City People's Committee.
In 1996, then Prime Minister Vo Van Kiet issued Decision 367 with the main contents: Scale of planning area is 930 ha, of which new urban area is 770 ha and scale 160 ha for resettlement. At this time, Thu Thiem is still in Thu Duc District, not yet in District 2 as at present.
Thu Thiem Urban Area is only one river from the center of Saigon, where each square meter of land can reach hundreds of millions of dong. However, according to domestic media, the compensation was just over VND18 million per square meter in 2009, which is considered unreasonable, because the investor whose land was then sold it for VND350 million at that time.
HCM City government has repeatedly had dialogues with the people of Thu Thiem, but up to now, the people of Thu Thiem have not been satisfactorily resolved. The latest is the announcement of the People's Committee of HCM City that will have a dialogue with the people of Thu Thiem on November 27.
Mr. Cao Thang Ca added:
"They said November 27 is expected to have a dialogue with the people. But HCM City despises the Government, announcing that it will hold a scheduled dialogue on November 27 and asking the government to do it, which is treacherous. While the Prime Minister has assigned the Government Inspector General to preside over the dialogue, only the Government Inspectorate has the right to announce the date and time of the dialogue, the right to send invitations to summon people and agencies. HCM City associations are concerned. But HCM City says they have rights, they don't consider anyone."
Mr. Cao Thang Ca said that he and the people of Thu Thiem have said it many times and have no hope, no longer have any confidence in the HCMC government. He continued:
"We only have hatred and contempt, because they are the people who do not comply with the law, do not follow the Party's policy, they only know the profit divided. We demand to prosecute the case to resolve the Thu Thiem case."
From the perspective of a knowledgeable person, lawyer Pham Cong Ut made a comment to Radio Free Asia on November 20, 2020, on this issue:
"That I hope only because they have promised the people of Thu Thiem for many years, especially recently, the Secretary of the Party Committee has promised milestones but they have already reached all but all are silent. Now they make another new milestone, just hope, but perhaps Thu Thiem land petitioners will not believe. In order to settle Thu Thiem, there are also houses that have been lost, land confiscated, outside of the planned boundaries, people sued in court … the court has lost, even though the government is now wrong. Thus, when the judgment is in effect, if it is resolved, legal problems must be resolved, because there are people who do not want to receive money but want to stay in Thu Thiem, how should they be resolved? They asked to return the land and compensate the property, while the court declared the government to win, so in addition to the practical consequences and legal consequences, what to do? Are such judgment makers considered unlawful? The administration sees it wrong, but in terms of proceedings, does the court see its wrongdoing? "
Lawyer Pham Cong Ut said that the judiciary must be thoroughly resolved, because those are unjust sentences, causing people to lose their land. So saying to settle all Thu Thiem disputes in 2021 is just a dream, lawyer Pham Cong Ut said, attributing his negative vision to many difficult barriers.
Thoibao.de (Translated)
Source: https://www.rfa.org/vietnamese/in_depth/will-gov-completely-resolve-problems-of-thu-thiem-in-2021-11202020113312.html