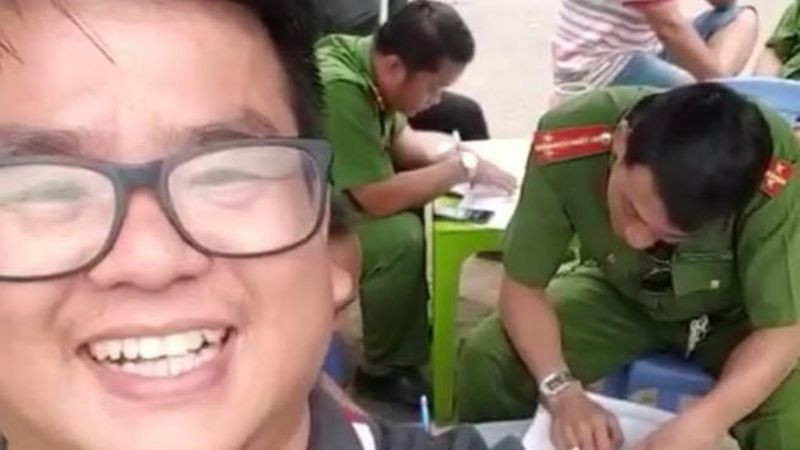 The fact that the famous Facebooker, and former journalist Truong Chau Huu Danh, was probed and arrested in the afternoon of December 17 is attracting Vietnamese public opinion.
Mr. Danh (38 years old, living in An Vinh Ngai commune, Tan An city, Long An province) was arrested on a charge of "abusing democratic freedoms to infringe upon the interests of the State, rights and legitimate interests of organizations and individuals" according to Article 331 of the Criminal Code 2015.
Danh's arrest took place right before the 13th National Party Congress and after Reporters Without Borders released its 2020 report, in which Vietnam was listed on the list of 5 countries imprisoning the most journalists in the world.
Mr. Danh used to work as a reporter at Long An newspaper, Countryside Today, Lao Dong/Labor, and Lang Moi/New Village.
In recent years, Mr. Danh has become famous on social networks after joining the movement against "dirty" BOTs with many Vietnamese drivers involving.
Mr. Danh owns the Facebook page and fan page of the same name "Trương Châu Hữu Danh" with tens of thousands of followers.
Caught on a "vague" charge?
Commenting on Danh's arrest, lawyer Ngo Anh Tuan from Hanoi told the BBC:
"Mr. Truong Chau Huu Danh was arrested under Article 331 which developed from Article 258 of the old Penal Code. I have participated in many cases like this, I know that the factors that make up this crime are very vague."
"Specifically, the two main contents are ambiguous and unproven. First, about 'Abusing democratic freedoms'- we must consider how democratic we have been, and how the defendant exploits this right."
"Secondly, as a consequence of 'infringing upon the legitimate rights and interests of the state'- what are those legitimate rights and interests?"
"For economic-related crimes, the damage from the actions caused by the accused can be measured. In cases like this, people are almost unable to measure, but only give judgment based mainly on personal senses."
"As a result, the majority of those arrested with the alleged violation of Article 331 and several other things related to national security are in fact just 'typing', not actually doing anything endanger national security as alleged by the state authorities."
Regarding the reasons for arresting Mr. Truong Chau Huu Danh, Mr. Tuan said he did not rule out "the factional fighting, but at the same time a move to suppress dissidents and other social critics."
"I see that the arrest that took place before the 13th National Party Congress could be a move for people to 'shake' each other, 'take the pulse'. I think Danh's role, in reality, might not be at this level. But since this is a sensitive time, people do not want to have dissenting voices, good news for one person but bad for another, and when it comes out it can cause an effect. Therefore, to be cautious, people can handle it, and at the same time, it is a move to intimidate other bloggers."
Anti-state posts
Mr. Danh contributed a voice in many recent hot cases such as Dong Tam, Thu Thiem, Ho Duy Hai, and many other current events.
The official Vietnamese newspapers on December 17 reported that Truong Chau Huu Danh was arrested for having "anti-state" articles on his personal page, but did not give specific examples of articles.
The VTC Now page writes without giving evidence that recently, "taking advantage of his popularity" on social networks, Danh has "written many posts on his Facebook to defame the State."
The Vietnamnet page mentioned the incident in August 2020, Truong Chau Huu Danh repeatedly posted on his personal Facebook articles related to Nguyen Hoang Trung Kien (Can Tho) who committed suicide because he was sentenced to 9 months in prison after using the bulldozer to collapse the warehouse of Thinh Phat Company. But the article on this page does not say that this is the content "anti" or not.
The Nguoi Lao Dong page mentioned the opening of the Golden Fashion Magazine branch in Can Tho organized by Mr. Danh in October, although it has not been licensed. After that, Can Tho City Department of Information and Communication issued a written request to close this branch.
In a recent Amnesty International report published by BBC News revealed that Facebook and Google are assisting the Vietnamese government in censoring criticism and suppressing dissent, Danh is mentioned as an example of a famous blogger who experienced being blocked by Facebook his article about a domestic corruption case.
What does the social network say?
Journalist Huynh Ngoc Chenh: "Journalist Huu Danh is said to have a 'neutral' political opinion who does not disagree with the government's policy lines, but he is still arrested under Article 331 which is used to imprison dissidents, human rights defenders, democracy and civil society activists."
Nguyen Quang Thach, founder of Rural Book Movement: "I met Truong Chau Huu Danh several times, especially the trip to Kontum by Phan Chau Thanh group to support Vinh Son people. We talked about struggling to act for social progress. Danh's acts against BOT, stirring officials over the past few years, contributing to freedom of speech, is also worth entering many people's memories."
Activist Pham Thanh Nghien: "There is another, quite interesting detail related to the 'marginal press' that needs to be mentioned. Yesterday afternoon, December 17, when Truong Chau Huu Danh was just arrested, some newspapers posted a message with quite similar comments, in which they mentioned the details: Danh is a member of Clean Newspaper, Driving Friends, actively fighting dirty BOT, having an influence on social networks. .. Those are the details as I mentioned above. This morning I opened the articles to review, the information above … disappeared. Only posting information related to the arrest."
Activist Trinh Kim Tien: "I am more concerned with Article 331, which is a vaguely worded law that stifles journalist Truong Chau Huu Danh's right to free speech more than wondering why he was arrested. We worked for many years to fight against, to oppose this law because it is unconstitutional and tramples on our citizenship, it continues to be used today to imprison those who dare say in society."
Thoibao.de (Translated)
Source: https://www.bbc.com/vietnamese/vietnam-55359596