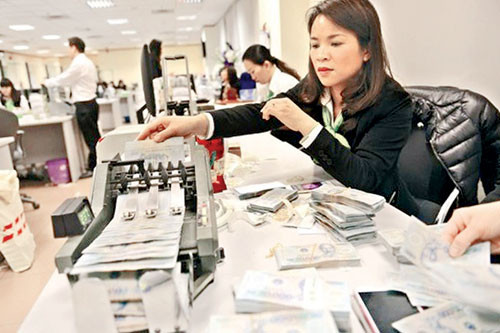 The government's Decree No. 130/2020 on controlling assets and income of persons with positions and powers in state agencies and organizations was originally expected to take effect from December 20, 2020. But according to Mr. Dinh Van Minh, director of the Legal Department, because of the complexity of the decree, it cannot be completed by the end of 2020 but will start on January 1 and be completed in the first quarter of 2021.
The new provisions in Decree 130 will allow "random verification to anyone and for no reason."
Mr. Dinh Van Minh explained that this decree will greatly aid in the prevention of corruption, as it allows agencies to control the assets and income of state officials randomly. Anyone can be verified, at any time and for no reason. Mr. Minh said that this is a warning for all those who want to hide their illegal assets.
Mr. Le Van Triet, former minister of commerce, when replying to Radio Free Asia from Saigon on January 5, said his opinion:
"I think it would not work effectively. No one declares anything while the authorities occasionally investigate wrongdoings of some state-owned firms and some state officials, taking them to court with charges "causing serious consequences due to poor management and corruption." This will lead to anywhere and don't solve anything. In my opinion, to solve this problem must be strict from the inside, from the top-down, strictly in the implementation organization."
According to Mr. Le Van Triet, if declaring but assets are dispersed or hidden, they do not declare the truth, violate the regulations and decrees on property declaration … they must be considered for strict punishment for wrongly declaring assets and transparency in property ownership.
Selecting state officers who are required to declare assets according to the Department of Legal Affairs Dinh Van Minh will be done in the form of a lottery, not all officers will have to declare assets one by one. This makes the public worry that this decree will also follow the trail of the dumping of the former requirements for state employee asset declaration.
Mr. Nguyen Khac Mai, former director of the Central Committee for Mass Mobilization, is currently a member of the founding civil society group named the People Rights, when replying to Radio Free Asia on January 5, commented:
"The issue of declaring the assets of officials have been raised for a long time, but it is done superficially, inconsistently, and formally … So people do not believe, because the declaration of illegal assets is very low, in only one or two cases of incorrect declaration, it is thought that it is a crap game to deceive the ordinary people. Because now everyone sees the leading officials from district, commune to the province, they are incredibly rich, but their declaration makes people not believe in this. They assume that this is open and formal to seem transparent, so people do not believe much in this measure."
According to Mr. Nguyen Khac Mai, first of all, it is necessary to declare the property of the people of the Politburo, who must set a clear example, in order for the people to believe. He continued:
"Secondly, in the asset declaration, there is a clear sign of corruption, where a district chairman who can build a magnificent castle must know where the money is? Their parents have a gold mine left behind, or what assets do they have to have such income … they need to clarify. The property checks for a long time, in my opinion, are not done well, done very quickly, like the case in Yen Bai province… I think they have to do some way so that the people can supervise, if the people point out a suspicious property, they must investigate to find the origin of the concerned property."
The concern of Mr. Nguyen Khac Mai is not unfounded when Decree 130 stipulates that the random verification of property declaration must still be based on the plan. According to Mr. Dinh Van Minh, for example, this year, the Central Steering Committee for Anti-Corruption identified some areas with many mistakes, corruption … only cadres and civil servants working in that field must declare. This rule is thought to be able to leave corrupted officials unpunished.
To learn more about Decree 130, RFA on January 5 contacted Lawyer Nguyen Van Hau, president of the Vietnam Center for Lawyers' Arbitration, and he explained:
"Decree 130 issued by the government to implement the Anti-Corruption Law. In the past, the property declaration is just formal. The order and procedures are always said to be very correct, state officials were said to declare very fully, on time, 99% every year. However, there was rare for someone who is punished for incorrect declaration and asset recovery is very little. And I see this decree coming out will be the legal basis to determine dishonesty and be subject to sanctions against any person.
Income asset verification has the most important purpose of assessing whether a person is honest or not. If the declarants are found to be dishonest, according to the Anti-Corruption Law and the new decree, they may be disciplined, not reprimanded as before.
From there, the violator can be disciplined, if he or she is being planned for promotion, he/she will be removed from the plan and her/his name will be removed from the candidate list. Those are very strict forms of punishment."
While it is necessary to make assets transparent so that they can be verified and recovered in case of corruption violations, in early June 2020, the Ministry of Justice issued a draft regulation on the data of the recovery of corrupt assets in the "top secret category." According to this ministry, the draft is based on the provisions of Clause 14, Article 7 of the Law on the Protection of State secrets 2018 in which, the content of information on inspection, supervision, and dealing violations, settlement of complaints and denunciations, and anti-corruption are identified under the scope of state secrets.
Mr. Nguyen Khac Mai added his opinion:
"This is a big problem nowadays, does the government dare to let the people monitor it? But with the current political institutions, there is no supervision, because the state agencies protect their own staffs."
As for the issue of general property declaration, lawyer Nguyen Van Hau said that it is necessary to revise the provisions of the law. Before a person is appointed to a position, this person must declare his/her assets honestly. It will be very transparent and will be agreed upon by the people.
Thoibao.de (Translated)
Source: https://www.rfa.org/vietnamese/in_depth/continued-regulations-that-officers-must-disclose-their-assets-01052021130059.html