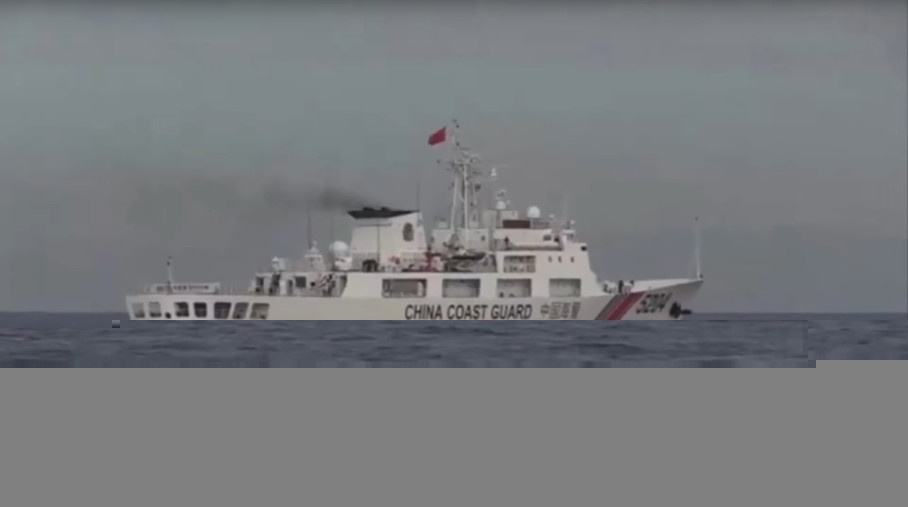 After China enacted a law allowing the country's Coast Guard to open fire on foreign ships, the two researchers told VOA that Vietnam would soon raise their objection as well as coordinate with many countries to deal with China in the new situation.
As VOA reported, on November 4, 2020, the Chinese parliament announced a bill that allows the country's Coast Guard to use weapons when necessary in the waters under China's jurisdiction. After nearly 3 months, on January 22, 2021, China passed and enacted that law.
From Hanoi, Dr. Ha Hoang Hop, a guest senior researcher at the ISEAS Yusof Ishak Southeast Asian Institute in Singapore, pointed out that what is the sea under China's sovereignty raises a big question for law enforcement.
High risk in "cow's tongue line"
Hop gave an example that China claims most of the South China Sea (Vietnamese call it the East Sea) by drawing its claim in the form of the 9-dash line, also known as the "cow's tongue line."
This is the sea area within the fierce dispute between China and Vietnam and some other countries. In addition, the US Navy has repeatedly sent ships and aircraft back and forth to assert that they protect freedom of navigation and overflight in the sea. Australia, Japan, India, and the UK have also made a few similar moves.
Therefore, Dr. Hop said that if China insists that the "cow's tongue line" is its own, and when ships of neighboring countries or of any other large and small countries enter, the Chinese coastline will shoot if necessary, that means China is about to go to war.
From Singapore, Dr. Le Hong Hiep, another senior researcher from the ISEAS Yusof Ishak Institute, shares a common view that the risk will be heightened in disputed waters, which directly involve Vietnam is the "cow's tongue line," the overlapping zone between the "cow's tongue line" and the exclusive economic zone of Vietnam, as well as the 12 nautical miles outside the Chinese-controlled entities in the Truong Sa (Spratlys).
According to Dr. Hiep, China will select whom to shoot, probably only the countries to which it is superior. He said:
"In this respect, I think Vietnam will be subject to a lot of pressure because Vietnam has more overlapping areas with China's claims, and Vietnam's activities in the South China Sea are also more active, fishermen's activities, for example. The likelihood of collisions occurring is also more likely to be the case in which the Chinese Coast Guard can justify the use of force.
According to VOA's observation, as of January 25, Vietnam has not given an official opinion on China's new maritime law.
Researchers Ha Hoang Hop and Le Hong Hiep stated that Vietnam has not spoken out yet because it is busy with the National Congress of the Communist Party but will soon react in a few days.
Do Vietnamese people study Chinese law?
On social media, many Vietnamese expressed concern about the new Chinese law and suggested that the Vietnamese government should disclose the content of that law so that people, especially Vietnamese fishermen, should be known and respond accordingly. Dr. Le Hong Hiep also agreed:
"In order to prevent incidents as well as protect lives and property of the Vietnamese people, especially fishermen, forces operating at sea, it is clear that Vietnam also needs information dissemination for people to know so that if they fall into dangerous situations, they know how to handle it."
Meanwhile, Dr. Ha Hoang Hop is inclined to the possibility that Vietnam will respond actively rather than passively. Noting that Vietnam had enacted laws before China allowing the Vietnamese Coast Guard to open fire, said Hop:
"Now, China is doing this, forcing the Vietnamese navy and the Vietnamese coast to strengthen to protect the fishermen. It is certain people do since 2014. The Vietnamese government has no policy to turn fishermen into soldiers at sea."
Some Vietnamese fishing ships or transport ships, if allowed to carry small guns, are to fight piracy, not to play the role of militia, to participate in protecting Vietnam's maritime sovereignty, Dr. Hop added.
In addition to its own moves, not only until China enacted a new law on maritime police, Vietnam has long been discussing and coordinating with other countries with national interests in the South China Sea and the Indian-Pacific Ocean region to deal with Beijing in all aspects, from politics, geopolitics, strategy, legal to defense, still according to Dr. Hop.
For his part, Dr. Le Hong Hiep said that in addition to coordinating with other countries to condemn the use of force or the threat of using force, Vietnam could include a new law on the Chinese Coast Guard in discussion and negotiations between ASEAN and China on the Code of Conduct in the South China Sea to minimize the risk of collision or situations where China may use force.
The US and other countries are still involved in the South China Sea
Foreseeing the attitudes and actions of the US and other powers towards the new Chinese law, Dr. Le Hong Hiep said:
"Countries will continue to operate as they have been. They will still take steps to both ensure freedom of navigation in the South China Sea, while at the same time rejecting China's unreasonable claims of sovereignty, which are contrary to international law. At the same time, they will take measures to reduce risks and prevent forceful situations. Everything will still proceed through the higher degree of caution."
US patrol for freedom of navigation continued under the Biden era, following the policy of the recently retired President, Dr. Ha Hoang Hop said, citing a group of American aircraft carriers entering the South China Sea on January 23, three days after Mr. Biden was sworn in.
He also noted strong messages from the US State Department regarding China's intimidation of Taiwan in the past few days. From his own analysis, Dr. Hop affirmed:
"We see nothing major or major change in the Biden administration's policy toward this region. It may change a bit in appearance at least, but in essence, I don't believe there has been a major change in the strategy announced by the Trump administration in December 2017."
More than three years ago, Donald Trump, announced the new US National Security Strategy, which focused on four major issues: protecting the US territory and the American way of life, promoting the prosperity of the US, show peace through strength, and strengthen American influence globally in a world that is more fiercely competitive than ever before.
The strategy clearly states that the US identifies its two leading rivals, Russia and China, that these are revisionist powers that want to change the status quo of the world, and threaten America's interests.
Thoibao.de (Translated)
Source: https://www.voatiengviet.com/a/viet-nam-ung-pho-ra-sao-khi-hai-canh-trung-quoc-duoc-ban-theo-luat-moi/5750481.html