Concentrated isolation of infected people (F0), close contacts of infected people (F1), and application of social measures are considered successful measures of Vietnam in previous outbreaks of the disease but caused public discontent. The shortcomings include unsanitary, lack of amenities, unfriendly treatment of the responsible person…
Escaping quarantine is like an illegal border crossing
However, at that time, the number of quarantined people was not much, the pandemic had not yet broken out in many localities, so those cries were drowned in the silence of stress and anxiety because of the epidemic. People seem to tell themselves that it is a sacrifice of a little freedom and personal utility to ensure the safety of the community.
In this fourth outbreak, from Bac Giang, Bac Ninh, and Hanoi, the outbreak spread to more than 40 provinces and cities and the number of infections continued to increase day by day, so the number of quarantined people doubled. For the Vietnamese people today, being isolated has become an obsession and fear more than the epidemic. Many people voluntarily declared their health but fled when they knew they were in quarantine. (1) Many people who sailed across the sea to escape quarantine like the old days when they crossed the border to seek asylum were arrested and fined up to VND35 million. (2)
It's only been more than a month since the quarantine has been implemented, but the story of escaping from isolation has been popular from south to north, diverse and colorful.
There is even a group of people who suffer humiliation and hide in cattle trucks to pass the quarantine station (3)
It's not that people are ignorant or deliberately opposed to the State's policy. Health and life are important things. People are afraid because of the isolation measures in the style of pursuit and destruction, it is better to kill by mistake than to miss.
Going from quarantine became more frightening than being collected, rehabilitated, imprisoned, and entered a new economy in the 1970s and 1980s. That is not an unreasonable worry but has a factual basis and is due to the way the government operates and combats the pandemic.
Outbreaks due to cross-infection
The most frightening thing is that in the official information of the Ministry of Health about the number of infections increasing daily, about 80-90% of cases are in concentrated isolation areas. For example, on June 28, there were 139 new cases of infection in the country, of which 109 were detected in isolation or blockade areas.
For localities with strong outbreaks of epidemics and densely concentrated areas, this rate is higher. Particularly impressive is that from 6:00 a.m. on June 24 to 6:00 a.m. on June 25, Ho Chi Minh City recorded 667 new suspected cases of COVID-19, of which 637 were in isolation or were blocked. (4)
In which, many people were isolated for 20 and 21 days before being infected. A person in Tan Phu district, in the company, is F0. But the day F0 worked staggered with his working day, so in reality, he did not come into contact with F0, so he still confidently declared to the locality and went to concentrated isolation. Tested twice on day 7, 14, he was still negative, but on day 21 he was positive and was transferred to treatment.
It is clear that there is cross-contamination in concentrated isolation areas. In other words, it is these areas that are the most dangerous outbreaks. It is this situation that scares people the most. If you go to concentrated isolation, you will definitely be infected. Responding to the press, Dr. Do Tien Binh, Director of the Ho Chi Minh City Department of Health also admitted that there was cross-contamination in the isolation area.
Pregnant women and children are also isolated without knowing the date of release
The second scary thing is that the quarantine period is theoretically 21 days but in practice can be extended until it, unfortunately, becomes F0. Due to the harsh mechanical calculation of the anti-epidemic agency, if unfortunately during this period of concentrated isolation, even though it has reached 21, unfortunately, in the same focus group, someone else is infected, the person being concentrated must continue isolation for a new cycle.
The case of a person being isolated for up to 53 days on the RFA is not a rare case.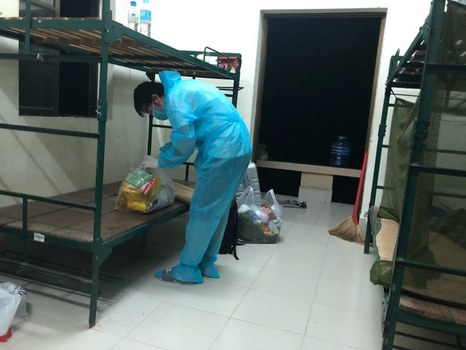 Doctor Truong Huu Khanh, an epidemiologist, is currently the Deputy Director of Children's Hospital 1 in Ho Chi Minh City, has introduced another case that is even more painful. A pregnant woman asked for advice on her case as follows: "Uncle. I am currently isolated in the isolation ward of Political Academy 2.
My case was last exposed to F0 on May 31, but so far I have not been able to return. I asked the doctor in this isolation area and was answered that because I gave birth in Tu Du from June 4 to June 7, I only returned to the isolation area, so the isolation period was calculated from June 7. Is the timing correct like that? Because I have a new baby, I really want to go home soon so that I can have enough living conditions for mother and daughter."
Doctor Truong Huu Khanh could only call out to God, "Oh my god, I contacted him on May 31, I should have returned on June 21, went to give birth on June 4, returned on June 7, counted 21 from June 7.
Go back home and count from the beginning. PEOPLE SUFFER" (5)
Imagine a mother after giving birth has to live in a dangerous environment in an isolated area, be far away from her child, lack the care of her family, and have to extend the isolation period due to the deduction of time to give birth. This seems to be the cumulative calculation of the black society lending interest on a daily basis, not a way to prevent infection.
The treatment, in this case, is both unscientific, powerful, and inhumane.
Even more painful is that on Facebook, journalist Tan Loc posted a series of photos of a group of four-year-old children who were isolated in concentrated isolation by driftwood. The children huddled in loose, shaggy insurance clothes. These images create grief, compassion, and increased horror.
With such a method, going to isolation means falling into the deadly risk zone do not know the date of return, which was scary. But more dangerous, anyone can fall into isolation at any time. The state's communication system of all kinds of media, from newspapers and websites to rudimentary, imposing means, especially fixed and mobile loudspeakers, daily and hourly crammed into listeners' ears with messages orders from local authorities, in which isolation seems to have become a punitive measure.
Due to the policy of increasing responsibility for epidemic prevention and control for local leaders, the Government has pressed to discipline local leaders for epidemics to occur.
Local leaders fear losing their positions
As a result, each province, each district, has created its own regulations. The country was not only confused by 12 warlords but also hundreds of local kings from the province to the district. Which is mainly pushed out all suspected subjects enter the concentrated isolation area. Fear of losing his job because to spread the epidemic, this district blocked people from other districts, banned the market.
Dong Nai stipulates that people from Ho Chi Minh City are not allowed to come or have to be quarantined for 21 days at their own expense. Long An stipulates that people from Ho Chi Minh City must declare and isolate at home if they have Long An household registration and must go to concentrated isolation if they do not have Long An household registration. Binh Phuoc locks down and isolates people from epidemic areas. Dong Thap banned people from Tien Giang…
On the other hand, according to the principle of chaining and traceability, when an F1 turns into an F0 (even though it may be cross-contaminated during the quarantine period), of course, their F2s will become F1 and have to move to concentrated areas. Thanh Nien newspaper reported that a case of Nghe An infection with 6,000 people is F1, and social isolation has to be carried out in two districts.
The danger of sudden concentration pervades society.
Anyone can suddenly be quarantined
The most dangerous thing is that as Dr. Nguyen Chi Dung, Director of HCDC said "there are many F0s wandering, anyone can be a potential F0", then the centralized isolation with F1 will be meaningless epidemic prevention. Not to mention, the overload of concentrated isolation areas will be an opportunity for rapid cross-infection. On the other hand, the fear of centralized isolation will pressure people to flee or make dishonest declarations, which also nullifies the goal of preventing the epidemic."
Currently, the Ministry of Health has just allowed Ho Chi Minh City and Dong Nai to pilot home isolation with very strict conditions. This half-baked solution only drains the medical profession and makes it difficult to produce the desired effect.
I think, when the objective conditions have changed, it is necessary to change the strategy, it is not possible to be conservative with the past results.
If concentrated isolation is still considered as a solution to suppress the epidemic and prevent the spread of the disease, it is necessary to consider changing the scientific method to see who needs to be isolated in concentration and screened well in the isolation area. In order to ensure no cross-infection, it is necessary to determine the exact isolation time so that the isolated person is not harmed, both physically and mentally. It is necessary to clearly show the friendly nature in isolation activities so that people can voluntarily cooperate for their own interests and lives without being afraid and coping as they are today.
Must change, really for the health of the community
Many experts have proposed to change the centralized isolation solution. Doctor Truong Huu Khanh wrote on Facebook "When F0 is still well controlled, use the F1 isolation trace test."
When F0 cannot be controlled, it is necessary to have a quick test and vaccine and most importantly, DO NOT LET the disease attack at-risk subjects, even give priority to VACCINING FOR THIS SUBJECT to reduce OVERLOAD OF DISEASE."
Military medical doctor Truong Ngoc Thang sent an open letter to the Prime Minister and related leaders, proposing some solutions to prevent COVID. "Please make medical professors and doctors who are still receiving government salaries answer the question: Nearly 14,000 people infected with COVID-19 what is the disease structure!?
– How many people actually died from Coronavirus!?
– How many people need hospital care for ICU care!?
– How many people are hospitalized just to eat, play, sleep and take common cold medicine before being discharged!?
– How many people come to the hospital just to quarantine!?"
Then, Dr. Thang proposed a new strategy of vaccinating uninfected people and treating infected people."
In short, fighting the pandemic is to protect the health of people's lives, not an achievement or a disadvantage for cadres to rise or fall.
Thoibao.de (Translated)
Source: https://www.rfa.org/vietnamese/news/blog/forced-quarantined-over-board-measure-06292021142031.html