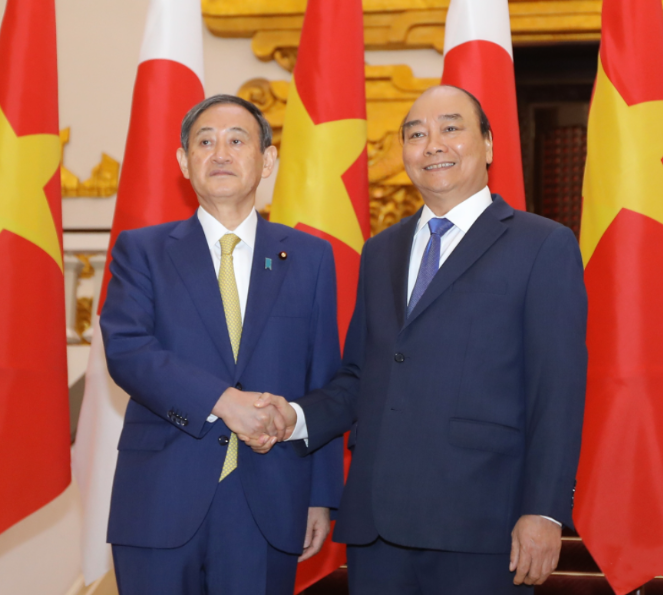 By early July 2021, Tokyo donated 2 million doses of AstraZeneca vaccine to Vietnam made in Japan: the first 1 million doses were delivered on June 16 and the next 1 million doses were delivered in two batches, on July 1 and July 8. This gift has a great meaning, "contributing to help Vietnam prevent the spread of Covid-19 epidemic in Vietnam" according to the Ministry of Health on June 29, in the context that Vietnam is looking for all vaccine supplies.
It must be said that the vaccine amount donated by Tokyo to Hanoi, accounts for nearly half of the vaccines that Vietnam receives from all sources (including the COVAX program), will soon be 5.3 million doses, of which 4.3 million doses received as of June 29. Vietnam is one of the countries in the region (Taiwan, Indonesia, many islands in the Pacific Ocean …) to receive vaccine aid from Japan in the context that China is constantly expanding "vaccine diplomacy" in the world. around the world, including Vietnam.
Donating a Covid-19 vaccine to Hanoi is also part of Tokyo's strategy to maintain influence. Vietnam is Japan's 12th largest trading partner, which Prime Minister Yoshihide Suga rated as "a valuable partner." For Tokyo, Vietnam "plays an important role in realizing Japan's "Free and Open Indo-Pacific Vision" to counterbalance its ambition to expand its influence and promote the Chinese model. of Beijing.
This is clearly shown in the first foreign trip in October 2020 of Mr. Yoshihide Suga as prime minister, succeeding Mr. Shinzo Abe who resigned due to health reasons. Mr. Suga is also the first foreign leader to be welcomed by Hanoi since the closure against the Covid-19 epidemic. The Diplomat newspaper on September 11, 2020, once commented that "no matter who is the successor of Mr. Shinzo Abe, the two countries have many reasons to expand and tighten cooperation in many fields."
Responding to RFI in Vietnamese by email on July 3, 2021, researcher NT, specializing in Vietnam's foreign policy, analyzed a number of areas where Japan and Vietnam have enhanced cooperation during the past time. recently.
*****
RFI: To help Vietnam fight the Covid-19 epidemic, Japan has given Vietnam two million doses of a vaccine against Covid-19, as well as to a number of other countries in the region. Is this Tokyo's counterbalancing strategy against Beijing's constant donation and sale of Chinese vaccines to countries in the region?
NT researcher: I personally think that Japan's recent donation of millions of doses of AstraZeneca vaccine to many Southeast Asian countries, including Vietnam, is not entirely a counterbalance to the "vaccine diplomacy" of China, because the vaccine demand in Southeast Asia is very large and one country cannot supply it alone. However, Japan still wants to maintain its influence in Southeast Asia, especially in countries with which Tokyo has strategic relations such as Vietnam, the Philippines, Thailand, and Indonesia.
In addition, Japan may also realize that although China has donated and sold hundreds of millions of doses of vaccines to the region, Southeast Asian countries are not completely dependent on China's vaccine sources, but want to diversify suppliers. Therefore, Japan's vaccine supply gives Southeast Asian countries more options, thereby increasing Japan's influence and reducing the influence that China has through diplomacy. vaccines. In addition, Japan donates these vaccines directly instead of through the COVAX Foundation, perhaps because it wants to ensure that the vaccines reach countries with which Japan wants to strengthen ties.
RFI: After taking office, Prime Minister Yoshihide Suga spent his first overseas trip to visit Vietnam, then Indonesia. What role does Vietnam play in Japan's Indo-Pacific strategy?
N.T.: Japan's Indo-Pacific vision consists of three pillars: (1) Promoting the rule of law, freedom of navigation, and free trade; (2) Promote economic development through building infrastructure and strengthen economic ties, and (3) Promote peace and stability through capacity building of states (maritime security), human resource development). Vietnam has interests and closely cooperates with Japan in all three pillars.
Both countries face a more assertive China in territorial disputes in the East and South China Seas, and thus both support a rules-based regional order, freedom of navigation and overflight, and settlement of disputes through international law, especially the 1982 United Nations Convention on the Law of the Sea (UNCLOS). Bilateral economic cooperation will be further promoted when Vietnam and Japan are both members of two major economic agreements in the region, CPTPP, and RCEP, and Japan continues to support Vietnam in improving its infrastructure.
And in the face of an increasingly assertive China, Japan has also increased its assistance to Vietnam in maritime security, such as building maritime domain awareness and law enforcement at sea. Defense cooperation between the two countries, including transfer of patrol boats, joint exercises, training, and training is for this purpose. Japan understands that once China controls the South China Sea, it will put pressure on Japan in the East China Sea. Therefore, in recent years, Japan has strengthened maritime security cooperation with countries that have disputes with China in the South China Sea, in order to help these countries build their capacity to cope with pressure from China.
RFI: Japan has built a reputation in Vietnam on economic cooperation and infrastructure construction and also has a dispute with China over seas and islands. Can this be the basis for Tokyo and Hanoi to build trust and promote cooperation in the field of defense, in the face of a China that is constantly claiming sovereignty in the region?
N.T.: In my opinion, economic cooperation and infrastructure construction are absolutely a good basis for the two countries to promote cooperation in the field of defense. In recent years, Japan has always been in the group of 5 largest foreign investors in Vietnam, many Japanese enterprises not only set up supply chains in Vietnam but also penetrated into the consumer market. Japan is also a leading provider of ODA for many fields such as infrastructure construction, human resource training, governance, legal reform, etc. Therefore, the Vietnamese government has the main credibility very high value for Japan. High political confidence will help boost defense cooperation
On the one hand, Japan supported the transfer of patrol boats to the Vietnam Coast Guard, and at the same time invited Vietnam to buy Japanese maritime patrol aircraft. On the other hand, the two countries also cooperate in training and education, non-traditional security, and policy dialogue. During the recent visit to Hanoi by Japanese Prime Minister Suga, the two countries agreed on an agreement to allow Japan to export defense equipment and technology to Vietnam. This is a big step for the two sides to continue promoting defense cooperation.
However, there are still certain obstacles. Despite recent changes in foreign policy under former prime minister Shinzo Abe, Japan is generally still bound by its pacifist Constitution, so Japan-Vietnam defense cooperation will still be only in less controversial areas such as non-traditional security, training, and search and rescue. In transferring and buying and selling defense equipment to Vietnam, Japan will have to face fierce competition from Russia and India, which are long-standing defense partners of Vietnam, and equipment from these countries often more affordable than Japanese equipment.
RFI: The Covid-19 pandemic forced many countries to change policies and diversify partners and suppliers. Can this be considered an opportunity for Vietnam and Japan to tighten cooperation to avoid dependence on China in the economic field?
N.T.: Vietnam has had a policy of multilateralization and diversification in foreign relations before and Japan is one of the partners Vietnam wishes to tighten ties with. Both countries also want to reduce their dependence on the Chinese market because they see the risks from that dependence on national security and in territorial disputes with China. Japan itself was also a victim of China's economic coercion in 2010 when China restricted exports of rare soil, an important material for Japan's high-tech manufacturing industry after bilateral relations deteriorated over the Senkaku Islands dispute.
I think the two countries will further strengthen cooperation after the pandemic in a variety of fields. In addition to prominent areas such as infrastructure construction, the two countries can promote cooperation to make Vietnam a manufacturing hub in Southeast Asia. Japan itself also has the policy to encourage its enterprises to move production and supply chains to Japan or to Southeast Asian countries. Vietnam is the most chosen destination of Japanese businesses.
However, it will be difficult for the two countries to completely reduce their economic dependence on China, especially in the supply chain, because the country still possesses a number of great advantages such as highly skilled workers, good infrastructure, diversified suppliers, and large consumer markets. In addition, the production scale in Vietnam is too small compared to China, the labor level is not high and the infrastructure is still poor.
RFI Vietnamese would like to thank researcher N. T., who specializes in Vietnam's foreign policy.
Thoibao.de (Translated)
Source: https://www.rfi.fr/vi/t%E1%BA%A1p-ch%C3%AD/t%E1%BA%A1p-ch%C3%AD-vi%E1%BB%87t-nam/20210705-vac-xin-va-chien-luoc-duy-tri-anh-huong-cua-nhat-ban-voi-viet-nam