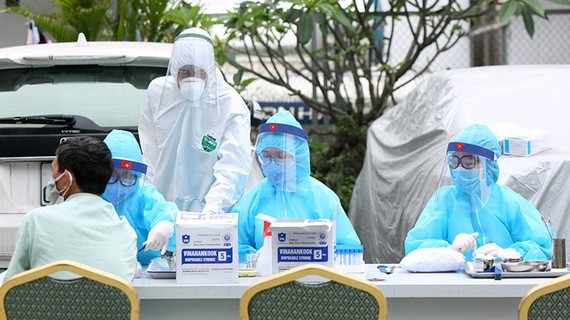 For more than a month now, Ho Chi Minh City has been considered the "epidemic center" of Vietnam. A series of unprecedentedly strong measures have been applied urgently by the government with the goal of stamping out the epidemic, at a time when it will be many months before a vaccine is available. Many doctors and nurses fear that the policy of sending all infected people to the hospital causes the health system to "abandon" many other sick people who need treatment.
Vietnam News Agency on July 7, 2021, introduced the views of some experts and hospital leaders, warning that the policy is to focus on all cases of the SARS-CoV-2 virus (or "F0" as it is called in the country) with no symptoms or mild form entering the hospital is "killing" the health system. According to Assoc. Prof. Dr. Nguyen Viet Nhung, Director of the Central Lung Hospital, this "will cause a great burden to the health sector, even risking the collapse of the hospital system due to severely overload." When the health system has to accept all the people infected with SARS-CoV-2, of which more than 90% are asymptomatic or have only a mild form that does not require treatment, hospitals will no longer have the resources to care for other patients who are in need more.
Since the beginning of the epidemic, Vietnamese authorities have isolated all confirmed cases of the virus, regardless of severity, and even "F1s", ie those who have "close contact" with infected people. However, since the end of June, the Ministry of Health has begun piloting "F1" isolation at home. Isolation at home with F0s, asymptomatic or in mild form is starting to be discussed by experts in Vietnam.
Considering the multi-dimensional opinions, about the benefits and losses in the policy for the Covid pandemic, placed in the overall health care mission of the people in general of the health sector, can help the government adjust strategic regulation of the situation to Covid more suitable to the current challenge. RFI Vietnamese introduces Dr. Phan Xuan Trung (Medic Medical Center, Ho Chi Minh City) on this issue.
***
RFI: First of all, please let me know your general opinion about the government's policy on the epidemic, especially in Ho Chi Minh City, where the epidemic is showing signs of tension.
Doctor Phan Xuan Trung: This Covid pandemic has started 18 months ago. In the beginning, it created panic because people did not understand what it was, so they tightened it, by all means, to prevent the spread. Because it is thought that when it spreads, it will increase the number of deaths, and it will exceed the capacity of the health system, even though the mortality rate may be low, but if the number of infections is high, then when multiplied, the number of deaths will be high. However, there are many policies that have been introduced that I consider excessive. While aimed at suppressing the disease caused by Covid, those policies have an impact on other diseases.
RFI: Please be specific.
Dr. Phan Xuan Trung: There are measures such as closing medical facilities, such as with Hoa Hao Medic Medical Center. When an infected case is discovered by chance, immediately raise the alarm, close the door immediately and all healthcare workers are rated as "F1" (i.e. the person considered to be in close contact with the infected person) were sent to quarantine for 21 days. Hoa Hao Medic Center serves 3,000 to 4,000 patients every day. There are also many other hospitals. First is Bach Mai hospital (Hanoi), then some hospitals in the north, and then in the south. The purpose of the medical profession is to take care of health. Now because of Covid that other patients are not getting treatment.
The second thing is, it seems that people have given too much importance to Covid disease, to the extent that with the City Hospital for Tropical Diseases, which specializes in the treatment of infectious diseases, now the State has eliminated all treatment of other types of infectious diseases, dedicated to the treatment of Covid. Are all diseases so far not as serious as Covid? And does anyone compare the harmful effects of Covid with all other diseases, which side is more important?
Another bad thing is that psychologically, nowadays, there is a situation where people believe that when they go to the hospital, Covid is ready to infect them. Until now there are many, many, many patients with serious illnesses, but because of information about Covid, they do not dare to go to the hospital for treatment, and among them, many people die. And then it's not just that. Between provinces, it is difficult for each other, so if anyone goes to (medical examination…) to return from Ho Chi Minh City, they will be isolated for 21 days, so they do not dare to go for treatment anymore.
There are many such cases that occur but are not reported in the press or in statistics. Normally, there are always a number of patients, suffering from appendicitis, heart attacks, or other serious diseases, but when there is Covid, those patients are almost "disappeared." It is not possible to say that they do not have diseases, but that those diseases are not treated.
Another fact is that "patients" called "F0" (i.e. virus carriers) are placed in treatment facilities, while it is "patients" who have no symptoms or very mild symptoms. account for 80% to 95%. Those "patients" who are admitted to the hospital take the place of real patients before, creating a false overload. In fact, there is no specific treatment. Maybe just a few pain relievers, fever reducers, or vitamin C something, after about 7 to 10 days of testing, some are found not having a virus and then released, and considered that it is a successful treatment of a Covid case.
That's wrong! Because the infected (symptomatic) person is a "healthy carrier", not a "patient." It is not right to bring in a healthy person carrying the infection to treat like a patient, while another patient is in need of a hospital bed. We know that the medical system in Ho Chi Minh City is already overloaded, patients have to lie in bed, double, triple. Now it is not known where the patients being treated go when making room for these Covid "patients." In fact, most of the hospitals are empty, because patients do not dare to go to the hospital.
RFI: In Saigon, a new policy has been introduced, with the application of the treatment model "Three-storey tower" (the "top floor" for resuscitation, the "second floor" for severe cases, and the "third floor" for mild and asymptomatic patients, using schools, dormitories, field hospitals, etc.). Is this a policy adjustment of the government to better suit the new situation?
Doctor Phan Xuan Trung: At first, people were only divided into F0 and F1 (FO is the infected person, and F1 is the person near the infected person). But then we say, F0 isn't all patients. From there, people classified into F0 type 1, F0 type 2, F0 type 3. From there, there was a separate treatment for each group. Currently, after we speak up, say it over and over again, it is found that in export processing zones and industrial zones, the number of workers up to several thousand if sent to the isolation camp, it creates terrible contagion. About 70% are converted from F1 to F0 in isolation wards. Since then, people have panicked, seeing that they should not focus on isolating F1 together. And people think about how to return to the family, the locality. Currently working in that direction. In the future, those F0 who have no symptoms will probably be sent back to their families and treated like F1.
RFI: The Vietnamese health system, in fact, has recorded that at least 80% of people infected with the virus are asymptomatic and mild, about half a year ago or even before, but not until now apply the "three-story tower" model. Is this "three-story tower" model just a stepping stone, to go to the next step of bringing F0 people who have no symptoms, or mild disease, back to their families to reduce the burden on families and the hospital system?
Doctor Phan Xuan Trung: That is the model the world has made. In America, they did it from the beginning. Before, I was quite generous, because I thought that F1, F0 were less. But more and more when the epidemic broke out, it was impossible to guarantee such isolation (in large numbers). It is impossible to make society virus-free. At some point, we have to accept that society lives with the virus, and we have to give up the goal of completely destroying the virus.
I think it is necessary to relieve that mentality for people. Because at present, the press, the media, make the image of Covid become horrible, patients do not dare to go to the doctor. Therefore, the story of F1 and F0 about "treatment" at home helps to reduce the burden on the state, and at the same time doing so is consistent with reality.
However, there is one more thing that needs to be looked at this Covid disease like other common diseases: whoever is sick can be treated. It is not possible to maintain Covid as a terrible disease, making patients afraid. Then they thought that every time they went to the hospital, they would get Covid, causing people to panic, fear, not dare to go to the hospital for treatment.
RFI: Do you have any additional comments, especially regarding the epidemic situation that is expected to become intense in the coming days?
Dr. Phan Xuan Trung: As a treating doctor, I care first and foremost about my patients. Every day I check like that normally, but now they don't have a place to check. Every day I receive many requests and complaints. There is a story about two sisters who were isolated, so the mother was not taken care of, the emergency was very hard… In Vietnam, we know that the elderly and children live in the same family, so only one of them is needed, the whole family is affected. But quarantine is not a day or two, but sometimes up to three weeks, and sometimes even more.
I would like to add that our goal is to save patients, save the health system. But in reality, the collapse of the health system is happening when the system focuses on Covid and neglects other patients. That means knocking down the health system. This is a disaster for patients with other illnesses, not just Covid.
RFI: Thank you, Dr. Phan Xuan Trung.
Thoibao.de (Translated)
Source: https://www.rfi.fr/vi/vi%E1%BB%87t-nam/20210708-vi%E1%BB%87t-nam-lo-y-t%E1%BA%BF-b%E1%BB%8F-r%C6%A1i-c%C3%A1c-b%E1%BB%87nh-kh%C3%A1c-n%E1%BA%BFu-nh%E1%BA%ADn-t%E1%BA%A5t-c%E1%BA%A3-ca-nhi%E1%BB%85m-covid
***
Note
1/ A series of strong measures were applied in Saigon, such as banning gatherings of more than three people, blocking hundreds of places, vaccinating about 1 million out of more than 10 million residents within a week, or testing 5 million people at a rate of 500,000 people/day… And from tomorrow, July 9, 2021, the government will apply the policy of "city-wide distancing" under Directive 16 of the government, which is considered a group of preventive measures at the highest level. Ho Chi Minh City is almost locked down. Traffic between Saigon and the rest of the country is strictly controlled. People wishing to enter the city must present a test certificate. The test must be repeated once every few days, depending on the regulations of the destination province.
2/ The policy of large-scale, batch-level virus testing, and the requirement to have a "passport" negative for Covid when entering and leaving the city has also been criticized by many domestic voices. is causing suffering to the people, as well as creating more environment for epidemics at the testing sites.