Many hotel owners in Nha Trang, Ha Long, Ho Chi Minh City … reluctantly had to sell properties worth hundreds of billions of dong ($1 = VND23,500) because they could not bear the debt after 4 outbreaks of the Covid-19 pandemic.
An owner of a hotel at No. 100 Tran Phu (Nha Trang City), is selling the hotel for VND245 billion. According to this owner, the sale is reluctant, because, with this offered price, he would suffer a lot of loss compared to his investment.
"My 4-star hotel's construction was at the end of 2020 but due to the pandemic, there are no tenants, while I have to pay interest for external loans. Until now, I can't take it anymore, I have to sell it or I will go bankrupt," Mr. An said.
"The value of the hotel lost about 25%, but it is still difficult to sell because few people invest a large amount of money in the hotel on this occasion, while the pandemic situation shows no sign of stopping," An added.
At the heyday of the Khanh Hoa tourism industry, a 21-storey hotel with nearly 100 rooms in a beautiful location cost no less than VND350 billion. At present, the price has decreased by 20-30%, but it is still difficult to sell.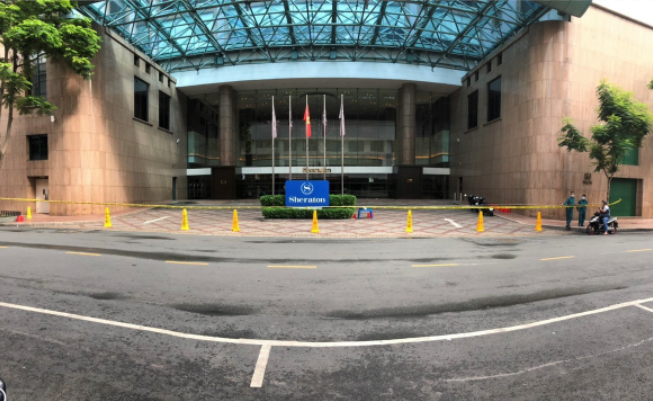 "For more than half a year now, we have cut staff from 60 people to 20, but still struggling. The remaining employees only receive 50-70% of their salary to maintain operations. The epidemic situation has not decreased, the tourism market is still frozen as it is now, so we have to think of another plan, maybe we will have to sell our shares to survive," said Mr. Hoa, owner of a hotel on Nguyen Thien Thuat street.
According to Khanh Hoa Department of Tourism, as of March 2020, the number of accommodation establishments in the province is more than 1,100 with nearly 50,000 rooms, of which three to five-star hotels are 125 establishments with nearly 24,000 rooms (accounting for nearly 45%). Up to now, more than 100 hotels and accommodation establishments in the area have applied for temporary closure.
"The owners of these establishments said they are temporarily suspending operations to reduce costs, cut losses and wait for the tourism market to warm up before reopening or wait for the name to change," the leader said.
In Ha Long (Quang Ninh), noted by Zing along the Ha Long route in the center of Bai Chay tourist area, it is not uncommon for hotels and restaurants to hang signs to stop operating. In particular, many hotels had to remove the sign and put it up for sale, but no one bought it.
Business activities of hotels in big cities such as Hanoi and Ho Chi Minh City have been heavily impacted by the Covid-19 epidemic (Quynh Danh)
Mr. Ngo Thanh Tung, the owner of Halong Smile hotel in Hung Thang ward, Ha Long city, said that in 2018 he borrowed VND18 billion from his family and bank to build a 23-room hotel. At the end of 2019, the hotel was completed and fell into the first outbreak of Covid-19 in the country.
"I thought that the first epidemic would soon pass to prepare to welcome guests in the summer of 2020. But the pandemic lasted for 3 years in a row, making me financially exhausted. Up to now, I am forced to lay off all employees and sell the hotel to pay the bank's debt," Tung said.
According to statistics of the Quang Ninh Department of Tourism, the Covid-19 epidemic has affected nearly 13,000 employees who are working directly at accommodation establishments and hotels. With the outbreak of the Covid-19 pandemic, hotels had to close or maintain only 5-7% of room capacity.
In Da Nang, thousands of motels and hotels have also been in a state of "freezing" for many months. Along the route, Pham Van Dong, Ha Bong (Son Tra district), Ho Xuan Huong, Vo Nguyen Giap (Ngu Hanh Son district) are also closed because there are no customers.
Meanwhile, according to a survey in HCM City, a series of hotels with a scale of 50-100 rooms with locations in the busiest streets of District 1 such as Pham Hong Thai, Le Thanh Ton, Ly Tu Trong, Pham Ngu Lao, Nguyen Sieu, Le Thi Rieng … are on urgent sale for VND150-800 billion.
For example, the 4-star Golden Central Saigon hotel on Ly Tu Trong Street with 120 rooms is also for sale at VND980 billion. Similarly, the owner of a 10-storey hotel on the front of Dong Du Street, Ben Nghe Ward, because needed money due to the bank, also accepted to sell at a loss, reducing the price to VND200 billion.
The hotel segment with a size of fewer than 30 rooms is also being offered for sale with prices ranging from more than VND200 billion depending on the location and condition of the hotel.
According to data from Savills Vietnam, the hotel occupancy rate in HCM City in the second quarter was only 18%. The distance measures caused the demand for hotel accommodation to decrease, 17 hotel projects were forced to suspend operations.
20-25% hotel discount
Talking to Zing, Mr. Phan Xuan Can, Chairman of Sohovietnam, said that many business and investment plans of hotel owners in 2021 were ruined due to the outbreak of the Covid-19 pandemic.
"At the end of the third pandemic, many hotel owners expect the tourism industry to be active again, especially after the holidays of April 30 and May 1, they expect quite a lot in the summer of this year. However, this year, the 4th pandemic outbreak has forced many property owners to put up for sale after being unable to bear the burden," said Mr. Phan Xuan Can.
Sohovietnam noted that in HCM City, hotel properties are traded quite slowly due to high prices, too large property values, leading to a limited group of buyers. Meanwhile, famous tourist destinations such as Hoi An, Nha Trang, and Da Nang have recorded a few successful transactions.
"The selling price of the whole market, in general, decreased by 20-25% compared to 2019 – the highest price period of the hotel real estate market. In many cases, hotels priced under VND100 billion had to be reduced by 30% due to debts," added Mr. Can.
For those who run the hotel business and also own real estate assets, this expert said there are two main groups.
The first is that large investors or wealthy individuals who own hotels are not under too much pressure on cash flow. This group is currently mainly closed temporarily to minimize costs, only paying salaries for hard workers and maintenance costs to be ready to return to a business if the circumstances are favorable.
The second is those who take out a lot of debt to buy and run a hotel business. This group is under a lot of financial pressure and needs to sell quickly to liquidate assets.
According to Mr. Can, many hotels are in need of liquidation, but there is still a "struggle" between buyers and sellers in transactions.
"Buyers now have the mentality that the tourism industry is facing difficulties, they only look for products with good location, good construction quality. Hotels under 100 billion VND have 90% of Vietnamese customers looking to buy…
On the other hand, sellers keep the psychology of the pandemic under control when people are widely vaccinated, so they want to wait, they don't want to sell if the price is too cheap, unless there is too much financial pressure." President of Sohovietnam further analyzed.
The hotel is difficult to sell and liquidate because of the high price
Mr. Eric A. Baumgartner, Founder, and CEO of Dome Hospitality (Dome Hospitality)
Talking to Zing, Mr. Eric A. Baumgartner, founder, and CEO of Dome Hospitality, a unit specializing in connecting hotel investment, said that based on current demand from both foreign and domestic investors. countries, there are four main criteria that they are setting forth.
First, investors' motivation is that they believe this is the right time to merge hotel properties. However, many foreign investors feel quite shocked at the unreasonable selling price and very low profit when operating hotels in Vietnam.
Second, investors are looking for hotels in dynamic markets or potential tourist destinations. Hai Phong, Hanoi, Ho Chi Minh City are the priority group, then Quy Nhon, Da Lat …
Third, the majority of hotels being purchased are priced between $20 million – $100 million. Some investors also look for properties up to $150 million – $200 million. Finally, there is the size of the hotel, mainly hotels with more than 80 rooms.
"Most of the hotels for sale today are overpriced. There are many reasons for that. I am well aware that Vietnam's real estate market is a special market," said Eric A. Baumgartner.
"However, in the near future, the crisis with no sign of ending will prove to us whether this market is still special or will gradually recover from a crisis like the one we witnessed overseas," forecasted Mr. Eric A. Baumgartner.
In addition, the CEO also said that sellers and buyers need to have an overview of the regional market, not just focus on the Vietnamese market.
"Foreign investors can invest in Vietnam but they can also pour capital into another country if there is a higher return on their investment. Sellers should also put themselves in the position of buyers if they really want to liquidate their assets," commented Mr. Eric A. Baumgartner.
From a buyer's perspective, he thinks they should carefully consider the importance of investing in Vietnam at this time. At the same time, they also need to have an investment strategy with time and a clear purpose before making a decision.
Thoibao.de (Translated)
Source: https://zingnews.vn/khach-san-tram-ty-duoc-rao-ban-khap-noi-post1236088.html