Many residents cried out for help amid a two-week strict quarantine in Ho Chi Minh City.
"Yesterday, the ward announced that there were three or four cases of infection in my alley. In fact, they have been in a strict blockade for the past four days. They set up a checkpoint at the beginning of the alley," Manh Hung, living in Phu My Ward, District 7, shared with BBC News Vietnamese on July 12.
He also added that, in addition to blocking the entire alley, the government also set up checkpoints to monitor the blockade in some workers' hostels. "Actually, these people are subject to three layers of blockade: a blockade of the whole city, a blockade of this alley, and a blockade of their houses. The worker's hostel is narrow but can't get in and out, so it's very tense," he said.
"But so far, the overall situation has not been so tragic. Perhaps people still have supplies to use in the first few days," added Mr. Manh Hung. "It is also unknown in the next few days what the situation will be with the families here and whether the government will provide any support."
In the Facebook group I live in District 7 at noon on July 11, a person named Dinh Thang Nguyen posted: "Currently, people in Bui Van Ba ​​neighborhood in Tan Thuan Dong ward, District 7 are in the worst time. It has been 3 days since people have not had access to essential necessities because of the state's blockade order."
According to this person's description, while the three convenience stores located inside the blockade are either closed or out of stock, people can't order outside.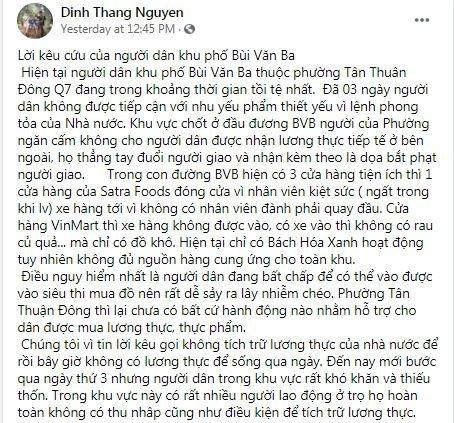 This person continued: "We believe in the government's call not to hoard food, and now we don't have food to live through. It's only been the 3rd day so far, but people in the area are having a hard time. In this area there are a lot of inn workers, they have absolutely no income or conditions to store food."
By noon on July 12, the situation seemed to have improved when people in this area said that they had begun to be able to receive supplies from outside. However, many other places still resounded cries for help.
In the midst of HCM City's application of social isolation, which is essentially a blockade, throughout the city, many alleys, neighborhoods, apartment buildings … have infected cases are also blocked. The situation of the blockade and social distance makes people face many difficulties, especially working people who have no income due to job loss during the pandemic.
For a long time, when there is a large-scale emergency such as a natural disaster or epidemic, the government's support is often slow and difficult to cover. Filling the gap are support activities from civil society, with professional or spontaneous charities of the people.
However, due to strict city-wide distance, the activities of charity groups also face difficulties and cannot be deployed quickly.
According to the Government Information fan page on July 11, Prime Minister Pham Minh Chinh has directed the organization of mobile vending carts into each alley where goods are difficult to promptly serve people.
A day earlier, this site also said that HCM City had paid a support package for more than 40,000 self-employed workers out of 230,000 eligible people, VND1.5 million ($64) each.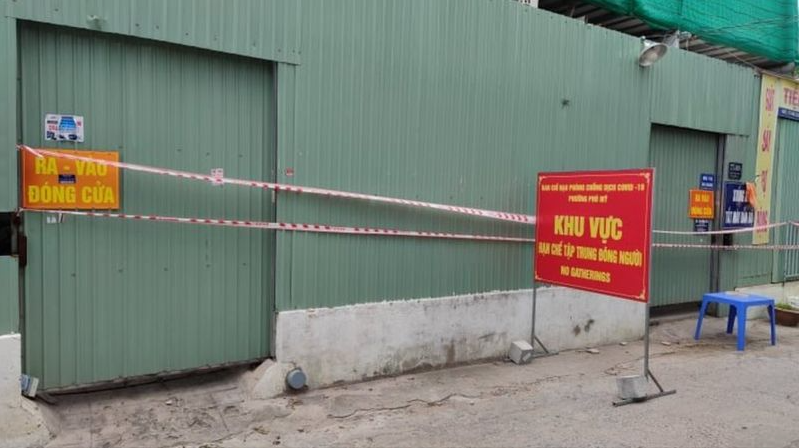 The above number is actually very small compared to the demand. And in fact, many people who do not register for temporary residence in the locality also find it difficult to receive support money.
On Facebook groups of residential communities in Ho Chi Minh City, many people still repeat the sarcastic chorus: "Get on TV!"
"In my place, poor families still have not received any money from the government. Not only are lottery ticket sellers and street vendors, but many other components are also facing difficulties, such as restaurant staff, tour guides… These people have lost their jobs for many months, their savings must have been spent," Mr. Manh Hung shared with concern.
"I and families with a little more money can give to the needy. The problem is that I'm in lockdown, I have to stay at home, so I don't know how or what form to help."
The current blockade in Ho Chi Minh City is a big challenge for many sides. While the government is straining to set up checkpoints, organize mobile testing, and support groups for people, in many places, people are too difficult to find ways to pour into the street, avoid checkpoints to go to work to earn for living.
"The number of infections is still increasing every day. I don't know if the two-week quarantine will change the situation, but the people will not be able to cope with further isolation. And so is the government," Mr. Hung shared.
Thoibao.de (Translated)
Source: https://www.bbc.com/vietnamese/vietnam-57801199