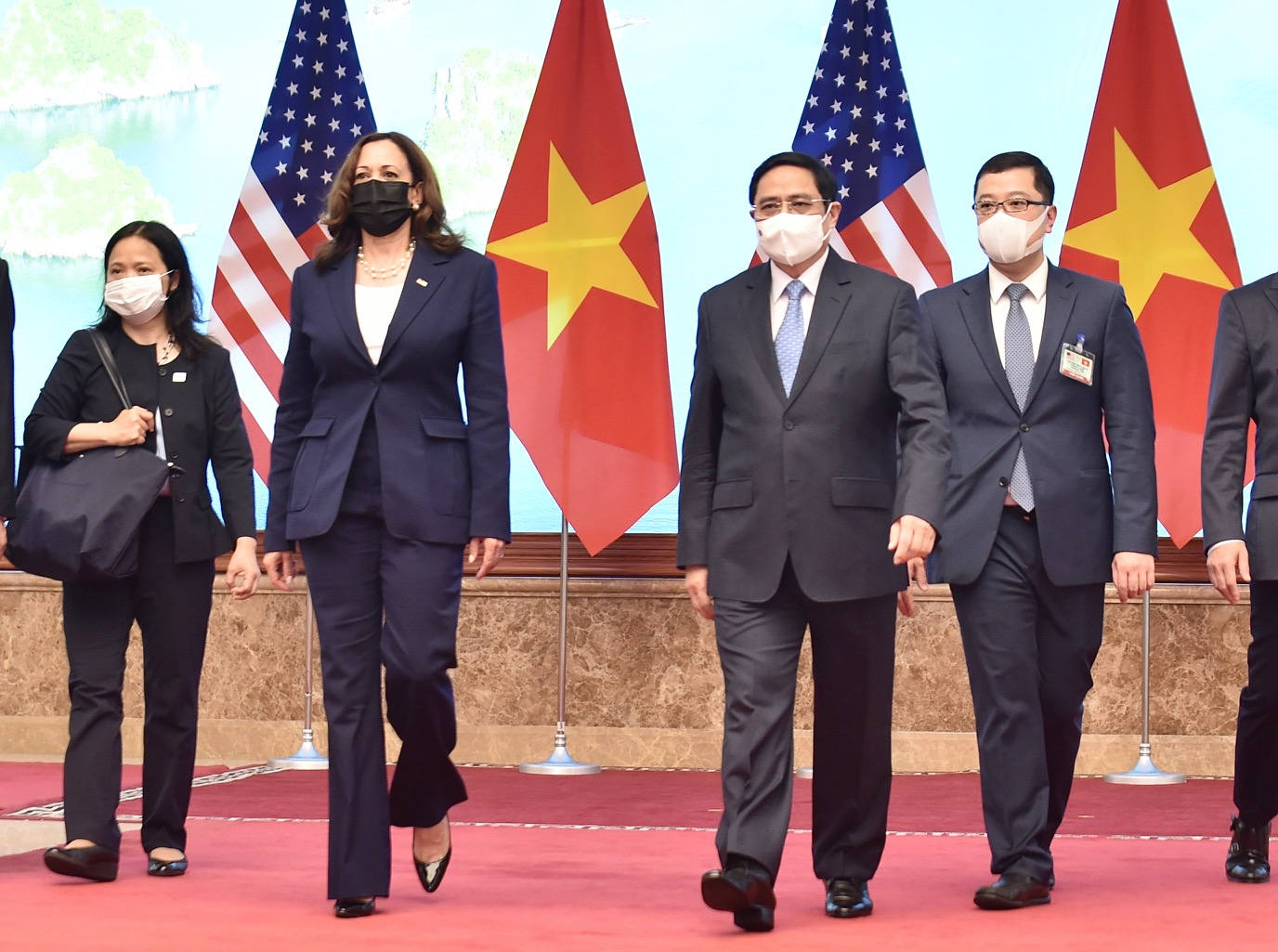 During her visit to Vietnam, US Vice President Kamala Harris expressed her wish to elevate the two countries' relationship to a strategic partnership level, but it seems that Hanoi's leaders have not yet boldly "nodded." Experts at home and abroad commented to VOA that the "cautiousnes" of Vietnamese leaders are also recognizable because Hanoi wants to keep a balance in relations between Beijing and Washington.
When meeting with Vietnamese leaders on August 25, Vice President Harris proposed to elevate relations with Vietnam from a Comprehensive Partnership to a Strategic Partnership, a diplomatic designation reflecting deepening ties between the two countries, according to AP news agency.
However, when receiving the US vice president, Vietnamese Prime Minister Pham Minh Chinh said: "Vietnam wishes to continue to develop the Comprehensive Partnership which is more substantive, effective, long-term stable, for peace and harmony, cooperation and development in the region and in the world."
At a meeting with President Nguyen Xuan Phuc on August 25, Harris called on Vietnam and the US to challenge China's "bullying" behaviors in the South China Sea (Vietnam calls it the East Sea).
It was also at the meeting with Phuc that the press was escorted out of the meeting before Vietnamese officials commented on Harris's proposal to upgrade diplomacy, according to Bloomberg.
Experts have commented to VOA that Vietnam also wants to upgrade its diplomatic relations with the United States to the level of a Strategic Partnership, but is concerned because this move will anger Beijing.
Gregory Poling, program director of the Asia Maritime Transparency Initiative at the International Institute for Strategic Studies (CSIS) in Washington, DC, told VOA via email on August 25:
"Vietnam's leaders, as always, are trying to strike a cautious balance between deepening ties with the United States and maintaining stability with China."
"Beijing is extremely concerned about the growing Vietnam-US security cooperation relationship and is putting considerable pressure on Hanoi, which can be seen this week when the Chinese Ambassador requested a last minute meeting with the Prime Minister of Vietnam," wrote expert Poling.
A few hours before Vice President Harris took a plane from Singapore to Hanoi on August 24, Vietnamese Prime Minister Pham Minh Chinh and Chinese Ambassador to Vietnam Xiong Bo held an unannounced meeting in which Mr. Chinh said Vietnam did not choose side in its foreign policy, according to Reuters.
"All of this helps to explain why Vietnam is hesitant to publicize the 'Strategic Partnership' relationship even though it already is," Mr. Poling said.
From Ho Chi Minh City, Dr. Hoang Viet, a researcher on the East Sea, told VOA:
"Vietnamese scholars and diplomats both want to elevate this relationship to a strategic partnership level…but encounter the problem of China. China is always worried that the US will entice countries, including Vietnam, to oppose China. And maybe Vietnam doesn't jump into that big country game."
"The meeting between Ambassador Xiong Bo and the Prime Minister of Vietnam also serves to remind that Vietnam should not be overstepped in its relationship with the US. And of course the Vietnamese side also understands that problem."
"It is at this moment that the relationship between the US and China is strained, if Vietnam develops a relationship with the US, it will make China suspicious and confused. That is why Vietnam is cautious and does not want to promote Vietnam-US relations to the level of a Strategic Partnership," explained Dr. Hoang Viet.
In an interview for VOA, researcher Nguyen The Phuong of the Center for International Studies, University of Social Sciences and Humanities, Ho Chi Minh, said that Vice President Harris' visit to Vietnam could help Washington strengthen its "exploration" of the possibility of upgrading its relationship to a strategic level with Hanoi in the future.
In an interview with VietnamNet on August 24, Pham Quang Vinh, former Deputy Minister of Foreign Affairs of Vietnam and ex-Ambassador of Vietnam to the US, said: "If we look at all aspects of bilateral relations, then the relationship at the regional and global level, it can be seen that all issues have stretched across politics, diplomacy, economics, science and technology, security and defense….Vietnam – US relations are already at a strategic level and broadly speaking, this relationship is both holistic and strategic."
Although it is not clear how Hanoi's leadership will respond to the US proposal, on August 26, Harris persisted in her efforts to call on regional partners to resist acts of intimidation and coercion bullying of China. Ms. Harris said at a press conference before the end of her visit to Vietnam on the afternoon of August 26:
"We will continue to work with Vietnam to repel threats to freedom of navigation and the rules-based international order."
"The United States intends to deepen our engagement and partnership with our partners and allies and further and strengthen our interests in a cooperative manner that meets together the challenges of the world. Challenges of the present moment and challenges of tomorrow."
She added: "On issues like the South China Sea, we will speak up when there are actions that Beijing takes that threaten the rules-based international order, such as activities in the South China Sea. And the particular issue is freedom of navigation, which is a matter of survival for this region. I have talked about this issue both in Singapore and in Vietnam. And we will continue to do what we can to ensure that we remain committed to our partners and allies on these important issues."
Poling hopes "Vice President Harris brings the message that the US wants to go in that direction, and I hope Washington will continue to push Hanoi diplomatically."
"But Vietnam must also be aware that Vietnam must carefully evaluate the benefits and disadvantages of implementing such changes because China will probably take countermeasures for this change," Mr. Poling warned.
Chinese state media strongly criticized Harris's trip to Vietnam, calling it a trip that "sows discord."
China's Global Times page on August 25 wrote: "The US dreams of inciting Vietnam to confront China. For Washington, there is nothing better than a new war between Beijing and Hanoi. Ms. Harris proposed raising the US-Vietnam relationship from Comprehensive Partnership to Strategic Partnership. She expressed support for sending Vietnam another US Coast Guard patrol boat, to help protect its security interests in the South China Sea."
The mouthpiece of the Communist Party of China continued: "The US wants to use the term 'bread and circus' to lure Vietnam into a strategic confrontation with China that Vietnam simply cannot afford."
"This means Washington is treating the Vietnamese like idiots. Such an attempt is an insult to Vietnam's basic political intelligence," said the Global Times.
Thoibao.de (Translated)
Source: https://www.voatiengviet.com/a/chuyen-gia-b%C3%A0-harris-de-xuat-nang-tam-doi-tac-chien-luoc-vietnam-de-chung/6016864.html