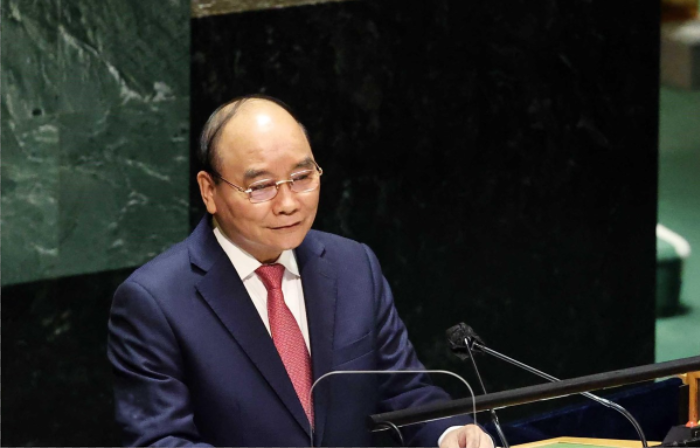 On September 23, Vietnamese President Nguyen Xuan Phuc called for international support for Vietnam's seat of the United Nations Human Rights Council (UNHRC) 2023 that Hanoi is aiming for.
Speaking at the high-level joint discussion session of the 76th UN General Assembly in New York, USA, President Nguyen Xuan Phuc said:
"With the desire to continue to contribute to the common work, Vietnam is running for the Human Rights Council for the term 2023-2025 and other important UN mechanisms, and wishes to receive the support of other countries."
Overseas Vietnamese protest in front of the United Nations Human Rights Council in Geneva, Switzerland, in November 2018. Vietnam has just announced its candidacy for UNHRC membership despite a human rights record that the international community considers "poor."
Previously, in February this year, Deputy Prime Minister Pham Binh Minh announced that Vietnam would be running for the position of UNHRC member for the term 2023-2025 as a candidate for the Association of Southeast Asian Nations (ASEAN).
Vietnam first became a member of UNHRC in 2014 for a two-year term, after obtaining 184/192 votes in November 2013.
The UNHRC, composed of 47 member countries, is elected directly by secret ballot, according to the principle of equitable geographical distribution, by majority. This organization has just elected 15 new members in the last election in October 2020, and the next round of elections will take place later this year.
Vu Quoc Ngu, director of the Hanoi-based Defend the Defenders, wrote to VOA on September 24 stating that the Socialist Republic of Vietnam regime "does not deserve to be a member of the UN Human Rights Council" due to its systematic and ongoing violations of fundamental human rights."
According to Defend the Defenders, "there are currently more than 260 prisoners of conscience being held in prisons or detention centers across the country."
However, Mr. Ngu said that Vietnam, like China and many countries with poor human rights records, can still become a member of UNHRC just because the organization has 47 member countries and is elected on a rotating regiona; basis.
"Vietnam used to be a member of this organization during the 2014-2016 term, however, during this period, Vietnam's human rights record was not been improved," said Mr. Ngu.
"If there is self-respect, Vietnam will not run for UNHRC before it carries out political reform and stops its human rights violations," Mr. Ngu suggested.
Lawyer Vu Duc Khanh, who follows Vietnam's situation from Canada, welcomed this move by Vietnam and appreciated "Vietnam's efforts in protecting and promoting human rights in the context of both anti-coronavirus COVID-19 pandemic, while taking care of people's health, maintaining economic growth, maintaining security, safety and social order." However, Mr. Khanh stated to VOA that "Vietnam's human rights records in the last 10 years are very concerning".
"The Vietnamese government relentlessly criminalizes political expression, stifles the voice of the people, and clamps down on independent journalists and dissidents," lawyer Khanh wrote.
Vietnam's state-controlled media reported that some overseas websites have "distorted" the situation in Vietnam, "denied" Vietnam's human rights achievements, and "slandered" Vietnam's incompetence to be elected to the United Nations Human Rights Council.
"Many propaganda articles, slandering the Vietnamese regime and government, slandering Vietnam for violating freedom of speech and infringing on human rights," the Voice of Vietnam (VOV) website wrote.
The VOV website quoted Lieutenant General Nguyen Thanh Son, Director of the Department of Foreign Affairs (Ministry of Public Security), Chief of the Standing Office of the Government's Steering Committee on Human Rights, as saying that "these misrepresentations go against the facts of the situation in Vietnam."
International human rights lawyer Kurtulus Bastimar (left) has submitted the case file of Pham Doan Trang (right) to the United Nations Working Group on Arbitrary Detention (UNWGAD), and he said he will receive a ruling in September 2021.
Vietnamese media believes that the candidacy for UNHRC member for the term 2023-2025 has shown Vietnam's desire to contribute to the world's common efforts to promote and protect human rights, and at the same time, promote and protect human rights. Hanoi's leaders also affirmed that "Vietnam is completely worthy" to run for this organization.
In early 2021, the Office of the United Nations High Commissioner for Human Rights (OHCHR), voiced concern about the use of "ambiguous legislation" in Vietnam in the arbitrary detention of an increasing number of journalists, bloggers, commentators and human rights defenders, as well as showing the government's "growing repression" of freedom of expression in the country.
OHCHR cited a case where the Vietnamese government arrested and sentenced members of the Independent Journalists Association of Vietnam to long-term prison sentences, including Mr. Pham Chi Dung, Nguyen Tuong Thuy, and Le Huu Minh Tuan.
In addition, OHCHR urges the Vietnamese authorities to stop using such serious criminal charges against individuals exercising their fundamental rights, especially freedom of expression; and at the same time demand that Vietnam unconditionally release all those who have been detained under similar circumstances.
Thoibao.de (Translated)
Source: https://www.voatiengviet.com/a/vietnam-van-dong-quoc-te-cho-ghe-thanh-vien-nhan-quyen-lhq/6244025.html