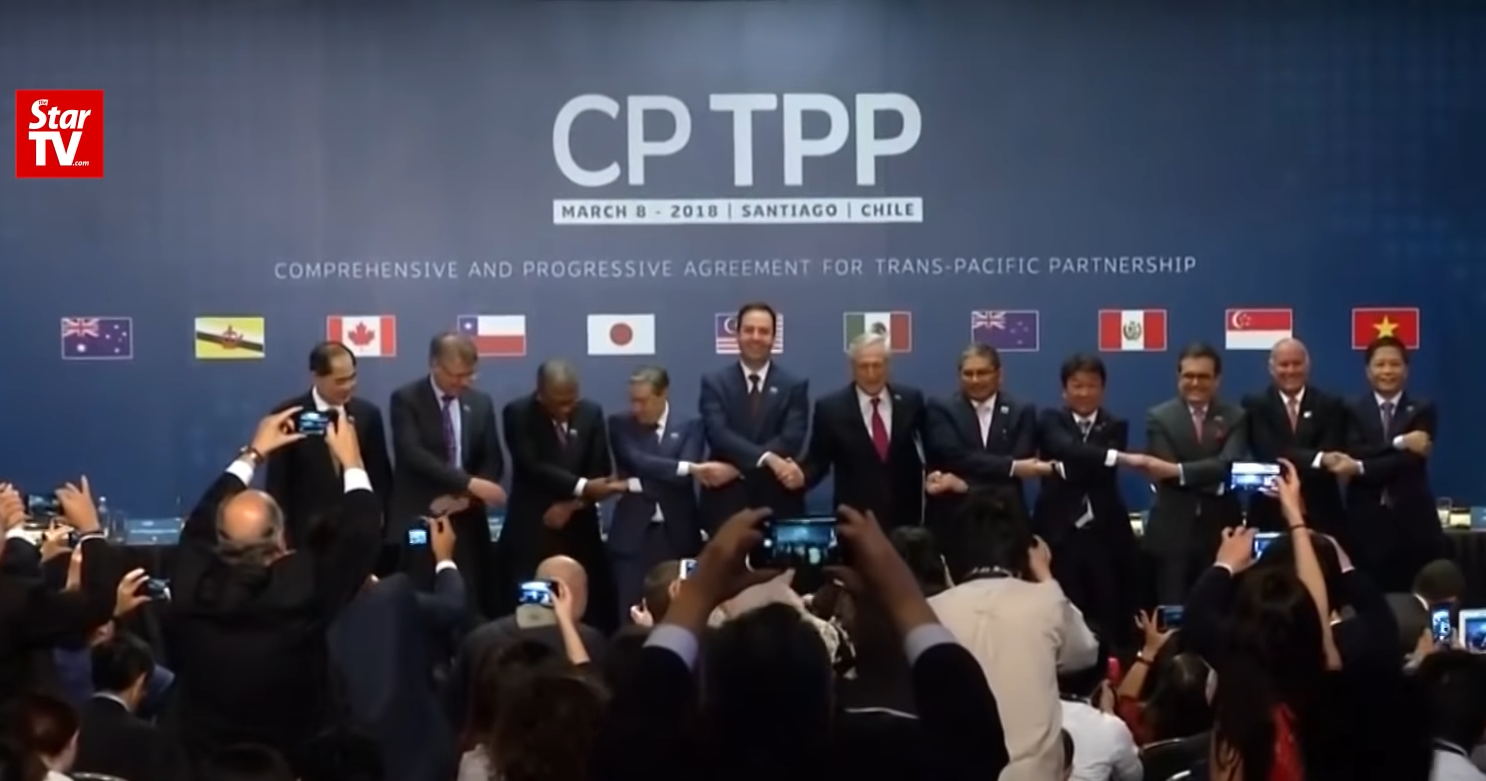 China submits application to join CPTPP
China has applied to join the Comprehensive and Progressive Agreement for Trans-Pacific Partnership (CPTPP), China's Ministry of Commerce said on September 16. Beijing's move comes as the world's second-largest economy seeks to increase its influence over trade in the Asia-Pacific region and around the world.
It is worth noting that this application for accession comes just a day after the US, UK and Australia established a new trilateral security alliance in the Indo-Pacific, named AUKUS, to protect the interests of the l three countries and allowing the parties to share more in defense capabilities, a move that Beijing strongly criticized.
What is CPTPP?
CPTPP is a new generation trade agreement signed by 11 countries in 2018, including Canada, Mexico, Peru, Chile, New Zealand, Australia, Japan, Singapore, Brunei, Malaysia and Vietnam.
This agreement officially took effect from December 30, 2018 for the first group of 6 countries to complete the procedures for ratifying the agreement, including Mexico, Japan, Singapore, New Zealand, Canada and Australia. Previously, the CPTPP was known as the Trans-Pacific Partnership (TPP) and was considered an important economic playground to counterbalance China's influence in the region. New Zealand now acts as a depositary for the CPTPP. The Government of Wellington handles various administrative tasks for this agreement including receiving applications for new members.
During its existence under the TPP format, this trade framework played a central role in former US President Barack Obama's "pivot" to Asia strategy. However, the Donald Trump administration pulled the US out of this framework in 2017. Speaking at the Asia-Pacific Economic Cooperation summit taking place online in November 2020, Mr. President Xi Jinping stated that China "wants to consider" joining the CPTPP. Joining the CPTPP will be a huge "bump" for China after it signed the 15-member Regional Comprehensive Economic Partnership (RCEP).
Will China be approved?
To be ratified, China will need the unanimity of all 11 members of the agreement. As the country that will act as the chair of the CPTPP this year, Japan has said it will consult with member countries about Beijing's application to join, but Tokyo has not given any indications for timeframe for this consultation process. Responding to the press on September 17, Japanese Economy Minister Yasutoshi Nishimura mentioned the issue of standards: "Japan believes that assessing whether China is ready to meet the very high standards of the CPTPP or not, is very important. As a 'leading' economy of the CPTPP, Japan claims that compliance with the CPTPP's high standards will be a prerequisite for China to enter the rounds negotiations for their CPTPP application.
Wendy Cutler, a former deputy US Trade Representative, commented: "Because the state plays a dominant role in the economy, Beijing seems to be looking to avoid issues related to regulation and the high standard which is based on the market operation to which the CPTPP applies. It is the responsibility of the candidate to demonstrate their willingness to comply with the existing high-standard rules of the CPTPP as well as their willingness to comply with the commitments on comprehensive market access." According to this female economist, China's application to join the CPTPP is a new move that shows why Washington needs to step up economic and trade engagement with the Indo-Pacific.
Under Xi Jinping, China has strengthened its state-owned enterprise sector, so the first negotiations to join the CPTPP will face huge obstacles.
In addition to the issue of state-owned enterprises, China also has difficulties with its internal regulations such as a new data security law that Beijing implemented this September that prohibits the transfer of sensitive data outside its borders. CPTPP member countries may not be "interested" in this law. The CPTPP has three principles to ensure transparency and fairness in the distribution of data, including a provision that prohibits companies from disclosing source code. In China, foreign companies have been forced by local authorities to disclose technology in order to obtain a license to operate locally.
In addition, the CPTPP also calls for an end to discrimination between foreign and domestic companies in government procurement. Meanwhile, Beijing has issued "buy Chinese goods" guidelines for government procurement of certain products. The guidance requires "100% localization" for hundreds of products in the country's government procurement, creating new barriers for foreign suppliers.
Therefore, the path to becoming a CPTPP member will be difficult when China still puts its interests first.
What motivates China to join the CPTPP?
According to Dr. Pham Sy Thanh, China's application to join the CPTPP presents many different implications. (first)
Domestically, the application for accession helps "affirm the foreign economic policy pursued by Xi Jinping as well as calm domestic public opinion about China being surrounded by the US due to its tough policies."
Strategically, in the context of the tension of the US-China competition, has "created a wave of factory relocation away from China. This is a threat to the country's position in the global production chain." Therefore, this is also a way for China to "emphasize tightening supply chain ties with neighboring countries and reshaping regional supply chains in China's favor." If joining the CPTPP, China will certainly have an important position, and that will help "China shape the new rules of the game in global trade the way it wants."
In addition, if becoming a member of the CPTPP will of course "help China maintain its image as a free-trader promoter, strengthen its leading diplomatic position in the region, and prevent the United States from rallying its forces to eliminate or contain China in the new rules of the game."
What should Vietnam do?
According to the 2019 Report of the Peterson Institute for International Economics (PIIE), China's participation in the CPTPP will increase global real income by $632 billion per year (for the next 10 years), that is, by $485 billion per year (0.57% of global GDP in 2020) compared to without China participating. (2)
Dr. Can Van Luc and the authors of the BIDV Training and Research Institute (3) said: If China joins the CPTP, Vietnam will be one of the four countries that will benefit the most when real national income increases by $16 billion per year (compared to China not participating in the CPTPP).
However, also according to Dr. Can Van Luc and his research team, because both Vietnam and China are already members of free trade agreements (FTAs) such as ACFTA (between ASEAN – China has effective since 2003) and RCEP (including ASEAN, China, Korea, Japan, Australia, New Zealand; signed on November 15, 2020, awaiting ratification to take effect), the possibility that Vietnam benefits from China's accession to CPTPP in reality will not be as estimated.
Not to mention, if China participates, with China's huge capacity in all aspects, the competitive advantage will be tilted towards Chinese enterprises, so Vietnam will not benefit much.
In addition, Vietnam is already heavily dependent on China economically, which wants to join new-generation FTAs ​​such as CPTPP and EVFTA to get rid of China's "shadow." If China joins the CPTPP, with its strength and position, China will play the role of leading this bloc according to China's will. Thus, Vietnam risks sinking deeper into China's dependence.
In addition, as of August 2021, Vietnam has officially joined 15 different FTAs, including two new generation FTAs ​​- CPTPP and EVFTA. However, Vietnam's ability to take advantage of these FTAs ​​is still very poor. According to the assessment of the WTO Center (VCCI), Vietnam has only taken advantage of about 37% of the incentives offered by FTAs ​​on average, due to many different reasons. For example, in 2019, only 1.67% of Vietnam's exports to CPTPP countries took advantage of the agreement's tariff preferences. This utilization is not only low compared to the average utilization rate of 37.20% for all of Vietnam's FTAs ​​in 2019, but also low compared to the utilization rate in the first year for many other FTAs, many Vietnamese businesses still lack information related to CPTPP and EVFTA, so they have not been able to take advantage of these two agreements. Therefore, it is required that Vietnam improve its capacity, especially focusing on institutional reform. Otherwise, even if it participates in many FTAs, it will not bring much economic benefit to Vietnam.
Thoibao.de (Translated)
Source: https://www.rfa.org/vietnamese/news/blog/how-will-vn-be-affected-if-china-admitted-to-cptpp-09192021204923.html