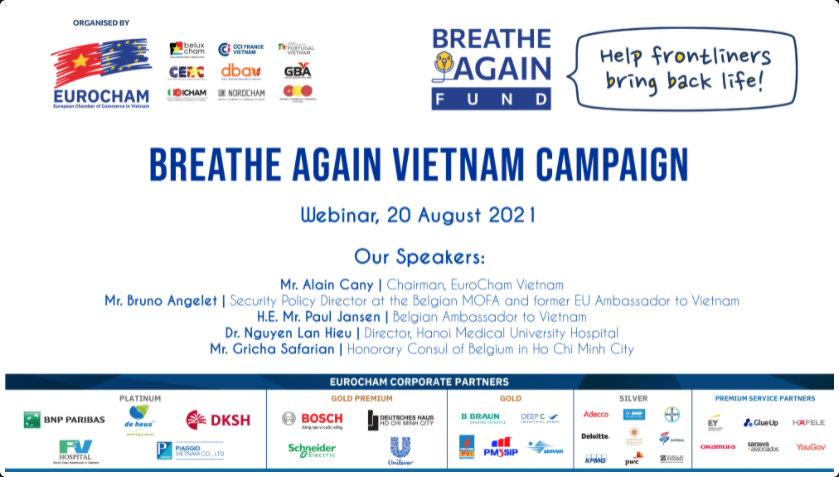 The European Union is the leading region in donating Covid-19 vaccines to Vietnam with nearly 8.6 million doses in just over a month, from mid-August to September 28, 2021, through the COVAX mechanism and bilateral aid. Helping Vietnam fight the epidemic, stemming from the spirit of mutual love, is also an opportunity to "repay" and is in the interests of many European countries because Vietnam is currently the bloc's largest trading partner in Southeast Asia and has a Free Trade Agreement (EVFTA) with the European Union.
To get the above results, it is necessary to emphasize the role of the European Chamber of Commerce (EuroCham) and more than 1,100 member enterprises operating in Vietnam. At the time when the outbreak in Vietnam affected the production line, while the central and local governments were also passive before the devastation caused by the Delta virus variant, the EuroCham member enterprises themselves, combined with the diplomatic missions of their countries, have reflected the situation in Vietnam to governments in Europe. At the same time, they support the fundraising initiative in Vietnam of Mr. Gricha Safarian, founder and general director of Puratos Grand-Palace Vietnam.
EuroCham acted as an intermediary to set up the fund. On August 17, the Breathe Again Fund (Breathe Again Fund, https://breatheagain.fund/) was officially launched for all European businesses and individuals to contribute. As of October 3, the Fund has collected 1,138 million euros, of which 670,000 euros worth of medical equipment and supplies were sent directly to the recipients by member sponsors EuroCham.
Responding to RFI in Vietnamese on October 30, Ms. Delphine Rousselet, managing director of EuroCham Vietnam, said that this is a way for countries, as well as European businesses, to stand side by side with Vietnam to fight the pandemic.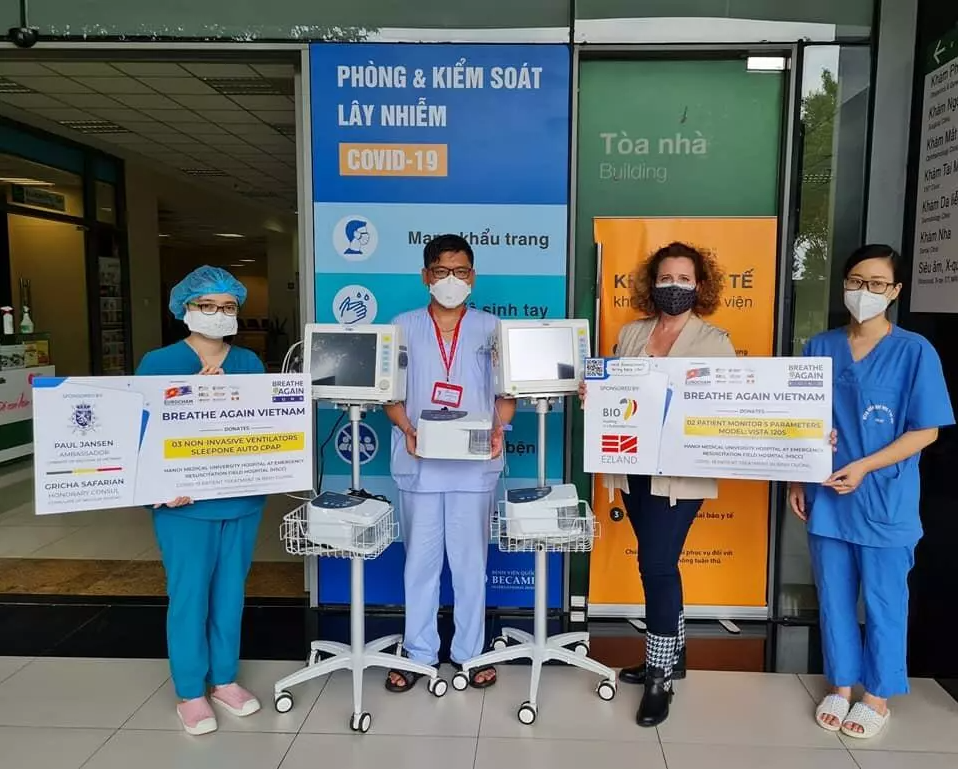 RFI: In what context was the Breathe Again Foundation born and for what purpose?
Ms. Delphine Rousselet : EuroCham is a business association with more than 1,100 member companies, including many European corporations, as well as small and medium enterprises or private companies. By the time I took over as CEO of EuroCham on July 5, the pandemic situation in Ho Chi Minh City had become very difficult. I have never met my colleagues and only work online, remotely with them. I give this personal example to illustrate the very special situation in HCM City.
Around mid-July, when discussing with EuroCham President Alain Cany, I told him that something must be done to support Vietnam. EuroCham has been operating in Vietnam for nearly 25 years, we have been trying to support our staff and members during the pandemic, so we feel we must help Vietnam. Fortunately, EuroCham is known and respected by the Vietnamese government. That credibility gives us the legitimacy and reputation to mobilize people to support our action campaign.
We realize that among EuroCham members, including large European corporations operating in Vietnam, there are many businesses that want to do something for Vietnam during this crisis but often don't know what to do. how to do it because it's not just about spending money, but also having to find a suitable way to donate.
Why do I say so? That's because Vietnam recently set up a vaccine fund to prevent Covid-19 but it is managed by the government, while most large French corporations have strict rules, absolutely prohibiting giving to governments. This is also prohibited in many European statutes. So even though these companies have conditions, they do not know how to do it, or are not transparent enough according to the regulations set out by the headquarters in Europe.
So EuroCham introduced the Breathe Again project, explaining to them that it would be absolutely transparent. We open a bank account specifically for these donations and contributions. We emphasize transparency with EuroCham members so they can use the Vietnam support fund with confidence and it's also convenient for the beneficiary, usually hospitals. However, for now, it is still mainly hospitals in the south because this is the area that has been hardest hit by the epidemic in recent months and is also the area where the majority of EuroCham members operate. Many EuroCham member industrialists produce around HCM City, such as in Binh Duong, Dong Nai or Ba Ria-Vung Tau…
We contacted hospitals in the south directly in advance to find out their medical equipment needs. Because the epidemic situation changes very quickly, the needs also change, for example, 5-6 weeks ago, hospitals needed ventilators mainly, but from 2-3 weeks now, they need monitors, even now they want medicine. But it is not easy to buy medicine in Vietnam. We're trying but haven't done it yet.
In short, we try to meet many needs at the same time in the current context. The first is, of course, the demand from Vietnam and hospitals. Next is the need of EuroCham members, who want a transparent channel to support and rest assured that the equipment and aid money is used for the right purposes.
RFI: The fund was launched on August 17th, how is the donation used? Can member businesses make direct material donations?
Ms. D. Rousselet : There are two points to be mentioned here. On the one hand there are businesses, even individuals, that donate money. It all went into the account we opened for the Breathe Again Fund. On the other hand, we have members who are big companies who want to donate directly to some hospitals, because they operate near those hospitals, for example, so they want to give gifts directly without going through Breathe Again Fund's account.
This is of course no problem. It is important that aid equipment is delivered straight to the hospitals. If you include the value of the equipment that goes directly to the recipient without the intermediary of EuroCham, the campaign has now raised more than 1.1 million euros (as of the interview date September 30, 2021). We set up a website with three meters totaling donations and spending. This website is updated regularly.
RFI: What role does EuroCham play in fund management and distribution of donated equipment?
Ms. D. Rousselet : One of our principles is "transparency" as I said above. In addition, we follow the principles of "quick" and "effective" to get real impact. We don't want to sit around waiting, wait until we reach a certain amount of money, and then rush to buy equipment all at once. On the contrary, we want to buy and give away as quickly as possible, as soon as there is an amount of money.
And to ensure the campaign's effectiveness, we had to immediately find the equipment available. Therefore, we are in contact with many distributors and importers of medical equipment, mainly European brands of course, to get stock in stock that they can deliver immediately. We do not want to wait for import from Europe because it takes more time for shipping, customs clearance…
We contacted a total of about 12 distributors and importers, asking for their quotes and stock situation. All of this information is compiled into an available document, and then contacted with hospitals in the area. For example, they say that they need monitors, we will look in the database to see which company imports and distributes that device, or which company says it is available, model, price, payment conditions. … That means we have all the information on hand so we can act quickly. Of course, we also haggle for a fair price.
When negotiating a purchase, we add a provision that requires the supplier to deliver the purchased equipment to the beneficiary hospital. On the delivery date, we must arrange to be able to come to the place to track. This is the principle of transparency that I mentioned above. We needed to check that the equipment we donated to the hospital was new, in good working order, meaning we didn't have to donate any. We recommend that the hospital side check carefully before signing the official award certificate. EuroCham has people attending in person, currently mainly me due to the anti-epidemic distancing measures, to make sure everything goes well, the equipment is up to standard and there are no problems.
RFI: At the same time as EuroCham established Breathe Again Fund, many European Union countries also donated vaccines to Vietnam. Is it a coincidence, or does EuroCham play a role?
Mrs. D. Rousselet : Of course yes. We have close relations and work with all the representatives of the countries in the European Union, that is, ambassadors, consuls generals, chambers of commerce. Right from the beginning of July 2021, President Alain Cany together with all EuroCham members have held several meetings with the ambassadors of all EU countries to find common directions of action and transfer information to the governments of different countries. European countries because it is unlikely that they have figured out the current situation of the epidemic in Vietnam.
It is true that in 2020, Vietnam is a "good student", almost unaffected by the epidemic, but the situation suddenly changed. While European countries have vaccinated most of their people, Vietnam is starting to face great difficulties and Europe does not fully understand this problem. Therefore, we have coordinated with each other, not only working with the ambassadors of the European Union countries, but also with large European corporations, including many industrialists who have made large investments or operations have been in Vietnam for a long time, so that they can simultaneously announce the epidemic situation in Vietnam to their headquarters in Europe.
Coordination of action, at the same time as the diplomatic mission and the business sector, has helped European governments realize that they have large companies operating in Vietnam and these companies are in danger. Because of the outbreak of the epidemic, their expatriates are also in danger and need to act.
France is the first country to send vaccinations to French citizens in Vietnam. This decision has alarmed many other European countries to also send vaccines to their nationals. After that, the European Union countries donated a large amount of vaccines to help Vietnam. Just like that forming a chain, one action leads to another.
RFI Vietnamese would like to thank Ms. Delphine Rousselet, executive director of the European Chamber of Commerce – EuroCham in Ho Chi Minh City.
Thoibao.de (Translated)
Source: https://www.rfi.fr/vi/t%E1%BA%A1p-ch%C3%AD/t%E1%BA%A1p-ch%C3%AD-vi%E1%BB%87t-nam/20211004-eurocham-viet-nam-va-breathe-again-fund