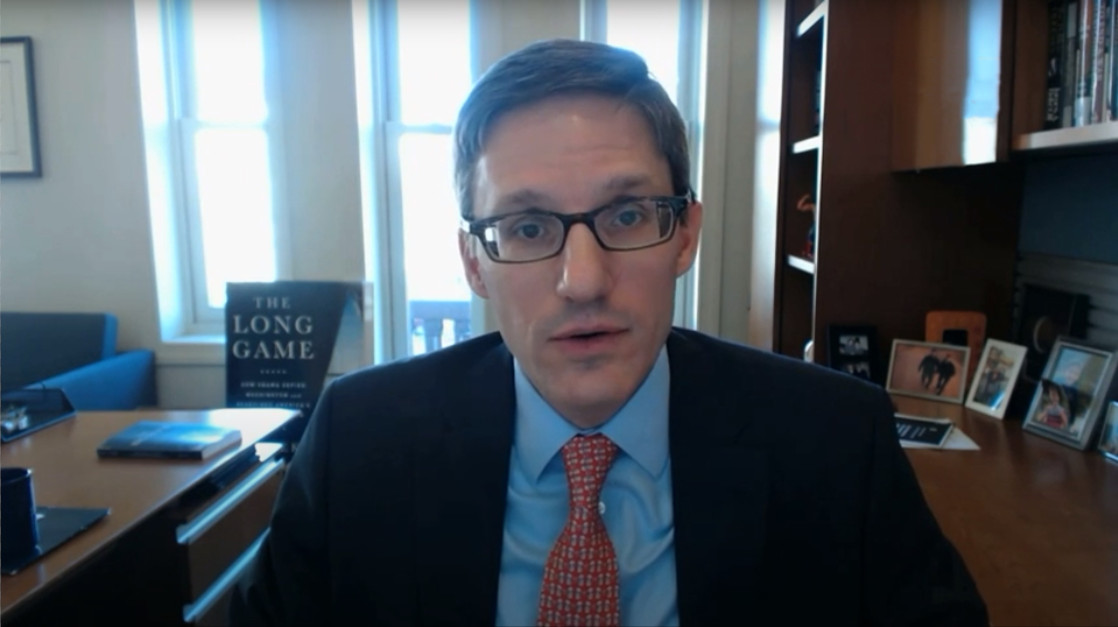 The US Secretary of State's senior adviser recently visited Vietnam from March 31 to April 1 in an effort to reaffirm the US commitment to US partners in the Indo-Pacific region.
The US State Department's website on March 28 announced that Derek Chollet visited the Philippines, Vietnam, and Japan from March 28 to April 2.
Chollet's visit is intended to reaffirm the United States' commitment to Indo-Pacific allies and partners and engage with key stakeholders on bilateral and region, including efforts to restore peace to democracy in Myanmar. Chollet also discussed the impact of Russia's attack on Ukraine.
Answering the Vietnamese press at the end of the visit, Mr. Chollet said the US hopes to have the opportunity to elevate the two countries' relations to a new level.
This is not the first time US officials have suggested to the Vietnamese side to elevate the relationship from a "comprehensive partnership" to a higher level, a strategic partner.
Relationship upgrade problem
During a recent meeting with Vietnamese leaders, the US Ambassador to Vietnam – Marc Knapper also reiterated his point of view, which is: "The United States wishes to become Vietnam's most important partner in the field of energy security, food, climate. This is an area where Vietnam can cooperate with the US Government, the US private sector."
So far, Vietnam has established a "comprehensive strategic partnership" with two permanent members of the UN Security Council, China and Russia, and a "strategic partnership" with the UK and France. In addition, Vietnam has a "strategic partnership" relationship with 17 countries.
Vietnam and the United States have a deeper, more multifaceted relationship than some countries in Hanoi's diplomatic relations hierarchy. The US is Vietnam's 11th largest investor with nearly $10 billion invested in Vietnam. Defense ties have also progressed significantly in recent years. While large-scale arms deals are highly unlikely due to Vietnam's close defense ties with Russia, Vietnam-US cooperation continues to grow steadily. Meanwhile, Washington's increasingly firm stance on the South China Sea disputes has benefited Hanoi and other Southeast Asian claimants. While facing serious food and water security challenges posed by major Mekong dams, Vietnam also benefits from Washington's Mekong initiatives to help boost fisheries sustainability, climate change adaptation, and biodiversity conservation.
Why is Vietnam hesitating?
The reason why Hanoi is still hesitant and has not met Washington's long-standing expectations is that Hanoi believes that the substance of the relationship is more important than the form. As it has developed its relationship with the United States over the past two decades, Hanoi has tried very hard not to appear to be taking sides or being perceived as a balancer in its relations with China. Vietnam is all too well aware of the range of tools Beijing uses to repress Hanoi, including actions in the South China Sea, trade and investment sanctions, hackers, and cyberwar, not to mention its own actions to control the upper Mekong and Red Rivers so that China has the ability to coordinate floods and droughts in Vietnam.
In addition, the upgrading of relations in the future is also expected to become a diplomatic driving force. Vietnam has worked harder than any other country to join the Trans-Pacific Partnership (TPP) but was "heartbroken" by Trump's withdrawal from the agreement. Despite promises of a bilateral trade agreement, negotiations have yet to begin. President Biden has neither the political capital nor the intention to soon join the Comprehensive and Progressive Agreement for Trans-Pacific Partnership (CPTPP), formerly known as the TPP. This continues to annoy Hanoi. Therefore, any upgrade to Vietnam-US bilateral relations will have to be secured on a solid economic foundation.
Uncertainty about the domestic political situation of the US is also one of the barriers to upgrading Vietnam-US relations. Vietnam, like all countries, is aware that in less than three years the US could have another president and this could cause chaos and disrupt the international system. With these uncertainties, it is difficult for Hanoi to take the step of upgrading its relations with the US to a "strategic" level.
In other words, if Hanoi's circumstances call for an upgrade to a strategic partnership with Washington, the benefits must outweigh the foreseeable risks. For Washington, upgrading relations with Hanoi means multilateral signaling. The Biden administration isn't just looking for a foreign policy breakthrough, it's trying to show that Washington is extremely wary of Beijing by engaging with regional allies and partners while dedicating sufficient resources to face the challenge.
For the US, Vietnam is really the only option in the region. Diplomatically, with its sharp and strategic thinking, Vietnam is playing an increasingly important role in ASEAN and is also one of the only countries in the region that regularly resists China's aggressive behavior. The Vietnamese military is one of the few in the region that focuses on external threats. Vietnam's military modernization has been impressive, and while it can't match China's military growth, Vietnam now has the military capabilities to make defense planners China must be cautious. Therefore, Hanoi's upgrade of relations with the US to a "strategic partnership" or "comprehensive strategic" relationship will send a clear signal to Beijing of its complete rejection of China's position on the political order. area order. That's what the US seems keen to see, even though in reality it understands that this could backfire.
What are the prospects for upgrading this relationship?
Although it has not yet upgraded its relationship with the US to a strategic partnership, Hanoi has established higher-level diplomatic relations with many US allies and partners and participated in a series of security and defense cooperation mechanisms in the Indo-Pacific region. With both sides able and able to increase engagement through multilateral forums such as ASEAN and the "Quad, "Vietnam has also demonstrated its intention and role in US strategies.
One of the reasons why Vietnam is afraid to upgrade its relationship with the United States is the objection from Beijing. In the past time, Vietnam has tried to "swing" to balance power between these two powers. Therefore, Vietnam always sets the motto of strengthening practical activities, not just a name for the relationship between the two sides, in fact, Vietnam does not want to offend China. With the recent event of the Ukraine war, Vietnam has added another reason to worry when it does not want to "angry" its giant neighbor as Ukraine did with Russia.
That shows, that it is likely that in the next few years, Vietnam is still not ready for the upgrade of relations as Washington wants.
Translated by Thoibao.de from RFA: https://www.rfa.org/vietnamese/news/blog/what-is-the-possibility-of-raising-vn-us-relationship-04052022113151.html