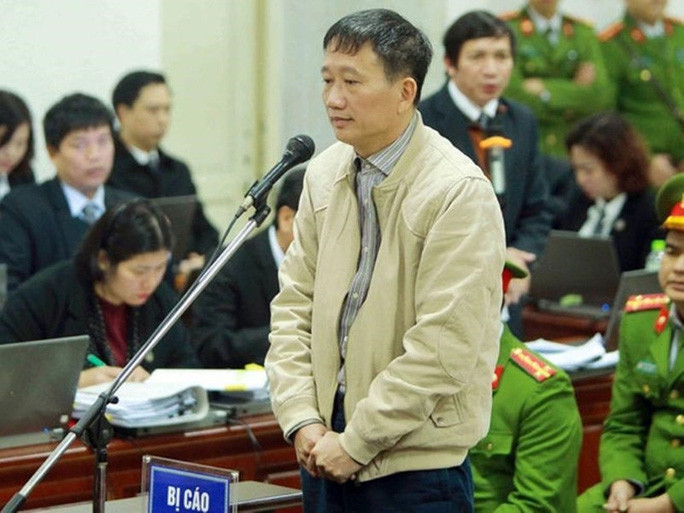 The German Federal Prosecutor's Office announced that a suspect of Vietnamese nationality named Anh T.L. was arrested and handed over to German authorities on June 1, after being detained in Prague (Czech Republic).
He was arrested on charges of "spying and assisting in deprivation of liberty" for his involvement in the kidnapping of Trinh Xuan Thanh in Germany in 2017.
Journalist [with Vietnamese origin] Le Trung Khoa, who always follows this case closely, answering RFA from Berlin, said the person arrested was Mr. Le Anh Tu, a Vietnamese resident in the Czech Republic. This man is said to have returned to Vietnam to evade the European Union's arrest warrant. As soon as he re-entered Europe on April 15, he was arrested and extradited to Germany on June 1.
The role of the suspect in the kidnapping of Trinh Xuan Thanh
Talking about the role of Mr. Le Anh Tu in organizing the kidnapping of Trinh Xuan Thanh, according to Khoa, during the trial of Mr. Nguyen Hai Long in 2018, who was also accused of aiding the kidnapping of Trinh Xuan Thanh, the German prosecutor's office issued an indictment saying that Mr. Le Anh Tu was the one who drove a minibus to kidnap Trinh Xuan Thanh on July 23, 2017, and then ran straight into the Vietnamese Embassy in Berlin:
"Clearly, he was directly involved in the kidnapping. Because he was the driver of the car that was used during the illegal detention of Mr. Trinh Xuan Thanh.
Thus, he witnessed the entire process, from the time the kidnapping team included Lieutenant General Duong Minh Hung at a nearby hotel along with other Vietnamese officers. He knows the whole process," said Mr. Khoa.
Marina Mai, a German journalist specializing in covering the case, told RFA that Mr. Le Anh Tu would not have been arrested if he had arrived in Europe more than four months later:
"Secret operations in Germany have a five-year statute of limitations. Because the arrest warrant for Mr. Anh (Le Anh Tu – PV) is effective from August 10, 2017. As far as I know, it will expire on August 10, 2022. So if Mr. Anh comes to Europe four months later, he may not be arrested and convicted.
But now it happened. So I think there will be a second trial related to Trinh Xuan Thanh's abduction to try him."
Clarifying To Lam's responsibilities?
Mr. Le Anh Tu also alleged that a few days after the abduction happened, he drove another car from the Czech Republic to the Borik hotel in Bratislava (Slovakia) and had contact with Mr. To Lam there.
Mr. Khoa assessed that because Le Anh Tu was involved in almost the whole process of abducting and transferring in Germany, the Czech Republic, and Slovakia, therefore, investigating him will help clarify To Lam's responsibility, as well as whether or not the former Slovak Interior Minister was involved in this kidnapping:
"In that sentence, they clearly stated that Mr. To Lam was the one who organized this kidnap in Europe. However, at present, there is not enough authentic evidence to prosecute To Lam.
So I think they will do it step by step. A very important step was the arrest of Mr. Le Anh Tu and extradition to Germany because he had direct contact with [participated in] the meeting of the former Slovak Minister of Interior and Mr. To Lam at the Borik Hotel in Slovakia."
On July 26, 2017, at this hotel, a meeting was taking place between the Minister of Public Security To Lam and then-Slovak Interior Minister Robert Kaliňák.
Slovakia lent a government plane to the Vietnamese delegation to fly to Moscow from Bratislava after a meeting between the two ministers. Some media outlets in Germany and Slovakia 2018 questioned whether Vietnam might use this plane to transport Mr. Trinh Xuan Thanh back home.
Mr. Robert Kaliňák later stated that he was not involved in this kidnapping plan. In December 2018, Slovakia decided to suspend the investigation of its officials suspected of aiding Trinh Xuan Thanh's return to Vietnam.
"Germany will investigate to the end!"
The German foreign ministry 2017 condemned Vietnam's abduction on German territory as "a flagrant violation of German law and international law, which we will never tolerate."
Germany simultaneously applied many sanctions against Vietnam, including suspending the strategic partnership with Vietnam and expelling four Vietnamese Embassy employees and their families back home.
According to Marina Mai, tough diplomatic sanctions have been criticized by German economic groups who want to do business with Vietnam. That is why German politicians decided at the end of 2018 to gradually normalize relations with Vietnam. However, she emphasized that:
"This does not mean that Germany is no longer interested in the Trinh Xuan Thanh case. Germany has recognized Vietnam's release of Mr. Nguyen Van Dai to Germany, and also acknowledged that Vietnam did not execute Trinh Xuan Thanh. But the German government is still demanding the release of Trinh Xuan Thanh and his return to Germany.
Vietnamese diplomatic passport holders are still not allowed to travel to Germany without a visa. And Germany has not allowed Vietnam to appoint a liaison officer with the police and secret services in the Vietnamese embassy in Berlin since the kidnapping happened."
According to Mr. Le Trung Khoa, a country with an independent judiciary like Germany will investigate this case to the end, as evidenced by the fact that Mr. Le Anh Tu was arrested as soon as he returned to Europe:
"Germany must and will do it to the end according to the independent Judiciary, no matter what they ignore or like in Vietnam or say it will take a long time to pass."
Does Trinh Xuan Thanh have an opportunity to return to Germany?
In 2017, the German side made three requests to Vietnam, as a remedy to re-establish diplomatic relations between the two countries. The first is that Germany requires Vietnam to return to the status quo, that is, to return Trinh Xuan Thanh to Germany, the second is to apologize for violating the law and sovereignty of Germany and the third is to promise not to repeat. However, Vietnam did not comply with these requests.
Commenting on the possibility of Mr. Trinh Xuan Thanh being returned to Germany, journalist Marina Mai said it depends on whether the Hanoi government wants to stop its violations of international law. She said:
"Does Vietnam want to stop violating international law? That can only happen if Trinh Xuan Thanh is returned to Germany. Germany is ready to issue a passport to Trinh Xuan Thanh. His family is living here."
According to journalist Le Trung Khoa, it is unlikely that Trinh Xuan Thanh will be returned to Germany in the near future, at least at a time when Nguyen Phu Trong is still General Secretary and To Lam is still Minister of Public Security:
"If in the case that Mr. Trinh Xuan Thanh is allowed to return to Germany, he is required to honestly declare all the process of his abduction.
It would then pose a great danger to the Communist Party of Vietnam, and in particular to Mr. Nguyen Phu Trong and To Lam, who may have been very closely involved in this kidnapping. Therefore, it is very difficult for Mr. Trinh Xuan Thanh to return to Germany in near future."
Mr. Trinh Xuan Thanh was a Vice-Chairman of Hau Giang province's People's Committee before being probed for the crime of "Deliberately violating State regulations, causing serious consequences" in 2016. However, at that time he fled and applied for asylum in Germany.
In July 2017, Trinh Xuan Thanh was kidnapped by the Vietnamese secret service in Berlin, Germany. In August 2017, Mr. Thanh appeared on VTV, the National Television of Vietnam, saying that he had returned to Vietnam to turn himself in and "accept his shortcomings, apologize", hoping to "enjoy the leniency of the Party and the State."
Both Mr. Trinh Xuan Thanh and the Vietnamese authorities have so far not mentioned how Mr. Thanh returned to Vietnam from Germany to "give up" by any means.
Thoibao.de (Translated)