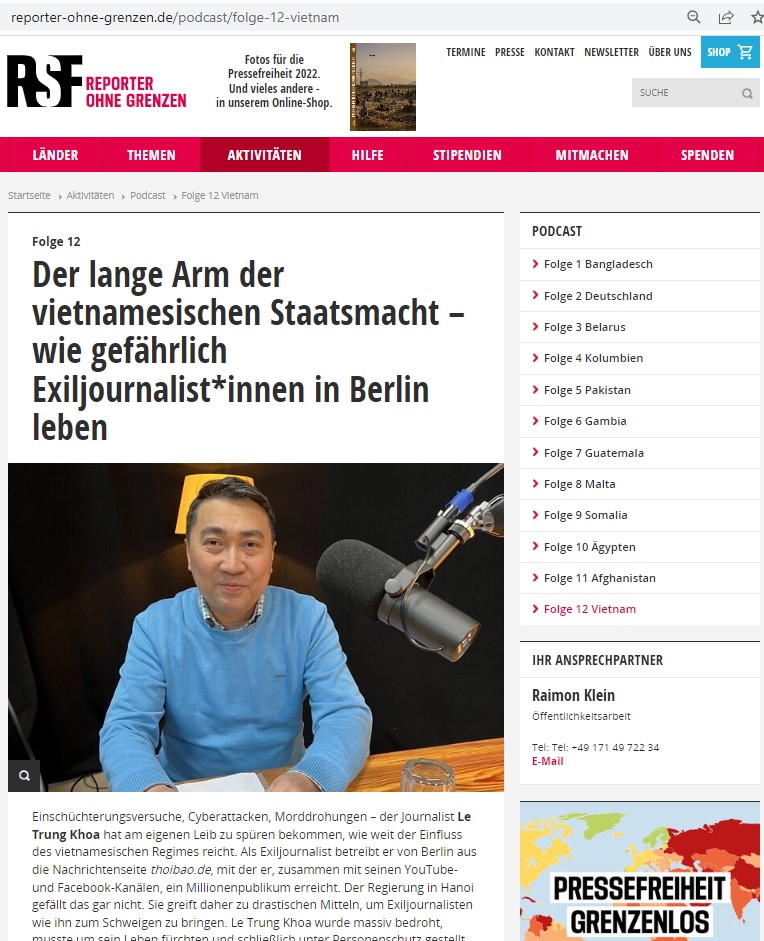 Journalist Le Trung Khoa reaches millions of viewers with his news site thoibao.de, which he runs from Berlin.
As a media worker in Germany, you should really feel safe, even if you live in exile here. However, Vietnamese-born journalist Le Trung Khoa has experienced firsthand the extent of the Vietnamese government's influence. A journalist who runs the important news website thubao.de from Berlin mainly covers political developments in Vietnam.
With his reporting, also through his YouTube and Facebook channels, he reaches millions of audiences. The government in Hanoi doesn't like that at all. Therefore, they used drastic measures to silence journalists in exile like him. "I received many summonses from the German police because I was threatened by my countrymen in Germany. They threatened to cut my throat. In addition, I received information from the German police that I would be killed in a fake accident," said Le Trung Khoa in the latest podcast of Freedom of the Press Without Borders.
In addition, his websites have been repeatedly hacked and crippled by cyberattacks, his social media channels have been blocked and his posts have been censored and deleted. "The dictatorship in Vietnam is behind it. The news I posted was considered by them not to be broadcast in Vietnam," said Mr. Le Trung Khoa.
Lisa Dittmer, Reporters Without Borders (RSF)  consultant on internet freedom, also talks about social responsibility in the podcast. RSF has repeatedly denounced and protested that international platforms like Facebook and YouTube allow authoritarian countries like Vietnam to pressure them too much.
"The Vietnamese government has given Facebook a choice: either you partner with us, you follow our concept of law and order, and quite specifically, you remove any criticism of the state – or we forbid you to come to our country," Lisa Dittmer reports in the latest newsletter of Freedom of the Press Without Borders.
You can listen to them anywhere podcasts are available: on Spotify, iTunes, Deezer, or your podcast app. You help us promote the podcast by subscribing to it or leaving reviews and comments on iTunes. Feel free to share borderless press freedom with other interested podcast listeners!
RSF – Podcasts. Episode 12 Vietnam
Reporters Without Borders
https://www.reporter-ohne-grenzen.de/podcast/folge-12-vietnam