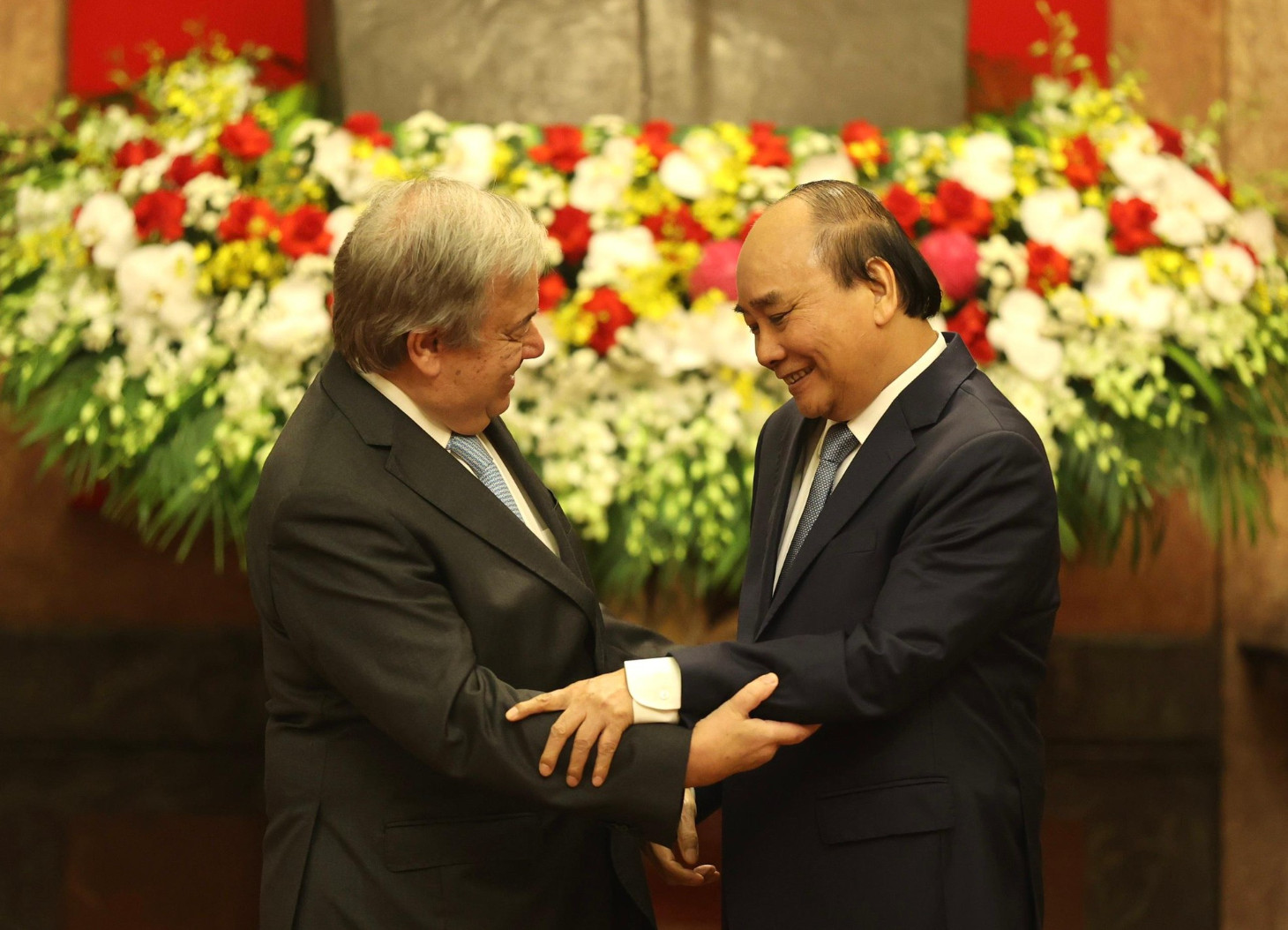 On October 20, a group of 14 international and domestic human rights organizations sent a joint open letter calling on United Nations Secretary-General António Guterres to urge the Vietnamese leadership to release four Vietnamese environmental activists convicted for alleged "tax evasion" this year.
The joint open letter, signed by Human Rights Watch (HRW), Amnesty International, Article 19 (Article 19), Project 88 (The Project 88), Defend the Defenders (DTD), and nine other NGOs, was sent to the head of the United Nations on the occasion of his two-day visit to Vietnam on October 21-22.
The open letter mentions four environmental and civil society activists convicted of "tax evasion" including Ms. Nguyen Thi Khanh, director of the civil society organization Green Innovation Development Center (GreenID), Dang Dinh Bach- Director of the Center for Legal Policy Research & Sustainable Development (LPSD), Mai Phan Loi – Chairman of the Scientific Council of the Media Education Center (MEC), and Mr. Bach Hung Duong, director of this organization.
They were sentenced to between two and five years in prison in separate trials this year.
According to the open letter, they are political prisoners – typical victims of a new wave of repression in Vietnam that, through a combination of threats and judicial harassment, is threatening progress in fighting climate change, the protection of human rights, and the implementation of the United Nations Sustainable Development Goals (SDMs).
Ms. Jessica Nguyen, campaign manager of Project 88, told Radio Free Asia via text message:
We ask the Secretary-General to call on the Resident Coordinator of the United Nations and UN agencies in Vietnam to be more open and active in asking Vietnam to seriously improve its human right record.
To do that, it is the United Nations agencies that need to strengthen their own accountability in Vietnam's human rights issue, especially with civil society organizations."
According to the organizations that signed the open letter, the crackdown on environmental defenders is just the tip of the iceberg of a broader crackdown on dissidents in Vietnam.
Citing information from many organizations that monitor the situation in Vietnam, the open letter said Vietnam's authoritarian regime is currently holding hundreds of prisoners of conscience simply because they have exercised their civil and political rights.
According to UN human rights mechanisms, most prisoners of conscience in Vietnam are prosecuted for vague crimes under the National Security chapter of the Criminal Code, held for extended periods of time without cause, and denied access to legal counseling and family visit, often during willful neglect or abuse.
According to the open letter, the UN should urge the Government of Vietnam to put an end to policies and practices that violate human rights, emphasizing that no progress can be made on climate change and development without a civil society can freely exercise their freedoms, such as the right to expression, assembly, and assembly.
Phil Robertson, Deputy Director of HRW Asia-Pacific Division, emailed RFA with the content:
"The NGOs are calling on the UN Secretary-General to publicly demand that Vietnam immediately and unconditionally release the four environmentalists imprisoned on bogus 'tax evasion charges, including Goldman Prize winner Nguy Thi Khanh, and activists Mai Phan Loi, Bach Hung Duong, and Dang Dinh Bach. The UN leader wants to talk in Hanoi about climate change policies, but how can Vietnam really move forward when it is busy jailing key civil society partners who are critical to national efforts to stop global warming? This contradiction cannot stand, and the UN needs to tell the Vietnamese government that it must end its repression of civil society organizations and NGO leaders."
"Every day Vietnam is defying its obligations to uphold human rights, and we're demanding that the UN call them out on it, and press Hanoi to do much better. The authorities have been on a torrid tear, working to identify and imprison on politically motivated charges anyone that the government thinks could criticize them. As a result, political prisoner numbers have swelled but the international community doesn't seem to notice. The UN Secretary-General can and should change that wrong impression by stating clearly that Vietnam's continued repression of activists and civil society groups will jeopardize the country's ability to meet the SDGs that are so near and dear to the UN's heart."
Vietnam, as a newly elected member of the UN Human Rights Council, has an obligation to respect the highest human rights standards, and promote and fulfill its human rights obligations enshrined in the international human rights agreements signed and ratified by the state, the open letter said.
The Vietnamese state must stop criminalizing policy advocacy and the activities of civil society advocacy coalitions, and not impose undue restrictions on civil society.
Hanoi needs to fundamentally amend Decree 58/2022/ND-CP on international civil society groups operating in Vietnam to ensure that such regulations fully comply with the International Covenant on Civil and Political Rights to which Vietnam is a signatory state.
Vietnam needs to clarify whether NGOs are required to pay corporate tax and under what circumstances. Specifically, the Government of Vietnam needs to resolve the ambiguity and inconsistency between the Law on Science and Technology 2013 and the Law on Tax Administration 2019 related to tax obligations of science and technology organizations. These regulations represent a contradictory policy framework that is used to attack politically motivated civil society.
Finally, human rights organizations asked the Secretary-General to urge the Resident Coordinator of the United Nations and its agencies in Vietnam to openly and actively ask Hanoi to improve its poor human rights record.
The best the UN can do is to make itself more accountable to Vietnamese civil society, the open letter said.
During his two-day visit to mark the 45th anniversary of Vietnam's membership of the United Nations, Mr. António Guterres met with the national leadership, including the Party General Secretary, the President, and the Prime Minister.
Thoibao.de (Translated)