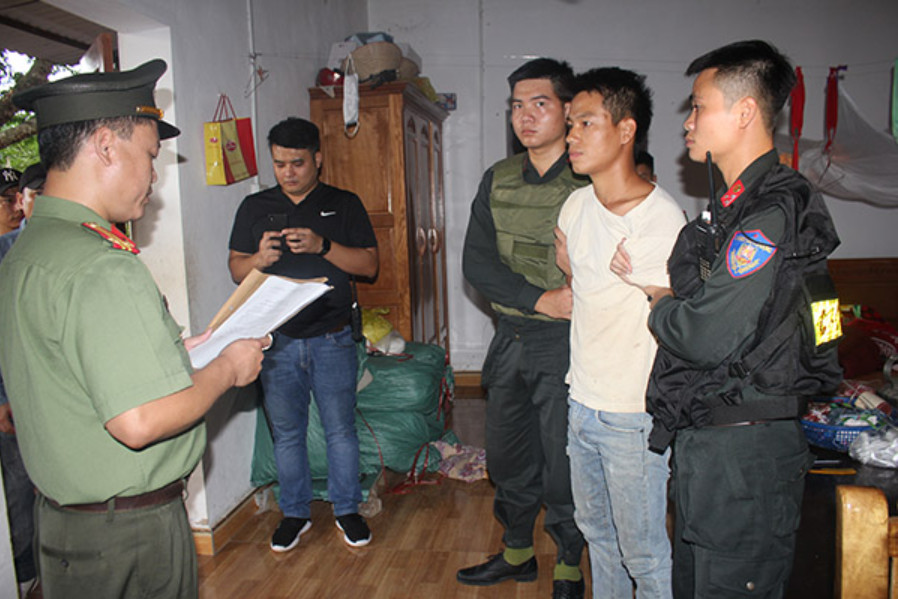 According to information from the family of prisoner of conscience Trinh Ba Tu, his current situation is very worrying. Since September 20, 2022, his family has not received any information about his condition. The prison authorities cut off his right to phone calls in September and October and cut off the right to visit and send supplies in October. From the beginning of October until now, Mr. Trinh Ba Khiem – Trinh Ba Tu's father went to Prison camp No. 6 Nghe An to ask to visit him 4 times but was refused each time by the prison, even though the distance between him and his house in Hoa Binh to the prison is 560km.
The last time Mr. Khiem saw Mr. Tu was on September 20. During this visit, Mr. Tu told his father that on September 6, he was sent to interrogation, each time for 4 to 6 hours, while at interrogation they beat him. He was held in solitary confinement and shackled for 10 days. This time in solitary confinement, he was shackled like a death row prisoner, treated inhumanly, ate and slept, defecated, and urinated on the spot. Before that, he was held in a security room and brutally beaten. As soon as Mr. Tu told Mr. Khiem that he had been beaten, the prison guards rushed in and pushed him out of the meeting room. At the same time, they intentionally made noise so that Mr. Khiem could not hear clearly what Mr. Tu said. So now, it's been a month and a half and his family doesn't know how he was beaten, for how long, and who hit him.
Prison camp No. 6 in Nghe An is a place notorious for the level of cruelty, for the cruel methods they use against prisoners of conscience. This place once caused the deaths of two prisoners of conscience: teacher Dao Quang Thuc and Mr. Do Cong Duong – who died just 3 months ago.
Trinh Ba Tu was born on April 24, 1989, and was arrested on June 24, 2020. At 6 am that day, security broke into the house, beat him, and arrested him. He was beaten until his left kidney swelled and then had to go to the hospital for treatment. After being arrested, for the first 7 days, Hoa Binh province's temporary detention center did not allow his family to send him clothes and personal belongings. Only after the family and the public struggled strongly, did they let the goods in. During his pre-trial detention in Hoa Binh, he went on a hunger strike for 20 days to fight for the prisoners there. In court, Mr. Tu denounced the investigators for their acts of seduction and bowing. They said that if he pleads guilty, he will be sentenced to 6 years in prison, if not, he will be sentenced to 8 years in prison. Because Mr. Tu pleaded not guilty, he was sentenced to 8 years, as a threat to these security guys.
Trinh Ba Tu was born into a peasant family. He loves the land left by his father, which has been attached to his family for many generations. He, like many other farmers, just wants a simple life, taking care of and cultivating his Dien pomelo garden to be fruitful. But the bottomless greed of the officials and their backyard businesses did not let his family rest in peace. Starting in 2008, a group of realty developers broke in, disturbing a peaceful and peaceful Duong Noi countryside. They drove the people out of their fields. Compensate for the land that their ancestors left behind and are also the source of their family's livelihood at a cheap price. More cruelly, once, in the middle of the night, they even rushed in with excavators and bulldozers to plow their ancestors' graves.
Since then, along with the people of Duong Noi, Tu's family has persistently fought against the Communist regime. His mother – Mrs. Can Thi Theu is a true farmer leader. His father, brother, sister, and sister-in-law were all merciless fighters against evil power. On June 24, 2022, three members of his family were arrested at the same time: – Trinh Ba Tu; his elder brother – Trinh Ba Phuong; and his mother – Mrs. Can Thi Theu. All three were treated very cruelly. Trinh Ba Phuong was dragged away by the police when his son was only a few days old. Mrs. Can Thi Theu was arrested while staying at her daughter's house. This is the third time she has been imprisoned by the Communist regime. And Mr. Tu was arrested at his Dien pomelo garden in Hoa Binh.
The crimes committed by the Communist regime, represented by security forces, against Mr. Tu and his family are unspeakable, unjustly piled up, and filled with hatred.
Thoibao.de (Translated)