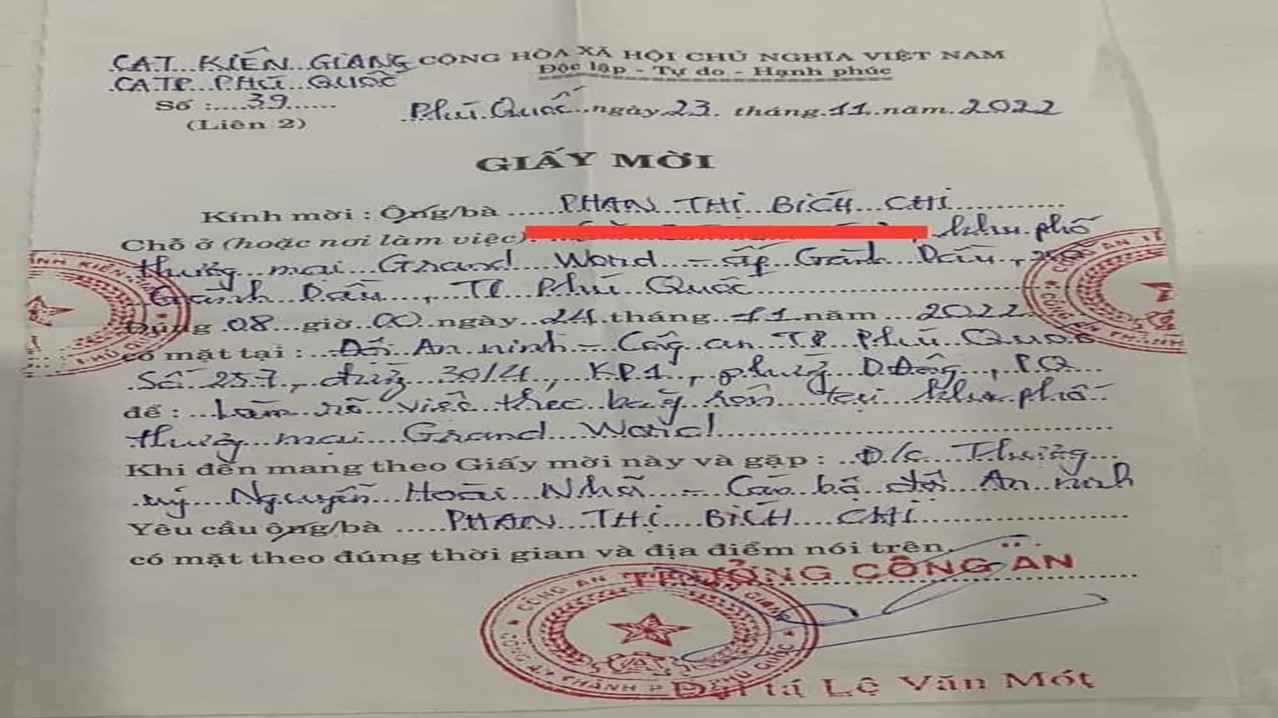 On November 23, Facebooker Phuong Ngo posted a short status with a photo of an "Invitation letter" from the Phu Quoc Police to a resident of Vin Grand World. The content of the invitation shows that the Phu Quoc Police invited Ms. Bich Chi – a resident of Vin Grand World – to the Security team of the Phu Quoc City Police to "clarify the hanging of banners in the Grand World commercial zone"
This Facebooker asked the question: "Intimidation again?"
A day earlier, on November 22, Phuong Ngo posted a video of Vin Grand World Phu Quoc residents protesting, with a short status about the incident. According to this Facebooker, residents of Vin Grand World Phu Quoc protested against the inadequate management of VinGroup. The agreements in the purchase and sale contract between Vin and the residents were not implemented as signed. The infrastructure has no many items, not in accordance with the original planning drawings. These things lead to a lot of damage and difficulties for residents in doing business and living.
Images in the video show that a large number of security guards, police and men in military camouflage uniforms also appeared in the protest area. Vin's security forces are even larger than whistleblowers and complainers. And there have also been disputes and jostles.
A week earlier, on November 15, a group of owners of apartments in the high-end Vinpearl Empire Condotel (VEC) apartment complex in Nha Trang, were assaulted and robbed when they went to claim their rights. These customers went together to the head office of VinGroup in Viet Hung ward, Long Bien district, Hanoi. Near the headquarters, there appeared a lot of security guards wearing camouflage uniforms like those of the army and many tattooed young men. This group of young people stopped the customer group, stole the box of T-shirts that they intended to wear when working with this group, and assaulted them.
Also on November 15, a group of dozens of customers of the Vinpearl RiverFront Condetel (VRC) project in Da Nang held many protests Vingroup in Hanoi. This group of people wore red shirts bearing the words "VIN to return the pink book to VRC Danang residents." Vin's security guards rushed in and assaulted them, at least one person was beaten with a nosebleed and a foreigner had his arm broken.
Upon contact, VinGroup's Customer Care Director, Ms. Ho Thi Thanh Thuy blatantly stated: "This is Vin's headquarters and territory, you suddenly rush into people's houses, of course people have to beat you." Does Ms. Thuy's attitude represent VinGroup's "customer care" attitude, hitting customers is their culture and principle?
Not surprisingly, Vietnam's state-controlled media was silent, without a single line on these cases. However, in the Internet age, it is very difficult to silence people when people have many tools at hand to express themselves. Just go to Google search and you can find a lot of information about inadequacies happening at VinGroup, from Vinhomes, Vinpearld, Vinshool to Vinfast…
The blog "Vinhomes Diary" of a Vinhomes resident was established in 2016 with a brief introduction: "I currently live in Vinhomes Times City. I write this blog with the desire to share honestly to give you accurate and objective information about life here." This blog page publishes many articles about the lies and frauds of Vinhomes and Vinschool, and the rough ways that this Group uses to deal with customer complaints.
A video posted on this blog from March 2019 shows that a lot of police protect a group of bullies who cause trouble with Vinhomes residents – who took to the streets to protest Vin's lies. They stormed in to steal phones, beat videographers and even stole balloons. In the video, a female voice can be clearly heard exclaiming: "Oh! Is that how Vin is?"
This blogger had to exclaim "Since when is customer suppression the motto of VinGroup?" And this blogger called: "Customers who buy other real estate projects of VinGroup, please look at us once to really consider with your money… Customers who are and are about to use the service of this group, witness this whole truth to evaluate and choose wisely."
However, in disputes between Vin and customers, Vin always wins and the case gradually sinks. In a society where the police always protect the strong and the rich, ordinary people will suffer.
Thoibao.de (Translated)