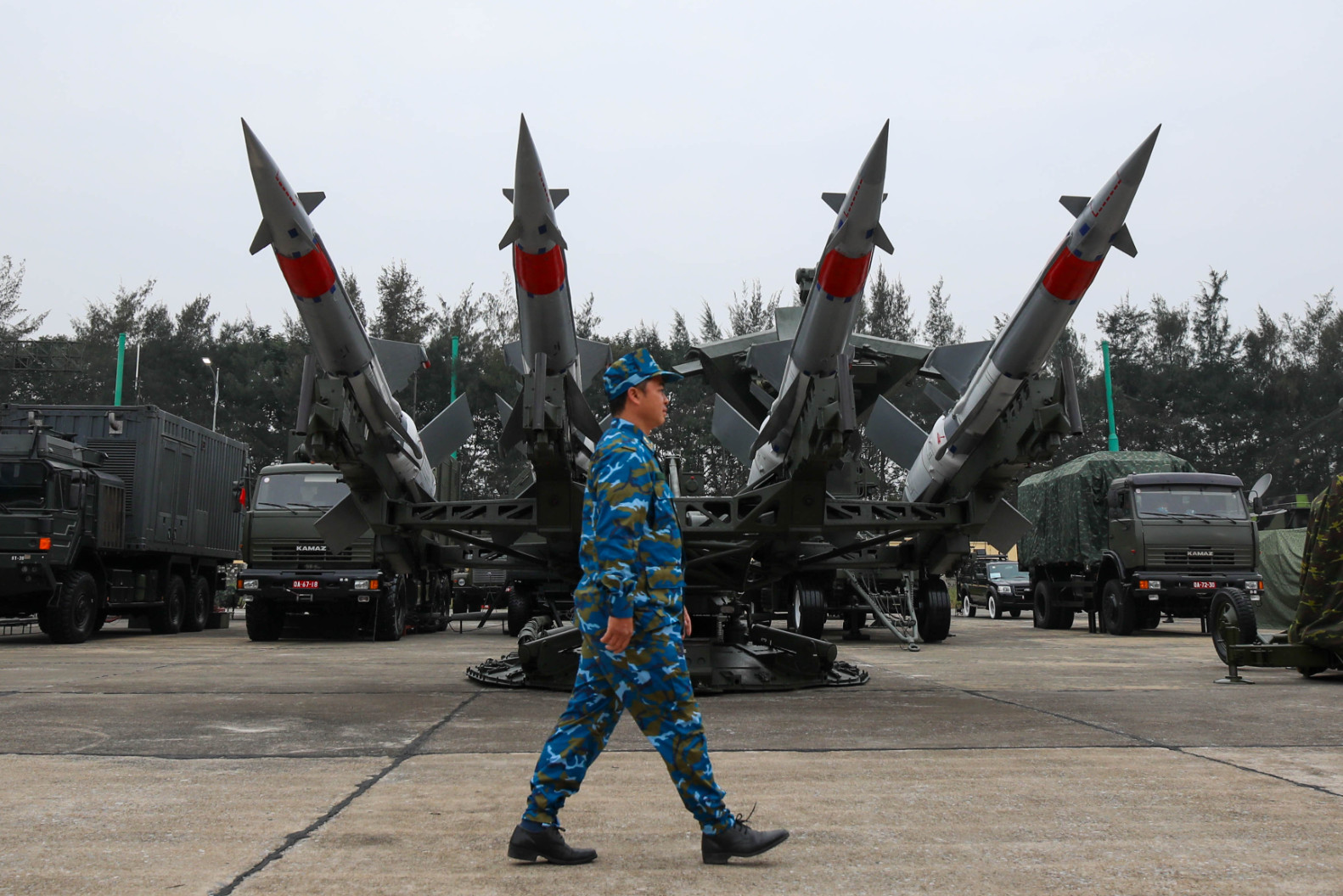 Human rights issues in the one-party state have little effect on Vietnam's plans to buy weapons from the United States and many Western countries, according to scholar Hoang Viet from the Ho Chi Minh City University of Law, however Prof. Carl Thayer from the Australian Defense Force Academy thinks the US and the EU can stop selling weapons when considering human rights issues.
The desire to increase arms purchases from the West is part of Vietnam's plan to diversify and modernize its military in the context of the country's sovereignty in the South China Sea (Vietnam calls it the East Sea) being threatened.
During the opening ceremony of the 2022 International Defense Exhibition in Hanoi on the morning of December 8, Vietnamese Prime Minister Pham Minh Chinh said that the event helps Hanoi "open up opportunities for cooperation and research on development of technical equipment, defense industry and security in the world; diversifying procurement channels, receiving and transferring foreign technologies, and manufacturing, equipping and supplying equipment and logistics to the armed forces to serve the needs of defending the Fatherland against traditional and non-traditional security challenges."
Talking about the link between Vietnam's arms purchases and human rights issues in the Southeast Asian nation, Master Hoang Viet told Radio Free Asia:
"Personally, I think that human rights issues do not hinder Vietnam's arms purchase much. The US and the West place geopolitical interests above human rights. Therefore, in that context, Vietnam's search to buy weapons from the West will not be hindered because of its human rights issues."
He said that although President Joe Biden's Democrats have always promoted democracy, the White House has considered China the most important, most dangerous opponent that can challenge the position of its world's number one superpower as well as seeking to change the world order that Beijing has the will and power to do so, the West does not place emphasis on human rights.
Vietnam has been criticized by the United States and many democratic countries for its poor human rights record for detaining many prisoners of conscience just because they exercised basic human rights such as freedom to speech, assembly, and demonstration.
According to Master Hoang Viet, more than 10 years ago, people realized that the Vietnamese army was too dependent on Russian weapons and the Vietnamese State had a plan to diversify its sources of weapons for a long time.
So far, besides Russia, Vietnam has purchased weapons from a number of other countries, including India, Israel, and the United States.
"Since then, Vietnam has been doing (increasing the procurement of Western weapons – PV), especially after the war in Ukraine, it was found that Russian weapons are much outdated," said a scholar from Ho Chi Minh City.
However, according to him, Vietnam's plan to step up arms procurement from Western countries will not be easy because of two main problems: Expensive prices and differences in weapons systems.
He said that Western weapons are much more expensive than those of Russia, the largest weapon provider for Vietnam for decades.
The Vietnamese army has long used weapons systems dating back to the Soviet Union and then Russia, so replacing existing weapons with Western ones will not be easy for Vietnam. This takes a long time for the military to train and adapt, and requires compatibility of weapons in a system.
For example, during the war in Ukraine, Ukrainian soldiers could easily use weapons produced by Russia and other former socialist countries. However, they have difficulty using Western weapons, and it takes a long time for them to adapt.
Professor Carl Thayer of the Australian Defense Force Academy in Canberra said Vietnam has shown it is capable of procuring weapons and military technology from non-Russian sources, such as Israel, South Korea and the United States.
He also said Hanoi is aware that the United States and countries in the European Union can invoke human rights considerations to reduce or prevent arms sales in response to serious human rights abuses at any time.
However, from the recent statistics of Vietnam's arms purchases, Professor Carl Thayer commented:
"In summary, Vietnam is not likely to purchase "big ticket" items from the United States or Europe and is likely to wait and see how the conflict in Ukraine will be resolved.
Vietnam will, however, be in market for niche technologies say for coastal radar, air defense, unmanned aerial vehicles (UAVs), counter-UAV missiles, cyber etc."
He said that in the period from 2014 – the time when Russia annexed Crimea, until 2021, Vietnam's arms procurement decreased rapidly, especially from Russia.
Vietnam's arms imports from Russia fell from $1.056 billion in 2014 to just $72 million in 2021, he said.
Professor Carl Thayer said that before the COVID-19 pandemic, Vietnam allocated about 2% of its GDP to its annual defense budget.
From 1995 to 2021, Vietnam purchased weapons and military technology from 27 countries. The top six countries are: Russia ($7.4 billion), Israel ($550 million), Ukraine ($273 million), Belarus ($263 million), South Korea ($120 million), and the United States ($108 million) million).
In the first international arms exhibition held in Vietnam, Professor Carl Thayer said that Hanoi has three main goals, showing its national defense industry, identifying clients for its domestic products, and entering into co-production technology-transfer arrangements to boost its national defense industry.
Thoibao.de (Translated)