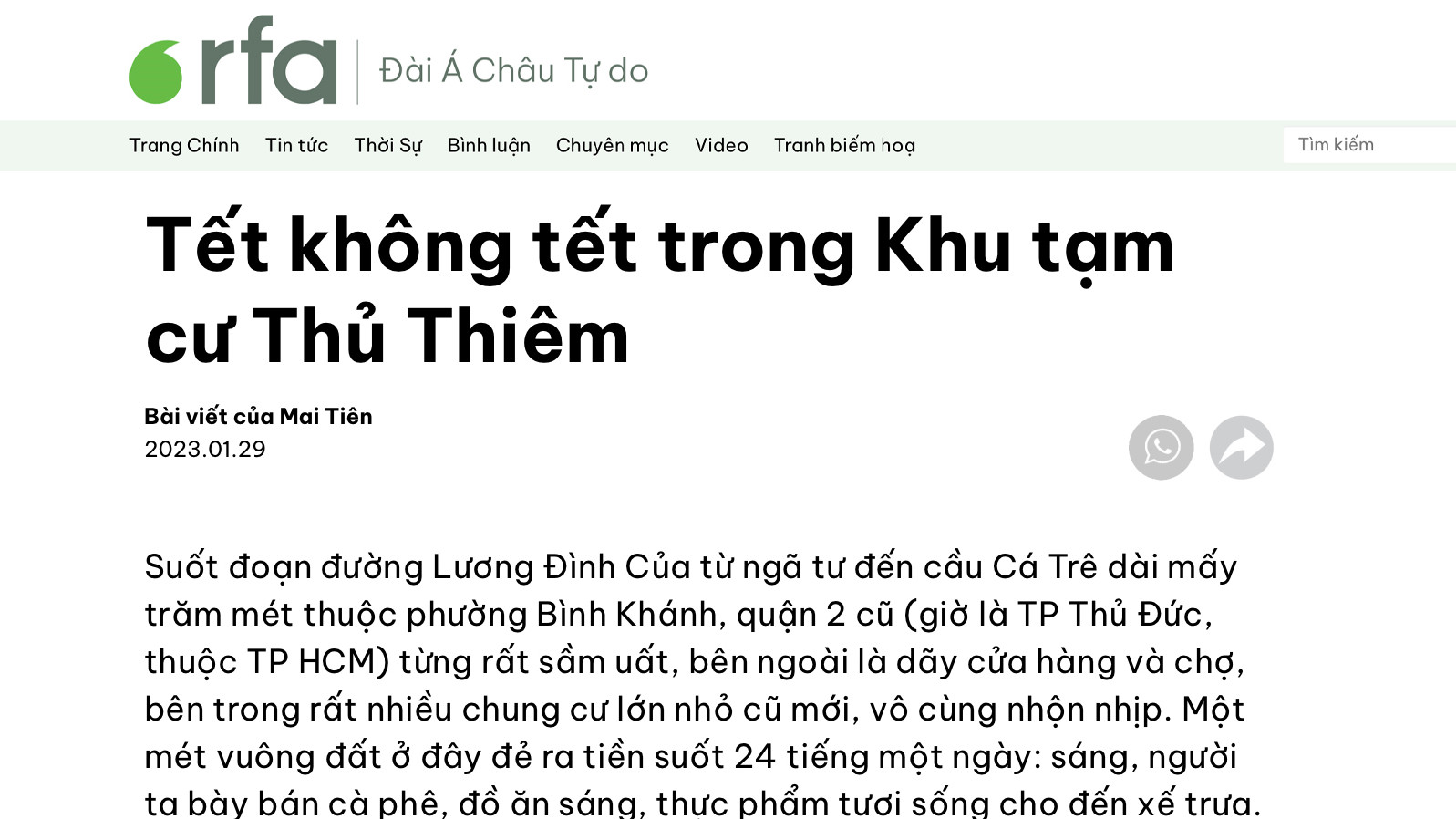 On January 29, RFA published an article by Mai Tien titled "Tet without Tet in Thu Thiem temporary residence" about the author's trip to Thu Thiem area on the day before Tet 2023.
The author said "We arrived at the shelter on the last days of the year of the Tiger (2022). Under the dark roofs, the rusted corrugated iron walls, the muddy inner streets flooded with black dirt and weeds, the slum rooms sheltering the various shapes and sizes, here and there, there are still flowers typical of the New Year in southern region."
"Tet still comes calmly even though the people living in the temporary residence have no mood to look forward to. Tet after Tet. Time turns those green hairs into gray grass. But in the hearts of people suffering suddenly disaster, extreme hardship for twenty years, despite exhausted faith in human law, still glimmering hope in cause and effect, in the law of God. Each strand of smoke emanating from each incense stick on the altar of the ancestors on Tet's day carries with them pleas and pleas for a place to settle down for the last days of their lives and for their descendants."
Ms. Phan Thi Thuy's house is in front of Luong Dinh Cua, old District 2, now in Thu Duc city, her family both trades and lives here, the author said.
According to the author, although she bought this house with only handwritten papers in 1982, Ms. Thuy has a local certification that every year she goes to the ward to pay land use tax according to state regulations. Her whole family was granted KT3 status in the house they bought, did business and lived there for many years. After three years, they would be granted a household registration certificate, thereby officially confirming their ownership of the house and enjoying the administrative privilleges of the people of Ho Chi Minh City.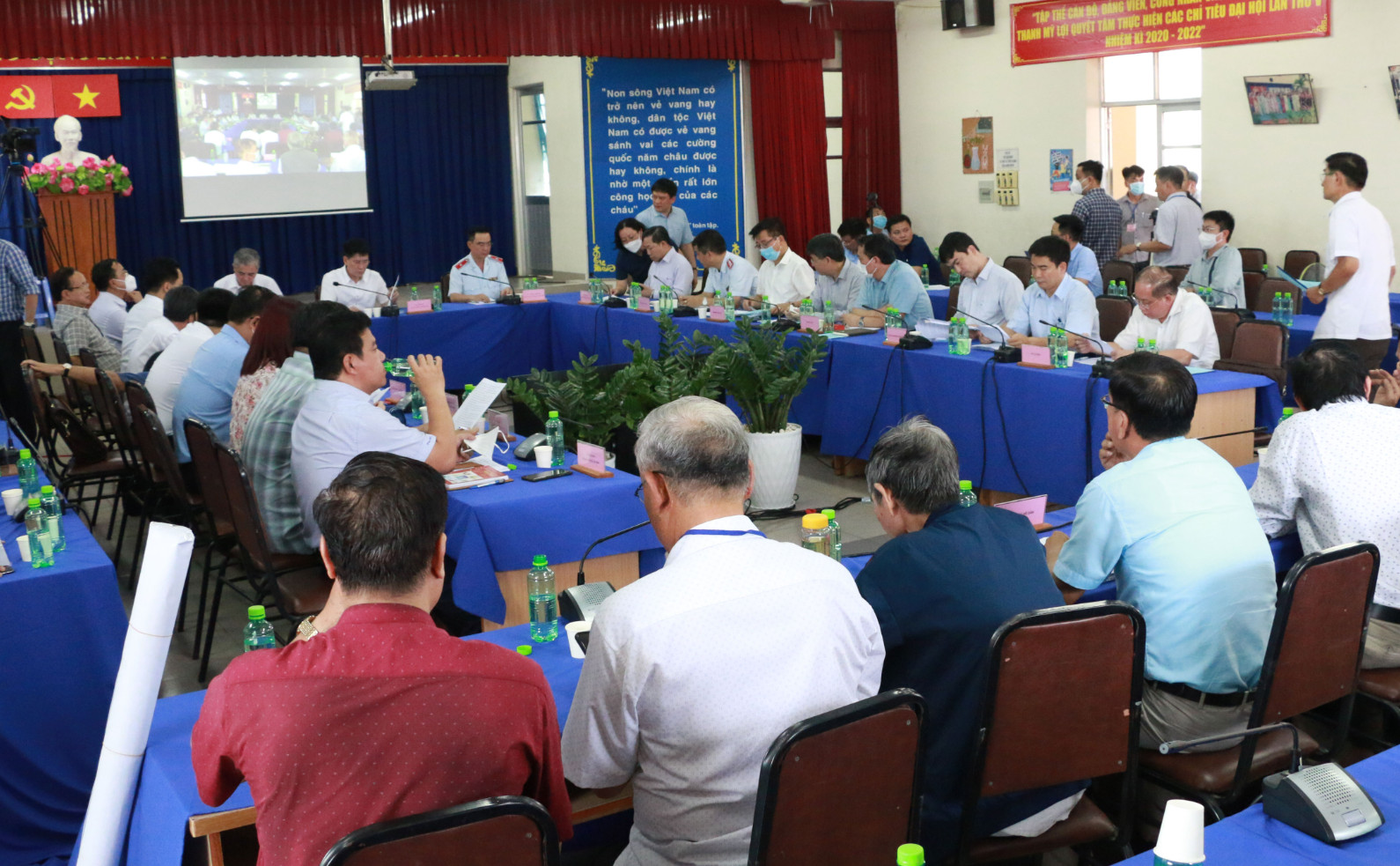 Who would have thought that, doing a good living, in January 2000, the locality said that this area was revoked and taken by the local government for public purpose. But Ms. Thuy's house belongs to the clearance type without compensation.
From there, she switched to a new "career" forcibly: Going to sue, demanding adequate compensation for the house that had been cleared. After a while of suing, the government replied to her: she was compensated VND50,000/m2 ($2/m2).
Ms. Thuy said that the government's solution was not transparent. So she did not accept and continued to sue.
According to Ms. Thuy, her husband was a major in the Investigation Division of the District 10 Police Department, and was later transferred to the District 2 Police Investigation Team. But because of her lawsuits against the government all the time, he was demoted to the rank of captain. Not only that, he was constantly faced with difficulties in his work. So after returning to the temporary residence for a while, he asked to leave the force.
One day, he committed suicide in the very room 3.2 m wide, 7 m deep where his family was staying.
The article said that since 2018, while going to sue in Ho Chi Minh City, Ms. Thuy has just started the journey to take her petition to Hanoi. Twice a year, Thu Thiem people living in temporary settlements go out to Hanoi and go to the Central Government to submit their petitions. The money their children have worked so hard to provide for their parents to sue is about VND10 million a year. The petitioner Thu Thiem rented motels far away from the suburbs for very cheap, extremely economical meals to stay for a long time in the capital city.
After more than 20 years, the great case of blood and tears named Thu Thiem gradually revealed. But after five generations of the city's president, the people who were robbed of their land and houses still live in their shaky existence in temporary settlements. The corrugated iron roof of the houses rusted a reddish brown color. Stairs, iron railings have been rotting for a long time. But the ironic word "temporary" still clings to them, some five years, some 13 years, some- 22 years.
Thuy said that this year, a certain leader had just come to give gifts to temporary households and persuaded them to go to the neighboring Binh Khanh apartment building to live because the area was too rotten and dirty. The massive apartment complex was built in 2014, as a residence for Thu Thiem households that were cleared to make way for the Thu Thiem project. At that time it was empty and remote. Now, it is a prime location: Located on Luong Dinh Cua street, in the old district 2, a very busy area, only a few minutes by car from District 1. But, despite living crowded with rats and cockroaches but many Thu Thiem residents are unwilling to leave it to go to the new place with cool and airy apartments.
– It's better there. But then what? We also temporarily reside here, we still temporarily reside there. Temporarily residing for twenty years, how many more years will you go up there? Then we can continue to sue, we will sue until the government settle for us. But if I die, will my children and grandchildren can continue to live there? Their names are not in our petitions, the government may not allow them to stay. But the government sees that we are fine in the new temporary residence, it may ignore our petitions, Thuy mused.
Thoibao.de (Translated)