With Vietnam and the US reaching agreement to bring the diplomatic relationship between the two countries to the highest level of "comprehensive strategic partnership," US media commented that both visits of President Biden to to India and Vietnam, are all considered further moves by the US to counter China's influence in Asia.
The question is, is the "Vietnam-US comprehensive strategic partnership" relationship just a formality or is it a substantive issue?
Before the visit, most assessments said that the upgrade was only a formality, with the purpose of creating opportunities to help Hanoi take advantage of the US market, capital and technology to develop its economy. As for the issue of security cooperation and protection of sovereignty, the possibility will be low, or not yet mentioned.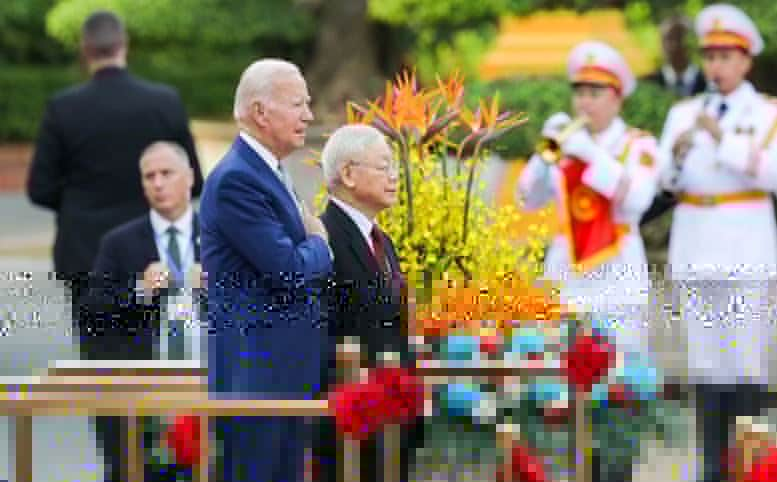 Sure enough, right after US President Joe Biden left Vietnam on September 11, To Lam – Vietnamese security and police boss – rushed to China. Then Prime Minister Pham Minh Chinh also had a similar trip.
According to Vietnam's state-controlled media, on September 14, in Beijing, To Lam was received by Tran Van Thanh, Secretary Chen Wenqing of Political and Legal Affairs Commission of the Communist Party of China. The newsletter said that the purpose of Mr. To Lam's visit is to "contribute to promoting and deepening Vietnam-China relations in the fields of security and law enforcement, increasingly deepening and developing reached new heights." During the visit, Mr. To Lam also discussed with the Chinese side the signing of the "Agreement on the transfer of convicted criminals between Vietnam and China."
Observers assessed that the news related to this visit from the Chinese media showed that Minister To Lam was solemnly welcomed as the fifth figure after the "four pillars."
After Mr. To Lam, Prime Minister Pham Minh Chinh also visited China on September 16-17, to attend the 2023 China-ASEAN Trade and Investment Conference, in Nanning city, Guangxi. Here, PM Chinh had a meeting with Chinese Prime Minister Li Qiang.
Next, Chinh will the Vietnamese delegation to attend the 78th Session of the United Nations General Assembly, in New York, USA. As expected, during his stay in the US, the Prime Minister will meet with leaders of the US Government and Congress, and promote a number of foreign affairs, economic and trade activities between Vietnam and the US.
Vietnam News Agency said that Deputy Minister of Foreign Affairs of Vietnam – Ha Kim Ngoc – on September 14 revealed that General Secretary of the Communist Party of Vietnam, Nguyen Phu Trong, unexpectedly could not visit the US, due to "not allowed conditions."
According to Deputy Minister Ha Kim Ngoc, "President Joe Biden initially invited General Secretary Nguyen Phu Trong to visit the US. But due to unfavorable conditions, the General Secretary has not been able to make that visit and has sent a letter inviting President Biden to visit Vietnam."
However, Deputy Minister Ngoc did not specify what those conditions were.
The Vietnamese side suddenly brought up the above opinion of Deputy Minister Ngoc, while, before that, President Joe Biden, while campaigning in July 2023, affirmed that Vietnam's top leaders wanted him to visite Hanoi during his trip to Asia. It is unclear why Deputy Minister Ha Kim Ngoc considered it a victory for Vietnam?
Commenting on the reason General Secretary Nguyen Phu Trong postponed his visit to the White House at the invitation of Mr. Joe Biden, observers of the Vietnamese political situation shared the same comment, "It's not necessarily because of his health." Trong is weak, but the problem is that General Secretary Trong and senior Vietnamese leaders are under great pressure from China."
There is a precedent for Vietnamese leaders rushing to China before or after strengthening diplomatic activities with the US. Observers believe that these visits are aimed at reassuring the Chinese leadership that although Hanoi has upgraded its foreign relations with the US, its "comprehensive strategic" foreign relations are still respecting "16 golden letters and 4 good words" with China.
After President Joe Biden left Vietnam on the afternoon of September 11, Chinese Foreign Ministry Spokesperson immediately spoke out to disparage President Biden's visit to Vietnam. He said that it is only a formal relationship, while the relationship between Vietnam and China is based on Communist ideology, brothers trust each other. At the same time, he also mentioned the statements of Vietnamese leaders every time they met Chinese leaders, saying that the China-Vietnam relationship is a relationship "between the two Communist parties." Meanwhile, America is "hostile to Socialism" – something that both China and Vietnam are trying to pursue.
Recent developments in the relationship between Vietnam and China have given people a clearer understanding of the relationship between the two brotherly Communist states, "mountains next to mountains, rivers next to rivers" with the "four virtues" and "16 golden words" are still the foundation.
And Hanoi's bamboo diplomacy with Washington is just Vietnam's shaky diplomatic relationship with the US.
Tra My – Thoibao.de