The European Parliament (EP) adopts the EU-Vietnam Free Trade Agreement (EVFTA) and the EU-Vietnam Investment Protection Agreement (EVIPA) on February 12, 2020. It is said that a majority of EU parliamentarians voted for the two agreements on Feb 12 because they were "not knowledgeable enough" to deal with Vietnam's "tricks" but some were confident that with the EU's strict surveillance mechanism, the violations will be thoroughly reviewed.
Europeans told VOA that they were both happy and worried after the EP passed the EVFTA and the EVIPA last week.
From Brussels, Nguyen Hoang Hai, a Vietnamese-born who supports EVFTA, told VOA that the vote on Feb 12 showed that the EU "haggled and failed."
"This agreement will be good for the economy of both sides, but it must be acknowledged that the EU has been in trouble because they could have claimed more than the terms of labor, criminal code and others but they assessed Vietnam wrongly, so it bargained bad."
"They are not economically unfortunate but their position, when they preach about human rights on the one hand, but on the other they do not pay attention."
Mr. Hai recounted the words of French MP Raphael Glucksmann, vice chairman of the Human Rights Subcommittee, writing on Twitter that "in addition to the commercial, we have a future and values, ethical principles."
In addition, legislator Glucksmann, who voted against EVFTA, said: "At least the EP should postpone the approval of EVFTA until journalist Pham Chi Dung is released, because he wrote to us and get arrested. "
Similarly, Senator Emmanuel Maurel, also from France, criticized the trade deal as "not benefiting ordinary citizens, but benefiting only a small percentage of companies that want to make use of labor in the country."
From Copenhagen, Denmark, human rights activist Nguyen Thi Ngoc Huong, expressed frustration that concerns about human rights abuses in Vietnam did not affect the EP's EVFTA adoption, despite the result of voting on Feb 12 showed a clear split.
"I think this is an almost final opportunity that the EU can contribute to the development of human rights and the environment in Vietnam, but once the Agreement has been ratified, it's hard to make concrete changes."
"Almost a third is against the approval of EVFTA, and two-thirds of the vote show that the EP values ​​economic interests rather than human rights. This result is also very natural: although some parliamentarians only know the economic benefits, there are still some who still care about human rights, environment, and democracy in countries that do business with the EU."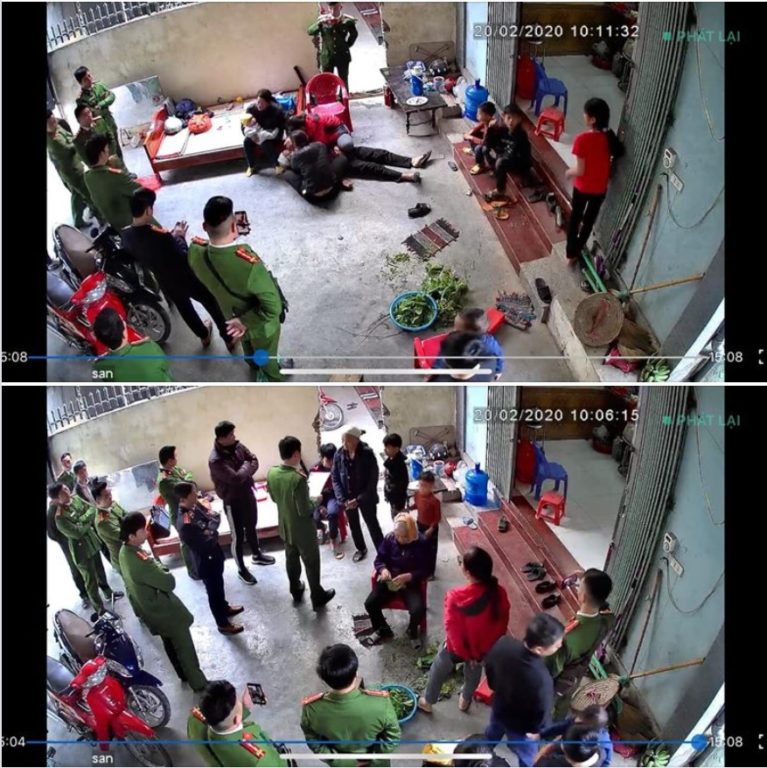 The incident caused Mrs. Du Thi Thanh, the widow of killed Kinh, to suddenly falling into unconsciousness. Trinh Ba Phuong, who has close contact with Mr. Kinh's family, told RFA as follows:
"When they arrived, they asked Mrs. Thanh to cooperate, before they read an order that was a search warrant in which they asked Mr. Thanh to cooperate and said that they wanted to check the whole house, however, shedid not agree, they presented a paper to sign that the family did not cooperate with the police."
Phuong also accused that police officers were so rude so Mrs. Thanh's blood pressure rose and she fell into unconsciousness. The video went viral online later on showing that Ms. Thanh's house had many uniformed police officers and Mrs. Thanh collapsed in front of the police.
Recently, activists visited Mr. Le Dinh Kinh's house and witnessed the scene of the incident with their own eyes, and required an independent investigation on the Jan 9's incident.

A week earlier, Hanoi police also went to Kinh's house to ask to take away the glass doors with many bullet holes on it.
As we informed, on the morning of Jan 9, thousands of riot police were sent to Hoanh village, Dong Tam commune to protect the targets when the army was constructing the fence of Mieu Mon airport some 3 km away. At first, the Ministry of Public Security said that the people of Dong Tam used grenades, petrol bombs, launchers, etc to attack the army forces that were building the fence, resulting in 3 Police deaths, Mr. Le. Dinh Kinh was shot dead, one was injured.
However, the ministry later said that people attacked the police forces at the gate of Hoanh village.
The ministry said 22 people were detained in Dong Tam on charges of "murder," "resisting on-duty officials" and "possessing and using weapons illegally." Dong Tam residents said the government has been detaining 27 people since Jan 9 and their families have not received any information about them.

Mr. Hai said: "This Parliament is clearly divided. The parliamentarians who voted against are young people, maybe in their minds thinking that Vietnamese young people also use Iphone like them, so they [Vietnamese youth] enjoy the same rights as EU youth. Many old senators stood up to support EVFTA, saying that Vietnam used to be miserable but now that they have cars, they think Vietnam's government has tried so hard to do so."
He further commented: "The vast majority of parliamentarians do not understand Vietnam well, so they just voted for EVFTA recently, which is understandable."
"But I, I'm a pessimist, I think the EP's understanding of Vietnam is not enough to deal with the tricks of Vietnam's Government."
Ms. Ngoc Huong commented on the supervisory role of human rights organizations and parliamentarians:
"Although the Agreement has been approved, the monitoring of the implementation of this Agreement is very important in the coming time because in this Agreement, the EU emphasizes that Vietnam must respect human rights, develop sustainably, and respect the rights of workers and the right to association."
 
"With the oversight role of the Vietnamese community and civil society organizations (NGOs) all violations of Vietnam should be immediately reported to MPs."
 "In Denmark alone, I have contacted with Congressman Marianne Vind, deputy head of the Delegation for ASEAN, who said she would directly monitor the development of workers' rights."
Mr. Hai commented on the threat of MP Winkler Gyula from Romania, who said the EP would postpone the agreement if Vietnam violates human rights:
"Gyula's party EPP (Human Party) threatens that if there is a violation of human rights or a violation of the terms, the EVFTA will be immediately postponed."
"But I think that delaying EVFTA will not be as easy as he said because the two sides are trading with each other, how can we make people stop importing and exporting or suddenly taxing. This can cause discontent for businesses."
Commenting on the general control mechanism for the implementation of EVFTA by the EP and Vietnam's National Assembly, Hai said:
"They said there was a very vague mechanism that would use a joint committee between the Vietnamese and the European parliaments to exchange information and monitor each other."
There is also a perception that: "The idea is good! But Vietnam's parliament, as many people know, is under the Communist Party's direction! "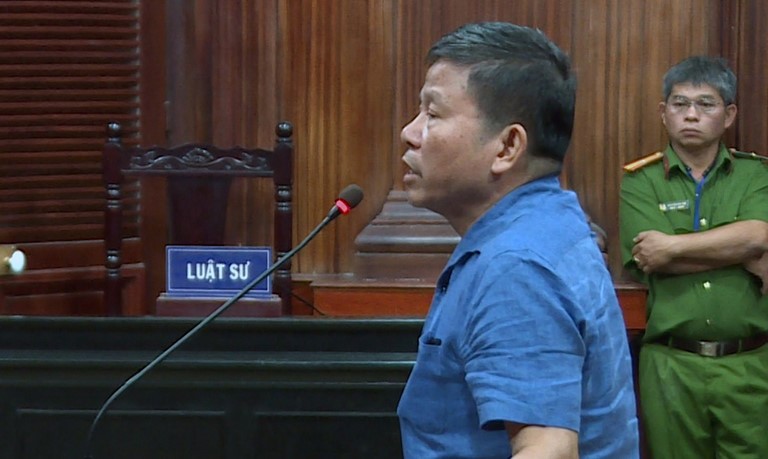 "Specifically, in the next 5 years, I think nothing will change at all because with the current Criminal Code, they only need to threaten the leaders of independent trade unions, then these organizations either do not dare to speak or just speak very softly."
Human Rights Watch (HRW) on Feb 18 called on the EU to pressure Vietnam to end systematic human rights suppression and to release political prisoners, a day before the EU and Vietnam conducted the Annual Human Rights Dialogue 2020.
"The EU has missed an important opportunity when it ratified a trade agreement with Vietnam without accompanying sanctions requiring commitments on human rights reform," said John Sifton, HRW's Director of the Asia Campaign 's in a statement.
In related developments, on Feb 18, at the Geneva Conference on Human Rights and Democracy, Mr. Dennis Chau, son of Vietnamese prisoner of conscience Chau Van Kham, shared his father's story to help the international community to understand the current human rights situation in Vietnam and called for the international attention to Mr. Kham and all other prisoners of conscience.
Mr. Dennis Châu, a son of a Vietnamese-Australian detained in Vietnam, said: "The cruel thing is that at present I cannot know when I and our father can meet and whether my father can live to complet his 12-year sentence."
"I felt as if my father had left his beloved home. He still left something painful at home. He knew the freedoms we were enjoying were the values ​​that people in our homeland had lost. I know he did it for the people of Vietnam. That is why he is committed and wants change."
"He never gave up his sense of responsibility to call for a more open and free society in Vietnam."
Dennis hoped the international community would continue to speak out for his father's case and emphasized that the EU should not take the benefits of the EVFTA seriously and ignore the human rights violations of Hanoi.
Human rights observers suggest that the EU should set up a specialized human rights office in Vietnam in addition to establishing independent European monitoring groups to monitor human rights violations and visit prisoners of conscience. in Viet Nam; support and ensure the presence of independent unions, and hold a Vietnam human rights hearing every 6 months.
Vietnam, with an increasingly integrated and interdependent economy together with the world economy, many agreements have been signed to improve jobs and increase exports of goods, but the effectiveness is not high due to communism institutions full of defects.
What the ruling communist party has caused for the past 90 years is more than enough to justify the mistake of the way.
The country can only develop and civilize when the Party returns control of the country to over 90 million people in Vietnam.
Trung Nam from Da Nang – Thoibao.de (Translated)