On January 17, 2020, Chinese President Xi Jinping made an official visit to Myanmar with the goal of developing two projects in China's Belt and Road plan:
Beijing proposed building a China-Burma economic corridor (CMEC) with a $1.3 billion deep-water port in Kyaukphyu in Rakhine state, which would open the entrance to the Indian Ocean for China.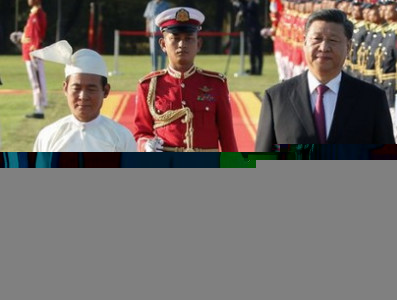 Another major project that can be discussed on this occasion is the $3.6 billion hydroelectric dam in Myitsone, Kachin state. Once the dam is built, an area the size of Singapore will be submerged, causing environmental disturbances that are difficult to predict.
Myanmar needs a lot of capital and projects to develop infrastructure. Therefore, Myanmar is finding in China a rich and generous investor.
China's "debt-trap diplomacy" policy is spreading throughout Africa and Asia
Compared to loans from the World Bank (WB) or International Monetary Fund (IMF), loans from China are much easier, however, accompanied by trade-offs such as benefits. right to access mineral resources, sovereignty, strategic benefits …
Many Asian and African countries have encountered a "debt burden" from Chinese projects.
A study by the Global Development Center found that 23 countries are on the list of high risks by "debt trap" from China, 8 of which are having "debt burden" with China.
A series of Chinese-invested hydroelectric plants can kill the Mekong River and the Mekong Delta.
To date, China has built 6 hydroelectric dams along the Mekong River. Laos and Cambodia plan to build more than 10 dams, and the numer is not final.
A report in Cambodia earlier this month said 30 hydroelectric dams are currently under construction in Laos and seven in Cambodia, mostly funded by China.
The construction of hydropower plants will cause drought in the Mekong Delta. Scientists warn the construction of a hydroelectric plant will reduce 6.2% of the monthly water flow.
Vietnam is the country most affected by the impact of hydroelectric dams on the upper Mekong. However, the Vietnamese government is leaving the people of the Mekong Delta to themselves.
Moreover, a Vietnamese company, Petro Vietnam Power Corporation, is a party involved in the construction of Luang Prabang dam with Laos. This dam, along with many other upstream dams, will "kill" the Mekong Delta.
Lending is not bad, but behind China's mountains of money are strategic attempts to invade national sovereignty of the borrowers.
China's assistance is not really directed at developing the local economy, but creating favorable conditions for Beijing to enter the market, pave the way for cheap goods and access to natural resources in many countries.
Typically Africa. A series of Beijing's seaport and railway projects, after being completed, will clear the flow of minerals to China.
Sri Lanka's Magampura Mahinda Rajapaska Port or Gwada Port in Pakistan, after billions of dollars of loans to invest, are now deserted.
In particular, Sri Lanka is a valuable lesson: In 2017, with more than $1 billion of Chinese debt, Sri Lanka had to hand over the right to use the Hambantota deep-water port to China state-owned China Merchants Port Holdings with 99-year lease contracts to pay off debt.
How has Vietnam been entangled in China's "debt trap" ?
It can be said that: When the world began to warn about China's debt trap spreading to Africa and Asia, Vietnam was very deep in this net before.
The Vietnamese press recently raised a series of ineffective projects related to Chinese investment, typically 4 projects:
The first is Cat Linh – Ha Dong railway project. The Vietnamese press said that this project was 8 times behind schedule and could not be put into operation due to 4 major issues that were not resolved. This railway line is made from a loan of $250 million from the Export-Import Bank of China, operated by the China Railway Company Group Limited Company as the general contractor. It was started in 2011 and has not been able to operate so far, but it is due to pay interest to the Bank of China about VND650 billion/year.
The seond is Lao Cai-Hanoi-Hai Phong railway project. By the end of November 2019, Vietnamese public opinion was raised by the fact that the Ministry of Transport of Vietnam was implementing a detailed plan for the Lao Cai-Hanoi-Hai Phong railway. The information from the press also said that the Chinese Government is willing to sponsor the amount of 10 million yuan, equivalent to VND33.4 billion to survey planning for this project. The researchers said that this railway line does not really meet the travel needs of the people but accounts for an initial investment of about VND100 trilion, which is too wasteful.
The third is Ninh Binh Fertilizer Plant
According to experts' analysis, the Fertilizer Plant of Ninh Binh is struggling to pay a debt of VND 5 trillion with an annual interest rate of 4% to Eximbank China. Vietnam thought it would be beneficial to borrow at the interest rate of 4%, but it was accompanied by the condition that Chinese contractors and Chinese machinery and equipment were used.
The fourth is the project to expand Thai Nguyen Iron and Steel Plant phase 2
Total investment is VND3,843 billion. China Metallurgical Construction Corporation (MCC) wins the bid at $160.9 million.
On May 15, 2013, the chairman of the Board of Directors of TISCO signed a decision approving the adjustment of the total project investment of over VND8.1 trillion (an increase of VND 4.200 trillion), the implementation period until the end of 2014 comes into operation.
However, the EPC package has been temporarily suspended from 2013 to date, the items have not been completed.
Violations in this project also related to Chinese contractors, which led to Mr. Hoang Trung Hai – the current secretary of Hanoi Party Committee, former deputy prime minister who was disciplined by the party.
The Thai Nguyen Iron and Steel Phase 2 project being rusted, one of the trillion-dollar projects that are causing Mr. Hoang Trung Hai to wait for the day to come into the furnace.
A report by the Ministry of Planning and Investment of Vietnam in 2018 said "Of the 12 major projects with trillion-dong losses by the Ministry of Industry and Trade, 4 are using loans from China."
4 projects are using loans from China with trillions of losses, including:
Ninh Binh Fertilizer Plant has a total investment of VND6 trillion, with capital up to VND10 trillion;
Hebei Fertilizer capital up to more than VND10 trillion;
Phase 2 expansion project of Thai Nguyen Iron and Steel was invested from more than VND3.8 trillion to more than VND8.1 trillion;
Quy Xa iron ore mining project and Lao Cai Iron and Steel Plant were doubled from $175 million to over $335 million, respectively.
All of Vietnam's major wrongful projects mentioned in this article have a Chinese silhouette with issues such as unclear contracts, high interest rates, and conditions such as the use of raw materials. and the construction party from China, etc. The cause of the situation that Vietnam is deeply entangled in the Chinese debt trap is due to the ideological numbness, the too low knowledge level and the extreme corruption of the Communist Party of Vietnam (CPV)'s officials and the inferior psychology, looking forward to rely on the Chinese regime.
Concerns about the Vietnamese government's concessions or "entanglement" in corruption with the Chinese side, which will lead to concessions on sovereignty such as the case of Sri Lankan, Pakistant are completely justified.
Therefore, if the Vietnamese government genuinely wants to overcome this "debt trap," only the publicity and transparency of information and respect for criticism from experts will be able to escape the dangerous debt-laden line from China
China, meanwhile, is the master of the art of bribery and manipulation, because it is so well versed in the psychology of the Vietnamese leadership thanks to the similarities of the two Communist regimes.
After a long time, the Vietnamese government was immersed in the debts from China, and when it realized that it is absorbed their malicious attacks, it was too late.
Now, the only way to look at the truth for Vietnam to change completely, to switch to democracy and freedom, will likely gradually escape the debt trap from China that weighs heavily on the shoulders of more than 90 million Vietnamese people.
Thu Thuy from Hochiminh city – Thoibao.de (translated)
source in Vietnamese: Thoibao.de