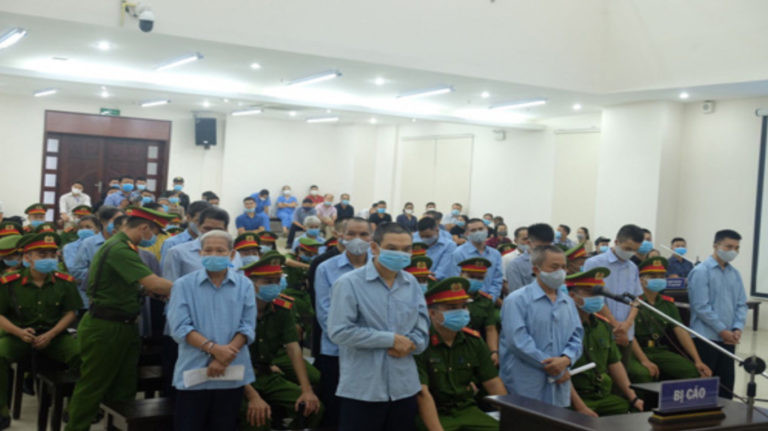 "Vietnam is one of the Southeast Asian countries with poor human rights records, with a higher number of political prisoners than any other country."
Phil Robertson, Deputy Director of Asia Division of Human Rights Watch International – HRW, spoke to RFA on the occasion of International Human Rights Day (December 10) this year.
"They (the government) impose heavy prison sentences of 12 to 14 years for those who want to exercise basic human rights and political rights such as freedom of expression, freedom of expression, and the right to association as well as the right to gather having no need of permission from the government"
"These are the rights specified in the International Covenant on Civil and Political Rights that Vietnam has signed but Vietnam deliberately does not recognize, respect, and do not implement for long."
That is why, as Mr. Phil Robertson said, human rights in Vietnam are not only not promoted but also get worse, especially in the context of 2020 with the global economic turmoil and COVID epidemic-19 raging everywhere.
2020 is the year that sees many arrests and heavy prison sentences for activists, independent journalists, bloggers or Facebookers who dare to post opinions contrary to the regime. According to the Defend the Defenders (DTD), as of September 30, 2020, the Vietnamese government has arrested at least 258 prisoners of conscience in prisons or other forms of detention.
They become prisoners of conscience known to the outside, while the life of their wife's family is uneasy, tense and anxious when they are jailed for daring to oppose the State.
In 2020, the Vietnamese government strongly suppressed the Independent Journalists Association of Vietnam. The first case is its President Dr. Pham Chi Dung, who was arrested on November 21, 2019, on charges of "Making, possessing, distributing or propagating information, documents, and objects. products aimed at opposing the Socialist Republic of Vietnam" according to Article 117 of the Criminal Code 2015. Since then, he has been detained on the condition that he cannot meet with his family and lawyer.
On May 23, 2020, the Vice President of the association, blogger Nguyen Tuong Thuy, was arrested at his home in Hanoi. A month later, it was the turn of the third editor of the Việt Nam Thời báo, the voice of the professional group and journalist Le Huu Minh Tuan, was also arrested in the same case with journalist Pham Chi Dung.
Blogger Nguyen Tuong Thuy's wife, Pham Thi Lan, said he was taken to Prison No. 4 Phan Dang Luu, Ho Chi Minh City:
"They talked that individuals charged with 'conducting anti-state propaganda' can meet their relatives after the investigation ends only. But they use the COVID-19 pandemic to deny family's visits. My husband's lawyer was able to meet him twice."
"Since being arrested in May to around September, they have been constantly monitoring me, even guarding my stairs like when Mr. Thuy was not yet arrested. I haven't seen them for almost 2 months now."
"Now the visit is very expensive and very difficult. Once they got caught, they would somehow appeal to prison. It is according to the law that after the investigation ends, the family must see my husband face to face. My wish is to meet my husband as prescribed by law."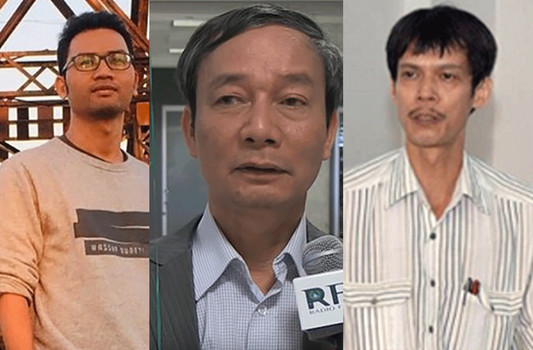 On November 10, 2020, the People's Procuracy of Ho Chi Minh City indicted the prosecution of 3 leaders of the Independent Journalists Association of Vietnam Pham Chi Dung, Nguyen Tuong Thuy, and Le Huu Minh Tuan for "doing, possessing, distributing or propagating information, documents and articles against the State of the Socialist Republic of Vietnam." This is a decision under Clause II, Article 117 of the Penal Code, called a crime in the case of serious exclusion with a sentence of 10 to 20 years imprisonment.
2020 is also the year when the Dong Tam case shocked the public inside and out, after about 3,000 riot police attacked Dong Tam commune, Hanoi suburbs on the morning of January 9, 2020, killing old spiritual leader Le Dinh. Kinh and simultaneously arrested 29 other land petitioners on charges of murder and resisting on-duty state officials. This is a case in which the Hanoi People's Court dated September 14, 2020 ruled two death sentences out of 29 arrested, alongside a number of life sentences and 10 to 16 years in prison.
The attack on Dong Tam occurred when the land disputes between the people and the government of Hanoi were not resolved. The case has been criticized by many international human rights organizations, the US, and the EU for its lack of transparency. HRW called the sentencing after the trial of the Dong Tam residents as "pocket sentences."
On June 24, 2020, some people often reported about Dong Tam's sudden arrest, including four human rights defenders of Duong Noi, Mrs. Can Thi Theu and 2 sons Trinh Ba Phuong and Trinh Ba Tu, and Mrs. Nguyen Thi Tam:
"Four days after I gave birth to my second son, they arrested my husband. I am very sad because all 3 members of my family were arrested at the same time. Currently, my husband is being detained at No. 1 Hoa Lo, Hanoi. Since my husband was arrested, I can only send clothes and send money. My life is turned upside down, my children lack the love of their grandmother, father, and uncle."
"My mother-in-law and Trinh Ba Tu were detained in Hoa Binh, but there are 75 kilometers from Hanoi to Hoa Binh prison. As for Hoa Binh, where my father-in-law lives, it took 90 kilometers to go to Hoa Binh prison."
Mrs. Do Thi Thu also confirmed that on August 30, 2020, the local police sent a summons from Hanoi Security related to the Trinh Ba Phuong case "making, storing, distributing documents and articles against the State of the Socialist Republic of Vietnam."
As for young activist Trinh Ba Tu, his family said that he went on a hunger strike for 20 days in Hoa Binh detention center.
This next event, which shocked many years in 2020 is the arrest on October 6 of journalist and activist Pham Doan Trang, a famous journalist with many books on Vietnamese politics. She was accused of "conducting propaganda against the State of Vietnam" as well as "making, storing, distributing or disseminating information, documents and articles" against the state. The arrest happened less than a day after the end of the 24th annual Vietnam-US Human Rights Dialogue.
This is the second time Pham Doan Trang has been arrested since 2009. She was beaten and tortured to bring injuries in her arms and legs.
Mother of freelance journalist Pham Doan Trang, Ms. Bui Thi Thien Can, said:
"The only improvement over 2009 was that they told me the location of my child's detention, but in 2009, they took her to lock up where they did not know. This time they said I was detained in the No. 1 detention center, Hoa Lo, Hanoi. From that day on, the mother and daughter did not meet each other, if we provided something for her, I got a receipt with her signature but I couldn't meet."
"My family found that with the condemnation her sentence could be up to 20 years. I'm 80 years old this year, said when my child get out, I was already in another world. Thinking like that, wonder if I have the strength to wait for her to go home or not."
"But thinking over and over that my child follows the democratic ideal is too nice, so it's good to meet her again, if not, it is our fate. The mother and daughter's definitive point of view is like that.".
On November 26, 2020, the UK and Canada spoke to Vietnam about the arrest of independent journalists, including Pham Doan Trang, in order to limit freedom of speech in the country.
Before the arrest of Ms. Pham Doan Trang, a journalist and dissident writer Pham Thanh, whose real name is Pham Chi Thanh, was arrested on May 21, 2020. He is the author of a number of books directly criticizing Mr. Nguyen Phu Trong – General Secretary of the Communist Party of Vietnam. The crime that Mr. Pham Thanh is accused of is also "making, storing, disseminating or propagating information, documents, and articles against the State of the Socialist Republic of Vietnam."
On November 24, 2020, Mr. Pham Thanh was transferred from Hoa Lo to the Institute of Forensic Pshycological Medicine in Thuong Tin. Ms. Nguyen Thi Nghiem, wife of journalist Pham Thanh, spoke up to pray for help for her husband online:
"When they transferred my husband to the Mental Forensic Institute, I was surprised. My husband is not psychotic, nor is he mentally ill. That hospital holds people suffering from many mental forms, but my husband is not psychotic. I wish they do it without harming his health as well as his spirit."
There is no respect for human rights to prisoners of conscience, especially for ethnic prisoners, is the word of Mr. Khui, the son of Pastor Y Dich in Dak Doa, Gia Lai, is serving a 12-year prison term at An Phuoc prison, Binh Ocean:
"My father was arrested in 2013, charged with anti-state activities, they forced him to deny his religion. The officials in the commune and district continuously went to our house to monitor, they summoned him 5 or 6 times, threatened to beat and threatened to kill him, they forced him to give up his belief."
"Visiting my father there is very difficult, renting a car for VND7 million- VND8 million for one time, these years have been very difficult. My father said that the staff beat him with all his teeth and weak health. Families face many difficulties, the Vietnamese government suppresses and does not respect the human rights of their people."
Although Vietnam has signed the International Convention on Civil and Political Rights, Vietnam still applies ambiguous laws, feels guilty everywhere, to punish those people who do not follow their impositions, said Phil Robertson.
Thoibao.de (Translated)
Source: https://www.rfa.org/vietnamese/in_depth/international-human-right-day-vn-increase-crackdown-on-activists-in-2020-12082020075857.html