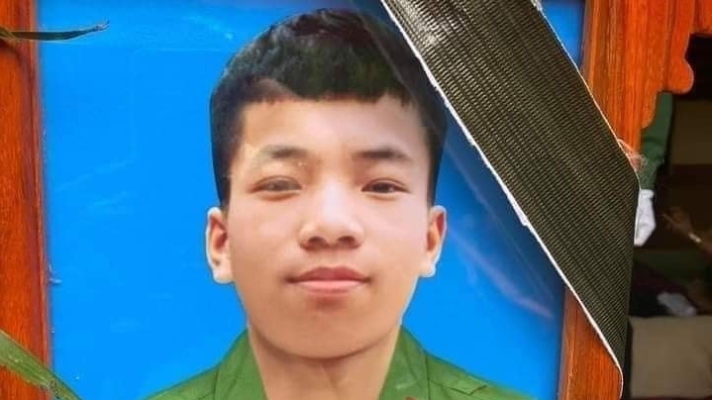 Responding to the case of a 19-year-old soldier who allegedly hanged himself to death while on duty, the Propaganda Department of Vietnam's Ministry of Defense on the afternoon of June 30 affirmed that "soldier Tran Duc Do was found to have committed suicide by hanging himself" and the ministry is urgently investigating to clarify the cause of the incident." It has also warned that "hostile forces" are taking advantage of this case to create build fake news sites.
Beaten to death?
Previously, on the social networks Facebook and YouTube, the Vietnamese online community expressed their anger and frustration after many videos were posted on these websites showing the family receiving the body of soldier Tran Duc Do and the family says on his body there are many suspicious signs of being beaten to death.
Responding to the state-controlled media on the afternoon of June 30, the Department of Propaganda said soldier Tran Duc Do (19 years old, born in Da Hoi area, Chau Khe ward, Tu Son town, Bac Ninh province) ) died at Battalion 4, Company 14, Military School of Military Region 1 on June 28 while the unit organized the troops to march into the training range as planned.
"During the period from 13:45 to 14:00 on June 28, when the unit was preparing for training, soldier Tran Duc Do asked to the unit commander to allow him to go to the toilet (due to abdominal pain). Around 14.20, when soldier Tran Duc Do did not return, the commander of the 14th Company sent 3 soldiers to look for him. At 14.30 on the same day, soldier Tran Duc Do was discovered hanging from an acacia tree behind the top of the hill, about 50 meters from the unit's training site," Thanh Nien newspaper quoted information from the Department of Propaganda.
Meanwhile, a video posted on social networks about the funeral of soldier Do, Mr. Do's aunt said:
"My nephew called me, only 30 seconds. He talked very fast and very scared. He told me that his commander often beats him. I asked him "Is something serious? and he replied 'Well, I'm fine. Don't tell my parents.' A few days later, on the 25th (June), I received a message from him saying he will go to Da Lat for a month and he will not communicate with his parents during that time. And on June 28, he was said to have committed suicide. How comes!?"
Other videos taken by the family after receiving Tran Duc Do's body showed that the soldier's body had many wounds on the head, back of the neck, on the chest, mouth … which the family denounced as "all dangerous places" and is like "brutally tortured."
"They beat our guy and later say he has hanged himself! Yesterday he was still happy. Please share so the justice will come for our guy! They beat him to death and later created fake scene," said a relative of the soldier.
Do's family added that they received the news about his death many hours after he had been dead, the body was already hard, and when his family arrived, "they forced us to travel around for a few hours before allowing us to see his body."
"Members of the Politburo and the Ministry of Home Affairs must work to clerify this case," a man who claimed to be a relative of Do's mother said angrily at the funeral. He proposed not to bury the soldier before receiving reasonable answer about his death and his proposal met strong support from the family and other people in the village.
"Currently, the authorities are urgently investigating to clarify the cause of the incident; At the same time, we coordinate with his family to take care of the afterlife for soldier Tran Duc Do. When there are conclusions from the authorities, the unit will continue to inform the case," the Department of Propaganda informed the press on June 30.
Talking to Vietnamnet, Tran Duc Hoi, the father of soldier Tran Duc Do, said that the family is still waiting for the autopsy results and official information from the unit to know the exact cause of death of his son.
Mr. Hoi said that his son applied for enlistment in early 2021. After 3 months of training in Bac Giang, Mr. Do was transferred to Battalion 4, Company 14, Military University of Military Region 1 (Phu Binh district, Thai Nguyen province) to continue training.
But on the afternoon of June 28, he received a phone call saying that his son was being treated at Thai Nguyen Hospital. But when the family went to the hospital, he received a phone call asking his son if there was any conflict that would lead him to committing suicide. After that, his family was informed by the hospital that Tran Duc Do had died outside the hospital, so the hospital did not give emergency treatment or confirmation.
"He had not been beaten"
Meanwhile, Colonel Nguyen Xuan Thin, Head of the Training Department of Military Region 1, confirmed to the press that Mr. Do was not beaten because the unit was training in the field. This military official said that the bruises on this soldier's body "may be due to the process of hanging himself, Do struggled and struggled, so he was tightened by the rope, creating deep marks on his neck" and "the scratches on Do's body were not affected by external forces," Dan Tri newspaper reported.
Commenting on the legal aspects related to this case, lawyer Nguyen Duy Binh from Saigon told VOA: "There is no reason for him to commit suicide while the injuries on his body are not likely from hanging himself unless he himself caused these injuries before hanging himself.The reason and injuries If it is said that Do hanged himself."
According to the attorney, the death of soldier Tran Duc Do "is somewhat similar" to some previous deaths in police stations or prisons because "the conclusion is not consistent with the mechanism of wound formation."
According to him, although the truth of this case is not clear, the investigation and conclusion of this case is "quite simple." He said that it is necessary to have an independent investigation and assessment agency so that similar cases can be concluded more accurately and convincingly in order to create and maintain public trust.
Currently, the information from the Ministry of Defense is causing a lot of controversy on Vietnamese social networks. Many people expressed frustration and thought that it was unacceptable for soldiers to die "in peacetime."
In addition to the information and video clips that are being spread quickly on social networks, a Facebook fan page called "Community for Comrade Tran Duc Do" has just been set up, which has more than 32,000 participants by the evening of June 30.
"If you don't do military service, they will tell you that you're not patriotic!! After being beaten like this, I wonder who dares to allow their children go to army!"- a Facebook account named "Need a Shoulder" expressed.
Colonel Nguyen Xuan Thin on June 30 told the press that "a lot of forces have created fake pages in cyberspace to attribute the incident" and warned "those who spread the news will be held responsible according to the Law on Cyber Security that Vietnam has just introduced and applied recently."
Thoibao.de (Translated)
Source: https://www.voatiengviet.com/a/b%E1%BB%99-qu%E1%BB%91c-ph%C3%B2ng-vi%E1%BB%87t-nam-l%C3%AAn-ti%E1%BA%BFng-v%E1%BB%A5-qu%C3%A2n-nh%C3%A2n-%C4%91i-ngh%C4%A9a-v%E1%BB%A5-ch%E1%BA%BFt-v%C3%AC-t%E1%BB%B1-t%E1%BB%AD-/5948227.html