On October 14, the German daily TAZ published an article questioning "The drug smuggling case from Berlin is probably related to To Lam." The following is the translation:
There is evidence that a relative of Vietnam's ambitious Minister of Public Security is involved or may have covered up the smuggling of synthetic narcotics (ecstasy) from Berlin to Hanoi.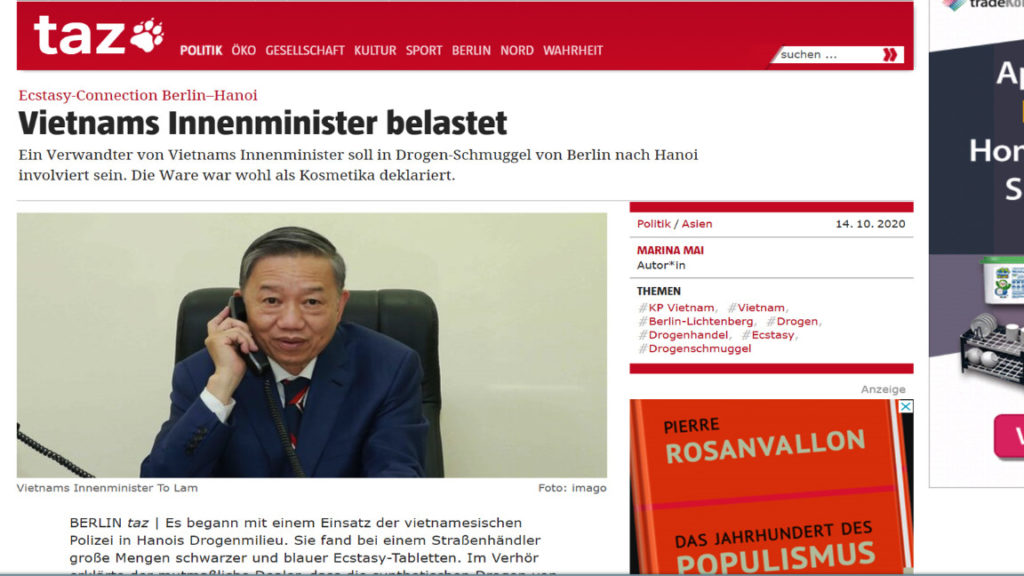 The incident started with a police operation in Vietnam in the "drugs world" in Hanoi. Police arrested a drug dealer and found a large number of blue and black ecstasy (Ecstasy synthetic drugs). During the interrogation, the suspect claimed that the synthetic narcotics came from a shipping company in Berlin.
Recently this company has sent 40 to 45 kg of drugs in cosmetic boxes from Berlin to Hanoi.
At least that's what one informant wanting anonymity told Berlin-based Vietnamese online magazine Thoibao.de. This person also informed the German police about this drug trafficking in Berlin.
Vietnamese media reported that ecstasy was found in German parcels in mid-July, but in smaller numbers, and six people were arrested. It is also speculated that those drugs are routinely sent from Germany.
According to the informant, while in Vietnam street drug dealers were arrested, the Berlin transport company – also staffed in Hanoi – remained safe.
The CEO of this limited liability company is the brother-in-law of Vietnamese Minister of Public Security To Lam who targets the state president post in the next term.
Due to his deteriorating health, General Secretary cum State President Nguyen Phu Trong (76 years old) has only been able to take a few steps by himself since he suffered a stroke last year.
Minister of Public Security To Lam is considered the most promising candidate for the president post.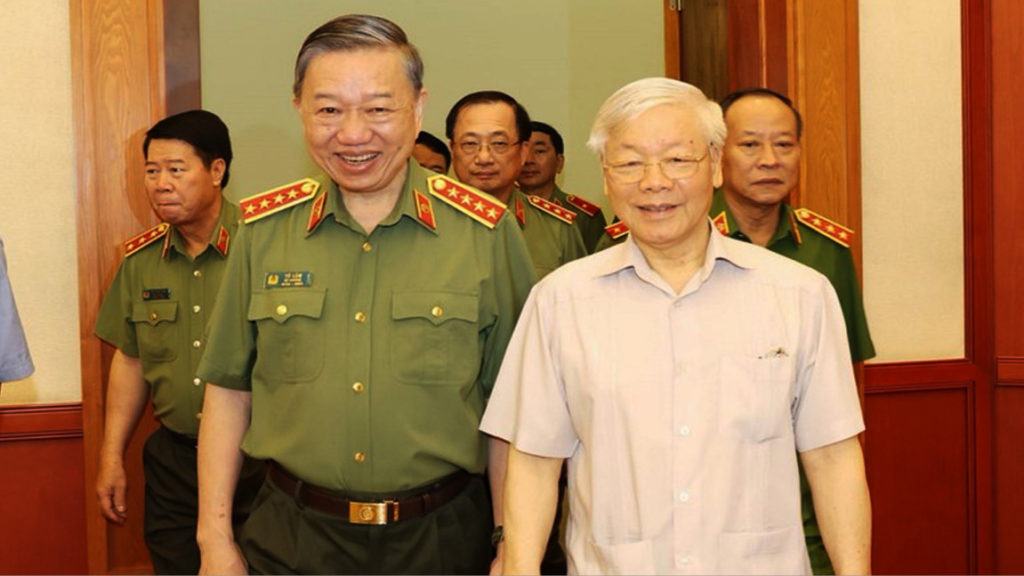 But he is the person, according to the Berlin Supreme Court decision, ordered the abduction of disgraced former official Trinh Xuan Thanh from Berlin to Hanoi in 2017 and hired a Slovak government jet in 2017 in Bratislava to transfer the kidnapped ex-official from the EU. He himself also sat on this flight.
Transportation company TK Consulting & Service GmbH in Berlin, suspected of smuggling drugs to Hanoi, is headquartered in a small street in the industrial district of Lichtenberg district in Berlin (near Dong Xuan market).
A spokesman for the Berlin-Brandenburg Customs Investigation Department confirmed to TAZ a search of the company on August 3. It was after the drug discovery in Hanoi occurred and after receiving the criminal denunciation from a Vietnamese source.
Documents obtained from a customs search are still under investigation, so a customs spokesperson cannot provide further information nor did he want to say whether there have been any arrests in Germany for this drug trafficking. The shipping company also did not respond to questions from the TAZ newspaper.
On its Facebook page, the shipping company announced in Vietnamese: "Since August 9, the carriage of goods to individual customers to Vietnam has been suspended."
The company temporarily refuses to transport goods for private customers, but continues to provide services to businesses.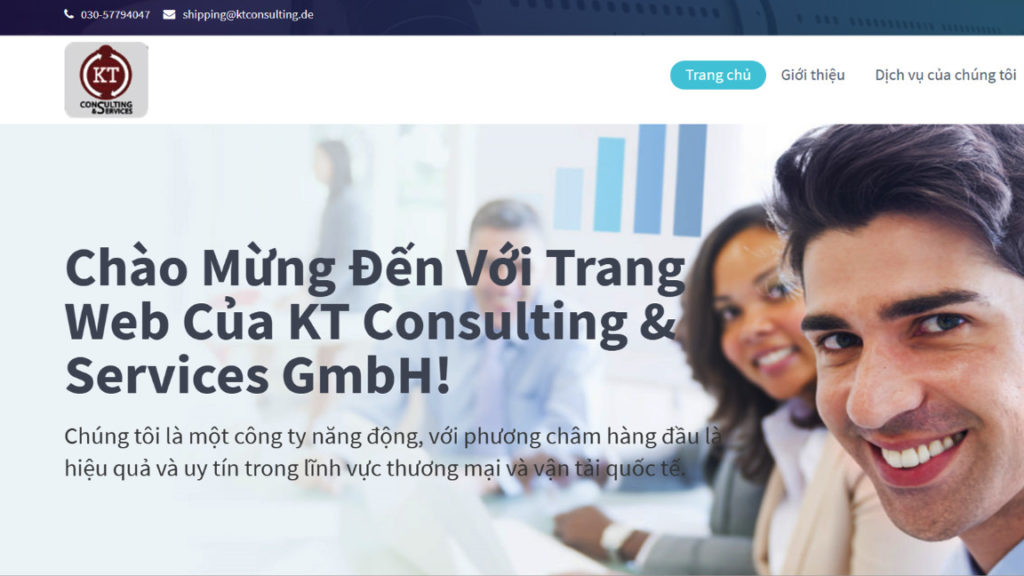 TK Consulting & Service GmbH is the leading company in the transport market between Germany and Vietnam.
The owner, who has a relative relationship with the Vietnamese Minister of Public Security, has attended university in the Germany Democratic Republic and is related to the Vietnamese House (Viethaus – the first overseas investment project in Germany due to a Vietnamese state-owned company – which has been operating at a loss and closed since late 2018) was controversial in Berlin before he entered the shipping business.
Regarding the crime of trading 40 kg of ecstasy, in Germany was sentenced to at least 5 years in prison, in Vietnam it was a death sentence. The accused ones may escape death penalty if they have a family relationship with senior Vietnamese officials.
From the beginning of 2020 until now, the Border Guard alone has arrested and seized nearly 2.9 tons of drugs of all kinds. According to the People's Army newspaper, the drug and crime prevention force of the Border Guard presided over and coordinated with the functional forces to detect and arrest 701 cases, 1,200 subjects, seized nearly 2.9 tons of drugs of all kinds.
The Drug-related Crime Investigation Police Department said that in the first 6 months of 2020, the number of drug-related violations and arrests increased by 9.46% over the same period in 2019.
In the first 6 months of the year, the police force investigating drug-related crimes presided over and coordinated with the functional forces to detect 11,215 cases, arrest 15,775 drug offenders; seized 235 kg of heroin, nearly 1.6 tons and 850,000 synthetic drug tablets, and 113 kg of marijuana.
Last year, only in the first 5 months of 2019, Vietnam confiscated 7 tons of drugs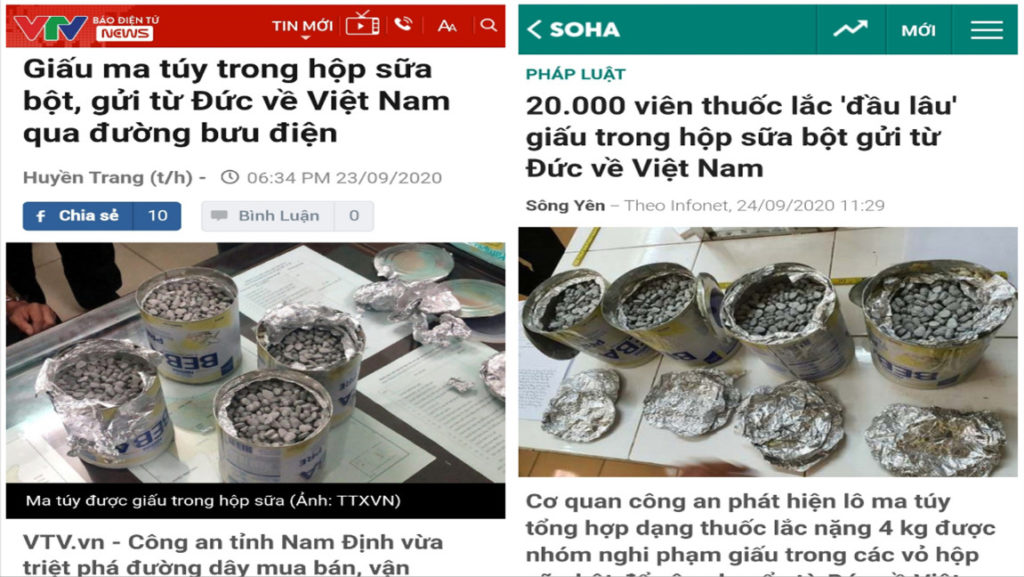 According to the Department of Drug Crime Department of the Ministry of Public Security, there are more than 3.5 million drug addicts in the world, only 224,000 drug addicts in Vietnam.
Drugs entered Vietnam by 4 routes, of which 90% were smuggled via land routes (China, Laos and Cambodia); by air (through two major airports, Tan Son Nhat and Noi Bai); By sea, at major ports such as Haiphong, Ho Chi Minh City and finally by mail.
Last time, the drug prevention force of the Ministry of Public Security discovered 21,000 cases with 31,000 drug subjects. In 2018, 2.2 tons of drugs collected (including 1.5 tons of heroin, 500 kg of synthetic drugs, several million tablets of synthetic drugs).
The country currently has 62 re-education camps (55% – 60% of drug crimes; 40% – 45% related to criminal, economic and other crimes).
According to statistics, in the first 5 months of 2019, the drug situation in Vietnam increased dramatically, only drug seized increased many times compared to 2018, collecting 7 tons of drugs of all kinds (heroin, meth, and drugs, synthetic drugs skyrocketed).
A series of cases of drug transport from Germany to Vietnam via Post has been discovered recently in many northern provinces.
On July 14, 2020, Hanoi Customs announced that it had discovered 5 shipments from Germany to Vietnam hiding more than 42,000 MDMA tablets, nearly 400 g of ketamine and about a pound of suspected effervescent tablets.
5 shipments by courier sent to 5 addresses in Thai Nguyen, Thanh Hoa, Nghe An, Binh Duong and Ha Tinh, inside contains functional foods and chemical cosmetics.
Authorities discovered that in the boxes of functional foods for hair loss treatment, vitamin supplements, mineral enhancement … large amounts of drugs were hidden in the form of tablets and crystals.
On July 14, the Hanoi Customs Department announced the temporary detention of 6 people in the drug smuggling ring.
The ring to transport drugs from Europe to Vietnam by courier
On July 16, the police of Hoang Mai district (Hanoi) initially informed about the illegal drug trafficking ring from abroad to Vietnam, seized the evidence of 9 kg of drugs.
Before that, around the beginning of June 2020, the police of Hoang Mai district discovered a large drug transport line from Germany through Noi Bai International Airport checkpoint to Vietnam and then sent it to consumers like Hanoi and Ho Chi Minh City.
During the struggle, at about 9:45 am on June 22, at lane 24 Kim Dong, Giap Bat ward, Hoang Mai district, the investigation criminal team on drug-related crimes of Hoang Mai District Police caught two people in Dong Tam ward, Hai Ba Trung, Hanoi, is involved in illegal drug transport. The confiscated evidence includes a paper box inside with 3 plastic jars containing about 2,000 blue triangle tablets.
The subjects claiming that this is synthetic drugs are preparing to deliver to a subject in Ho Chi Minh City.
Continuing the investigation, the authorities arrested 3 more subjects and the emergency search of the whereabouts of the above subjects, the functional forces seized 23 plastic bottles containing multicolored tablets (about 16,500 tablets). Blending with other herbal medicines inside the inn foam bin. The subjects claimed this was synthetic drugs waiting to be shipped to the subjects who ordered drugs.
In addition, from the testimony of the subjects, the functional forces seized a large number of drugs scattered by the subjects in many "storage warehouses" scattered across Hanoi City.
The total number of drugs seized in the case was about 35,000 pills weighing 9,234 kg, which was synthetic drugs of the type MDMA.
Thoibao.de (Translated)