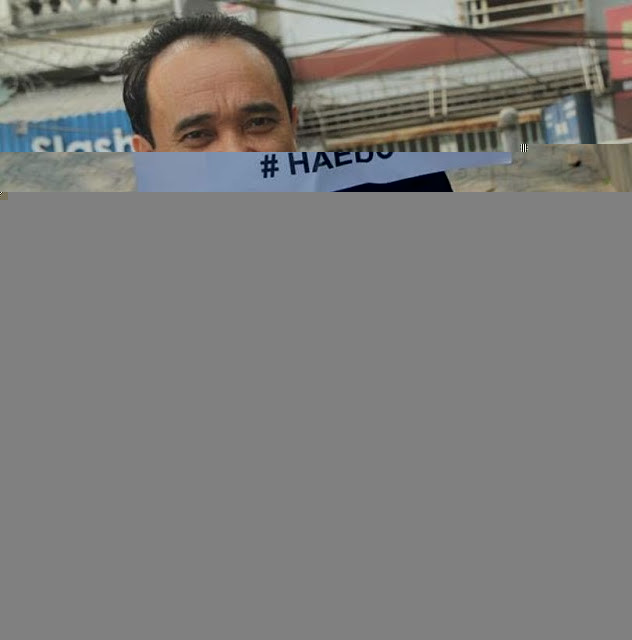 Authorities in Vietnam's capital city of Hanoi have convicted local democracy activist Nguyen Trung Linh of "Making, storing, spreading information, materials, items for the purpose of opposing the State of Socialist Republic of Vietnam" under Article 117 of the 2015 Criminal Code and sentenced to 12 years in prison, Defend the Defenders has learned from his family.
According to his sister-in-law Ho Thi Lan, he was tried in a secret hearing in July this year by the Hanoi People's Court in which his family was not invited to observe. His family was informed by the local police after the trial, Mrs. Lan told Defend the Defenders.
Mrs. Lan added that the lawyer his family hired to provide legal consultation for him was denied by the Hanoi's authorities and Mr. Linh was without a lawyer during the hearing.
Before being tried and convicted, Linh had been taken to a mental facility for health checking so many believe that he had still been held there, like the case of Hanoi-based blogger Le Anh Hung, who has been placed under enforced mental treatment for months.
Mr. Linh, who posted a statement on his Facebook page on May 25, 2018 to call for peaceful demonstrations to protest China's violations of the country's sovereignty in the East Sea (South China Sea), was arrested by security forces in late May of the same year.
Mr. Linh was born in 1967 in the central province of Thanh Hoa and sent to the Czech Republic in mid 1980s to study in a bachelor program. Influenced by the democratic revolution in Eastern Europe in the early 1990s, he worked for a student outlet established by Vietnamese pro-democracy activists in Prague.
After returning in Vietnam in mid 1990s, he was detained by security forces but no charge was made. Later, he was arrested again because of his pro-democracy writing and attempts to establish an organization with other activists. He was sent to a mental health facility for a short time instead of jail.
Mrs. Lan said that in the past 20 years, Mr. Linh has been under constant persecution from Hanoi security forces who have maintained close surveillance on him. He has been arrested and placed in detention without being charged many times, she said.
He was assaulted many times by police who were assigned to follow him, when he met with other activists or took his two children to school, Lan said, adding that in one of these cases they knocked down his motorbike, causing serious head injuries to his older son.
Along with assaulting him, police threatened to take him back to mental health facilities if he continues to write to advocate multi-party democracy.
Hanoi police also disseminated the wrong information saying he is suffering from a mental disease in a bid to isolate him from other activists and people in his area. They have also blocked his economic activities.
Police have also threatened his relatives in order to prevent them from speaking out to support him, Lan noted, adding as a result, few people understand his situation.
Linh had called for the establishment of opposition parties, but police detected and arrested him, she said.
Along with using controversial articles in the national security provisions to arrest and convict political dissidents, Vietnam's security forces have used other measures to persecute activists, including abduction, physical and mental torture, close surveillance, and blockage of economic activities. Many political dissidents have been arrested and placed in long detention without being charged and tried.
The conviction of Mr. Linh is part of Vietnam's ongoing crackdown on local political dissidents, human rights defenders, social activists, and bloggers. Around 30 activists have been arrested and convicted this year in addition to 29 land petitioners in Dong Tam commune, Hanoi.
His sentence is the lengthiest for the charge "conducting anti-state propaganda." Last year, college lecturer Nguyen Nang Tinh was sentenced to 11 years in prison for the same allegation.
Thoibao.de (Translated)
Source: https://www.voatiengviet.com/a/nha-hoat-dong-nguyen-trung-linh-bi-bi-mat-ket-toi-va-tuyen-an-tu-12-nam/5693265.html