One former commander and a former deputy commander of the 4th Corps with the rank of lieutenant-general of the Vietnam People's Army (VPA) have just been warned by the Central Inspection Committee for violations in land management and use.
Six other colonels from important military industries from logistics to military medicine were also warned, according to the Vietnamese press.
On Monday, August 17, 2020, the online newspaper VnExpress reported:
"On the afternoon of August 17, the Central Inspection Committee announced the content of its 47th session, considering the request for disciplinary action of the Standing Committee of the Central Military Commission related to Lieutenant General Nguyen Van Thanh, former Deputy Secretary of the Party Committee cum former commander of the 4th Corps; Lieutenant General Tran Xuan Ninh, a former member of the Standing Committee of the Party Committee cum former deputy commander of the same unit; Colonel Mai Van Hao, a former member of the Standing Committee of the Party Committee and former deputy chief of staff and Colonel Phan Van Tien, former deputy secretary of Party Committee and former director of 4th Corps Logistics Department.
"The Central Inspection Committee decided to warn the four people mentioned above, because they 'violated the principle of democratic centralization, the working regulations and the law on land management and use.' The Central Committee for Inspection also said it had warned Colonel Nguyen Van Giang, former deputy secretary of the Party Committee and former chief of System 5, Military Medical Academy because Mr. Giang has a violation and shortcomings in the management and use of the school dormitory."
Military colonel has a "remarkable" role
A former military Colonel Dinh Ngoc He is often referred to by the Vietnamese press as "Ut Troc," who has been convicted in a number of criminal cases, may have to face new accusations in another case.
The case involved a deputy transport minister, who was arrested and charged together with his subordinates last week, according to state media.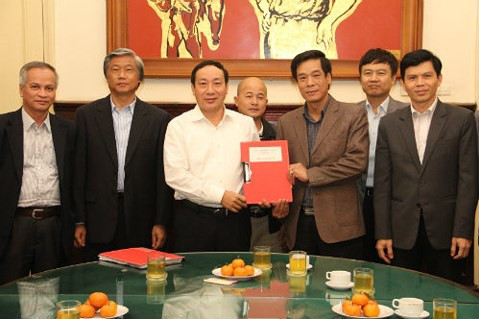 On August 14, Lao Dong newspaper reported: "Former Deputy Minister of Transport & Transport Nguyen Hong Truong was arrested for being related to Ut Troc Dinh Ngoc He.
The Saigon Liberation newspaper on Sunday, August 16, added:
"Regarding the probe and detention of Mr. Nguyen Hong Truong, former deputy minister of transport, information from the Ministry of Public Security said that he was arrested for being related to a criminal case that happened at Yen Khanh Group, Cuu Long Corporation, and other units in the auction and toll collection of Ho Chi Minh City-Trung Luong expressway."
On Friday, according to the Lao Dong newspaper, former army Colonel Dinh Ngoc He played a remarkable role in the criminal case where Deputy Minister Nguyen Hong Truong and then Minister Dinh La Thang (previously) were both involved.
The newspaper under the Vietnam General Confederation of Labor said:
"Dinh Ngoc He owns Yen Khanh Group but this enterprise has no capital, no organizational structure or human resources; The company was set up just to sign a joint venture contract for personal purposes, to make a profit."
"However, Yen Khanh Group then won the auction of VND2,004 billion and was entitled to collect fees from Jan 1, 2014, to Dec 31, 2018. Under the contract, Yen Khanh Group had to pay VND2,004 billion in three phases that took place before November 2014. However, only after 15 times and until Dec 31, 2017, the firm completed the payment."
"Not radical, but there is success"
Recently, the Central Inspection Committee of the Communist Party of Vietnam continues to hold sessions and publish many notices on the results of inspection and handling of anti-corruption cases within the government and party agencies. and the armed forces, in which there are many "big crimes" that are of public concern.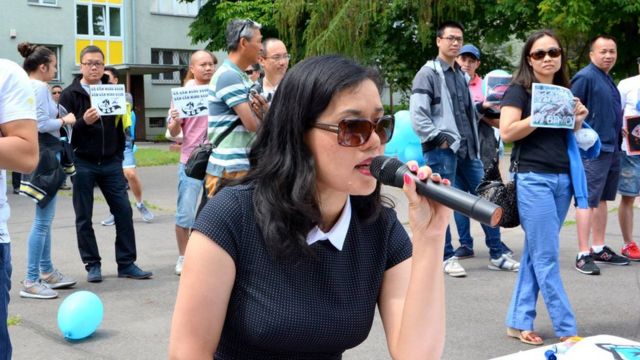 Commenting on the anti-corruption work that the leaders of the party and the state of Vietnam have been conducting for the past several years up to now, journalist Mac Viet Hong, editor of Dan Chim Viet online newspaper from Warsaw, Poland shared her points of view with BBC News Vietnamese on Thursday:
"Anti-corruption in Vietnam is not done in a radical way, because if we want to fight corruption at its root, Vietnam must have multi-party and press freedom.
"But I also note that General Secretary Nguyen Phu Trong's burning work has also had certain successes."
"The first is that we have seen a number of corrupted senior officials, including a minister, has been punished with lengthy imprisonment."
"And I think that Vietnam's ongoing crackdown on corrupted officials has gained some success although it is not radical because all state officials are corrupted and if the anti-corruption is radical, there would be no cadres for operating, as Dr. Nguyen Quang A said."
"Because we know that all state officials, from the village heads, the school principals to higher-ranked officials are corrupted and own very large assets."
"So, although not radical, I have acknowledged the certain successes of the burning of the furnace by General Secretary Nguyen Phu Trong," Ms. Mac Viet Hong told a talk show on Thursday of BBC News Vietnamese August 13.
Also at this discussion, commenting on the "burning fire, firewood" against corruption in Vietnam, Dr. Nguyen Quang A, former Director of the Independent Policy Review Institute (IDS) which was self-resolved, said:
"If the anti-corruption is serious, then the Communist Party of Vietnam will not be able to work anymore because too many of its officials are corrupted with different degrees."
Thoibao.de (Translated)
Source: https://www.bbc.com/vietnamese/vietnam-53808508