Never before have the Vietnamese been divided by an American president like today. The attitude of support or against the 45th president of the US has been a subject of controversy between the Vietnamese people to a degree as much as the controversy surrounding Nationals and Communists since 1975.
On November 4, the attention of the online community in Vietnam focused on the US election results.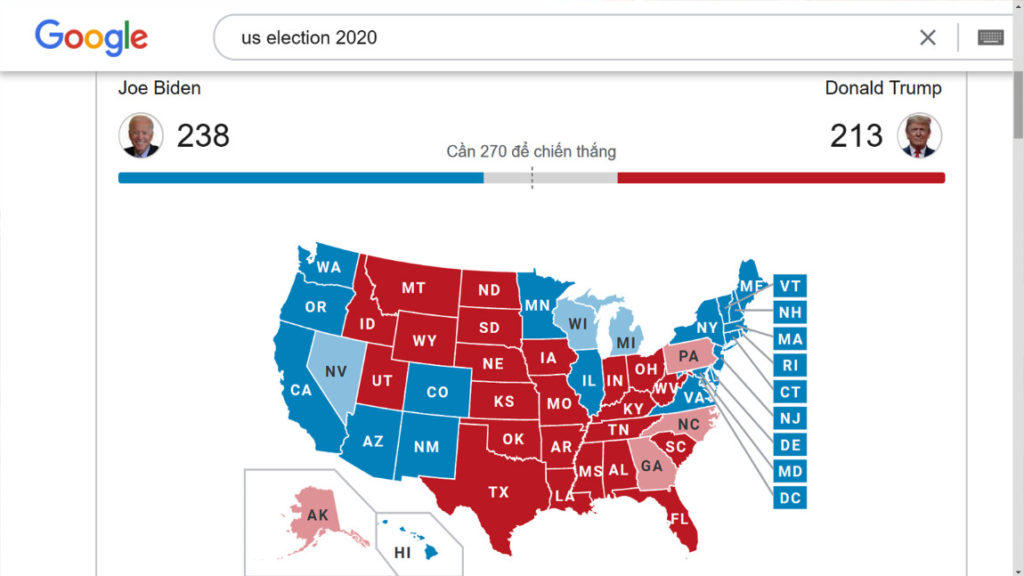 Notably, while the official results have not been announced, many Facebookers supporting Trump rushed to announce that the election had ended with the re-election of the US President and "condolences" to Mr. Biden.
Even some Facebookers of the intellectual world, journalists, activists … also expressed that they were ready to have a drink to "celebrate" the victory of President Trump as he unilaterally declared at the White House, while a number of important states are still counting votes.
The split culminated when Vietnamese fans of Trump even attacked Professor Jonathan London, an American citizen who lives in the Netherlands and speaks Vietnamese because he frankly criticizes Vietnamese-Americans who have voted for Trump and calls them "stupid."
Mr. London writes on his personal page: "I admit that it is not a constructive assessment, some consider it out of the way and possibly true. Because of course, everyone has the right to give their opinion… otherwise it is contrary to democratic values… "
"I cannot understand why anyone who says that they are for a more democratic and pluralistic Vietnam and those who think human rights are important are ready to support the one who has clearly worked against these values. Anyway, for those who feel offended, please understand that I shouldn't have been too strong in criticizing other people's legitimate choices."
"And please understand that I will never apologize for fighting racism in any way and against someone who does not support human rights or democracy. Fascism is a deadly thought that we cannot ignore, and with many more people, so America's already weak democracy is in extremely high danger," the professor added.
Lawyer Tran Duy Canh, a Westlife Immigration company in Saigon, commented on his personal page: "I am quite indifferent about this election, and smile when my friends curse each other like dogs and cats for two old men."
"Because I think, it has nothing to do with me and I can't do anything about it. I am just a poor citizen in a remote and sick Vietnam. However, now watching the results is heartbreaking. I want Biden to win not that he is better than Trump, but I think he will make American society more peaceful, friends would stop arguing. Many more reasons."
Mr. Canh also joked that Vietnam's electoral model "is better, more superior, no one is suffering or angry."
Earlier, on November 3, journalist Bach Hoan posted on Facebook that she was unjustifiably attacked by the anti-Trump faction, she said:
"Suddenly this morning I was labeled by an anti-Trump as a pro-Trump one who wants Trump to be president forever. When I asked for evidence, the person asked me to answer whether I support Trump or not!
In principle, when you accuse someone of something, you have to give evidence for what you accuse.
And of course, I have no obligation to explain that I am for Trump or against him.
The fact that he did not prove it but also asked me in return proves that he is just kind of arrogant blasphemy, his perception is far from being civilized.
I am Vietnamese. I care about things related to my country, to the social life around me. I am interested in Vietnam's destiny and I find I need to speak out about Vietnamese issues.
Why should I support or not support another national presidential candidate? How dare I squirm for or against? How dare you violate my freedom?
Again, I do not worship any individuals, but only pursue values. Ensuring fundamental values, universal values ​​can contribute to creating great leaders. But leaders, anyone, are never allowed to stand above the values.
Love or hate someone is a personal emotion. For me, politics has no place for emotion. I need to say what I need to say, express what I need to express. Trump or Biden only has a term. But we Vietnamese people need to unite for a future for the country of Vietnam.
Because you are against a leader because you hate a president, you require others to wear the uniform of thinking, give yourself the right to blasphemy, take the hat off of those who do not express opinions, that is exactly immature people in political awareness," journalist Bach Hoan stated his opinion.
Lawyer Le Cong Dinh, on the other hand, said he was mistakenly attacked by the Trump madman, although he insisted that he was on the side of Trump's supporters. Before that he came up with a pun that mimicked Trump's slogan, and it was this parody that he was heavily attacked. He explained that:
"Many anti-Trump extremists, especially Americans, still believe that President Trump has 'fucked'America for the past four years. How "Fuck" is to invite you to the left-wing media to read, and do not understand that word in a single vulgar sense.
So, to poke those extremists, I wrote a statement predicting the results of the presidential election this morning, when the results were not clear: Make America fucked again!
Use President Trump's previous campaign slogans, and then use the word "fuck" in the same way that radical anti-Trumpists cursed him, punished him, and wanted to say that Trump would "fuck" America again 4 more years.
It clearly shows whom I supported in the fight between Mr. Trump and Mr. Biden."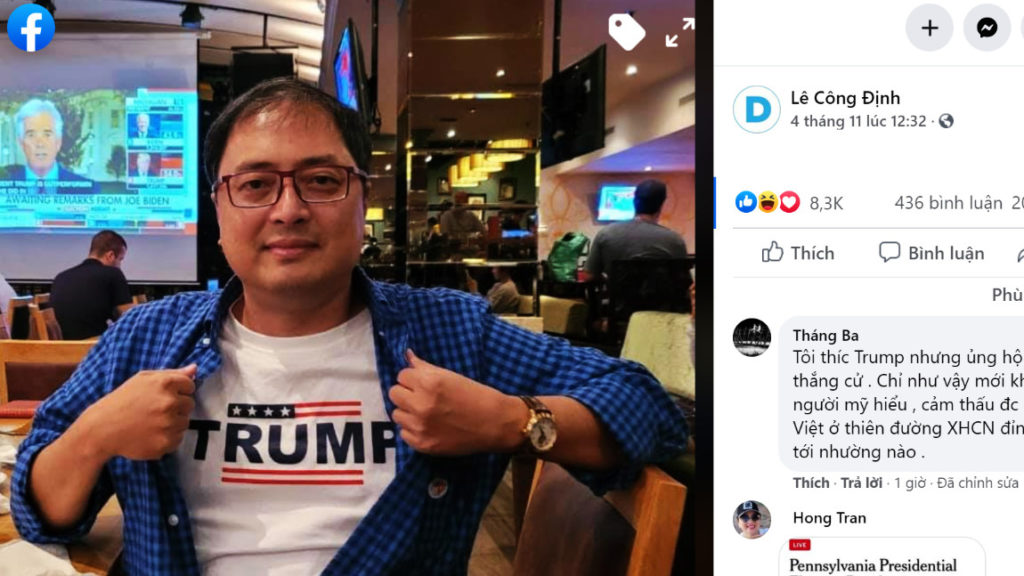 "However, many Vietnamese who supported Trump instead of understanding in that direction turned to curse me. They are so smart, surprisingly smart!
Even the Trump madman said that I "changed my course " when then posted a picture with the words supporting Trump … because I caught the wind that Trump would win. Read fast, understand slowly but cursing is so fast!
However, joking with one sentence and having to explain all ten sentences, it is tiring, what a mistake! Haha," lawyer Le Cong Dinh stated his opinion.
Writer Nguyen Vien made a more neutral comment, but still leaned in favor of Trump:
"Whoever serves as US president in the next term, this election shows that the number of people who love and hate Trump is quite balanced, even though the media have been describing Trump as a terrible bad guy over the past four years…
Perhaps no contemporary political figure has created so many mixed emotions. And there is also no character who can create so much tragedy between friendship and family love.
For me, with Trump, the world is more funny," writer Nguyen Vien said.
"Last week I was told goodbye by a dear brother living in the same city who deleted his friendship with me on Facebook. The reason, he repeatedly reminded 'Well, please don't write anything about my President anymore' but I did not follow," Mr. Vo Ngoc Anh from Tacoma city, Washington state, USA said.
"This is not the first time that my friends stop talking with me and end our friendship after I wrote about Donald Trump, although before that we were quite close in real life, we got together on many topics from politics, history, literature, socialization, to belief.
On the social network Facebook, I have friends from all regions, countries, different religions, not the same way of fighting, not the same interests … before, I still exchange many issues to learn from each other. But when they have learned that I think about Trump differently from them, there are many people stop interacting with me," Mr. Vo Ngoc Anh added.
Trump or Biden – "The wound of war" of the Vietnamese community recurs in the US presidential election
 "Traitor" or "Communist" is the reaction of Vietnamese in America to the news about the Vietnamese-American Supporting Biden group that went viral online last month.
Many Vietnamese supporters of President Donald Trump's re-election claim that Joe Biden, the presidential candidate to represent the Democratic Party, "adores" China and opposes the reception of refugees to the United States after the Vietnam War among many other reasons.
"The closer they get to election day, the higher their emotions were and the ability to act civilized together and listen to each other is no longer there," said My-Linh Thai, Washington State Representative, representing the Democratic Party. VOA commented on the conflict in the Vietnamese community before this year's US presidential election. The Vietnamese-Vietnamese congressman, who was a Vietnam War refugee when he arrived in the US at the age of 15, said that the divisions within the Vietnamese-Vietnamese community were "many times bigger" in the previous elections.
Thoibao.de (Translated)