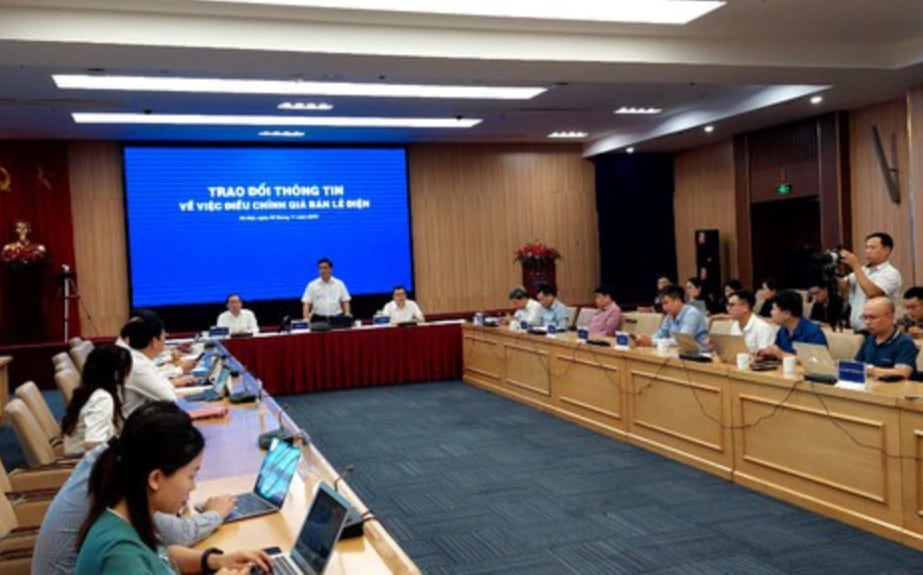 In difficult economic circumstances, the Vietnamese government's continuous increases in electricity and gasoline prices make people's already difficult lives even more difficult.
The Government newspaper on November 9 said "Retail electricity price adjustment from today, November 9." Accordingly, Vietnam Electricity Group (EVN) issued Decision No. 1416/QD-EVN dated November 8 on adjusting the average retail electricity price, up to VND2,006.79 /kWh (excluding value added tax), from November 9, 2023. This adjustment is an increase of 4.5% compared to the average retail electricity price before adjustment.
Lawyer Dang Dinh Manh discovered that EVN's decision to increase electricity prices violates the Government's regulations, because: "…stipulations that documents only take legal effect 15 days after being published in the Official Gazette." Meanwhile, EVN's document to increase electricity prices takes effect one day later, meaning it takes effect half a month early.
More importantly, for a long time, public opinion still considers Vietnam Electricity Group to be a state-owned enterprise with constant losses and wrong decisions. But clearly, EVN does not have enough authority to apply new electricity prices, contrary to the Government's regulations as just mentioned.
According to lawyer Dang Dinh Manh, this proves that the decision to increase electricity prices "… not only has a strong and profound consequence on the national economy, but also affects the lives of hundreds of millions of people and tens of millions of families… Only the Party has that authority."
Lawyer Manh's comments as well as public opinion show that there seems to be a major policy of the Communist Party of Vietnam for a long time, when they maintain EVN, and use it as something that spreads the blame, including increasing electricity prices, even though people's income has not increased.
That is, the General Director of EVN only acts as a puppet, signing an increase in electricity prices on behalf of the Party. Therefore, it is not surprising that EVN's leaders are guilty of heinous crimes, but still stay in position and advance, no one dares to touch them.
Public opinion was more shocked when on the same day, November 9, Dan Viet newspaper revealed: "With an additional VND3.2 trillion thanks to increasing electricity prices, EVN escaped a huge loss?" Accordingly, "… responding to the press this afternoon on November 9, a representative of Vietnam Electricity Group said that the group's revenue will increase by more than VND3.2 trillion, thanks to an increase in retail electricity price of 4.5 % since Nov 9."
That is, when EVN has an additional VND3.2 trillion thanks to increasing electricity prices, consumers – the Vietnamese people – will pay VND3.2 trillion from their meager income during difficult economic times. People are forced to fast and wear less clothes to pay more electricity bills to save EVN from losses.
For a long time now, public opinion and experts have affirmed that EVN has included losses due to investments outside the industry, such as hotels, swimming pools, golf courses… in the electricity price. Experts also provide evidence that the overseas study expenses of the son of EVN Chairman and General Director Duong Quang Thanh are also included in the price of electricity sold to consumers.
Specifically:
Facebooker Pham Minh Vu revealed that Mr. Thanh's annual income is about VND650 million (nearly $28,000), but he has to raise two sons who are studying in the US. In addition to his children's education, Thanh also has expenses for other luxury needs, so he has to increase electricity prices and pick pockets from people to meet his and his family's personal needs.
Other netizens further revealed that Thanh's eldest son is named Duong Thai Anh, and his second son is Duong Anh Minh. Duong Anh Minh is currently studying at private school Cheshire Academy, Connecticut, USA. This is a school that accepts students from grades 9 to 12, and prepares them for college. According to information online, to attend this school, each student must pay nearly $60 thousand/year. That is not to mention other costs of about $30,000 for food, accommodation, and travel. Thus, the student's family has to spend at least about $90,000/year.
That is why, public opinion has questioned the National Assembly member – General Director of EVN Duong Quang Thanh – that, his salary is VND650 million /year, where does the money come from to give to his two sons to study at Cheshire Academy, Connecticut, USA?
The information just mentioned has been widely shared on social networks and is known to many people, but Thoibao.de has not had the conditions to specifically verify it.
But clearly, information from Dan Viet newspaper revealed that, thanks to increasing retail electricity prices by 4.5% from November 9, EVN immediately had an additional VND3.2 trillion, and escaped huge losses, as Xi's representative said. Vietnam Electricity Group said that it is difficult to justify.
For a long time, public opinion has said that among Vietnamese officials in localities, no one can be richer than electricity directors, but now, this new information further reinforces that.
Thoibao.de (Translated)