Lawyer Ngo Ngoc Trai said that the Supreme Court on September 27, 1919 had rejected the petition of the households in Dak Nong to hold a meeting to review the case of Dang Van Hien. The refusal means it upheld the capital punishment in his case. How upholding of the death sentence against Dang Van Hien, a case which is particularly concerned by domestic and foreign public opinion, will affect the Vietnamese society?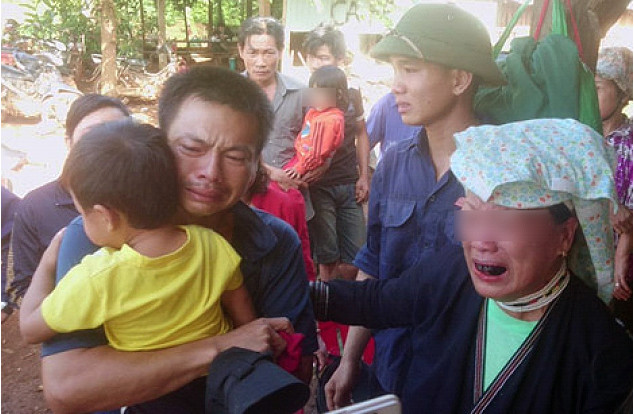 An article that authored "Doctor Thang" is being shared hundreds of times on social networks with the title: Unfair law! Why the law punishes the victim, not perpetrators?
With the following content:
Recently, the Higher People's Court in Ho Chi Minh City upheld the death sentence of Dang Van Hien – a farmer who was forced to kill attackers to protect his land. So, why did Mr. Hien kill ? What were the reasons and in what circumstances?
Hien and his family live in Dak Ngo commune. The peaceful life of a peasant without smoking nor drinking alcohol has completely changed when his property and land were stolen by Long Son company.
They mobilized a total of 34 people, using bulldozers and plows to level his cashew and coffee gardens.
They demolished his house, beat his relatives.
He decided to risk and shoot warning.
34 thugs continue to attack him.
He finally opened fire at them and this time three people were killed.
Hien has no other choice to protect his land!
So is Hien right or wrong?
Let's take some time back to a similar case, 90 years ago, when Vietnam was under France's colony.
Turned back to the history 90 years in the Noc NangField case, similar to that of Hien. When the two French officials came to confiscate the rice of farmers on February 16, 1928, so frustrated that the labor results were robbed, farmers fought back and Tournier – one of the French civil servants was shot in his stomach. On August 17, 1928, the Can Tho capital court was held, in which Mr. Dde Rozario sat in the judge's chair, after a long discussion and discussion, the court gave the final judegement: all farmers were freed. And that is how the French tried Vietnamese people!
90 years later, the Vietnamese tried the Vietnamese people, even though Hien surrendered and committed crimes while his spirits were agitated, frustrated and suppressed for 8 years and protected their properties, after 2 hearings, the perpetrators' sentences were reduced while his capital punishment remains the same!
I have never seen a "murderer" who was greeted and hugged by people when was going for surrendering.
I have never seen a "murderer" but when on the way to escort, when the car up the slope could not pass, that guy and his escort push the car up
I have not seen any "murderer" who burst into tears when the police came to pat his shoulder and ask: are you hungry?
I have not seen a "killer" that day he surrendered, had many hands grabbed, many hugs, and even wade tens of kilometers to see off.
His letter is being sent to the President for an amnesty.
I wrote to him – a miserable farmer. I wrote to him – the father of a four-year-old child. I wrote to him – the farmer was born in the wrong time.
And I pray for him – Dang Van Hien – my fellow countrymen.

I myself have used guns to protect every meter of border, more than anyone else I feel the pain of being invaded, perhaps the international court will not sentence us to death for killing the enemies to protect the country! Why do the corrupted state officials taking tens of trillions of dong from the state assets remain unpunished?!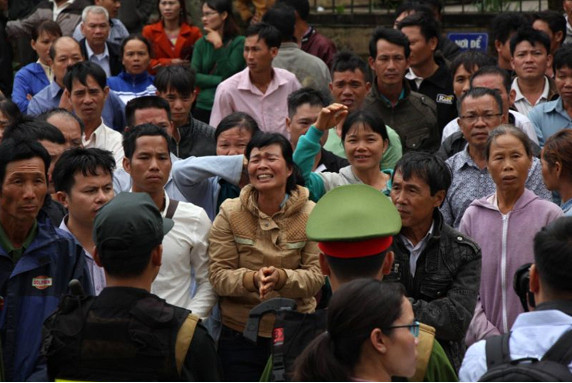 Lawyer Ngo Ngoc Trai said: "Actual trial in Vietnam, many cases of killing one person can be sentenced to death. Killing 3 people like that, like many other cases, it is not surprise that the court will give the heaviest sentence. However, in Mr. Hien's case, there are many other properties that suggest the need to apply other crimes such as 'murder in a state of high emotional incitement' or 'murder by exceeding the limits of legitimate defense' would be more satisfactory. Because it is clear that Mr. Dang Van Hien's behavior has such defensive properties. What about the court that judges without judging those elements, only assuming that the murder is of a hooligan character to execute and I think the sentence is not reasonable."
Attorney Le Cong Dinh affirmed that the court of death sentence for farmer Dang Van Hien is completely against the law, he explained: "Mr. Hien committed a crime in a state provoked by the flagrant law violations of the coercive team at his home and before he stopped the assault team staff he made warning, then he shot at those who came to attack him and the people in the area. Thus, Mr. Hien's act was legitimate defense. And one more extenuating circumstance is 'committing crimes while the spirit is agitated'."
Here, Mr. Hien almost did not intentionally kill, so President Tran Dai Quang received an application for amnesty and the court also proposed to his lawyer about this."
Lawyer Ngo Ngoc Trai said: "The Supreme People's Court did not review the case comprehensively so its final decision was not correct.
It is necessary to see Mr. Hien's shooting behavior in the long chain of escalating acts of violence from Long Son Company as well as the situation of insecurity in the locality that the security team of Long Son Company once caused the case intentionally inflicting injury on another case that leaves people with up to 70% of health harm."
The "surrender" factor was not considered by the court: Many people concerning about the death sentence of Dang Van Hien mentioned the factor of Mr. Hien because he obeyed the advice to surrender, and was not considered by the court to reduce the sentence.
Journalist Mai An Quoc, one of the people who directly persuaded farmer Dang Van Hien to surrender once wrote on his personal Facebook page, immediately after the appeal court upheld Hien's death sentence, saying that "he will no more actively persuading any accused to surrender because there are many companies which seize land by force" and "I see a more gloomy and fiercer future in the Central Highlands in particular and Vietnam in general regarding land conflicts …."

"At first, people were very suspicious of journalists. After meeting and gaining trust, they opened their hearts." Mai Quoc An, a journalist, recounted the "Surrender in tears" that he directly participated in from 10pm the previous night to 5am the next morning in forest to persuade Dang Van Hien.
Journalist Mai Quoc An wrote: At 5am on October 28, 2016, the motorbikes were wrapped in chains to carry us through the steep slopes and the misty sky, we arrived at the marina pulled by pulleys. Through the boat, people were waiting. We walk about 2km into the field.
Only for the scouts who were cut down, burned, people asserted: "This is the consequence of Long Son company caused!". There was a deserted house and Hien came out himself when we arrived. No scenes of repression, no scenes of handcuffs.
A reconnaissance asked Hien if he wanted to smoke in order to be calm, Hien refused because "I don't know how to smoke!". Many people also said that Hien did not smoke or drink alcohol.
And Hien burst into tears when he was asked by the officers on the shoulder and clapped, "Is Hien hungry?". Hien was not hungry, just want to say. Talking in tears.
Hien spoke and cried, and the people who came to lead the way also cried. Hien's story is also their crush. Facing land robbed without compensation or inadequate compensation, crops in the harvest period were bulldozed, houses were destroyed, and they and their families were beaten. That dawn Hien wanted to go out and save his wife but "people" did not give. Hien ultimately decided to risk.
The two police officers sitting next to Hien also blushed.
Also on the day of Hien's surrender, he saw many hugs and hands holding Hien's hand. There were many people who heard that Hien surrendered to the forest for tens of kilometers to see off Hien. I asked: Do you want to say anything before going to the investigating agency? Hien said in a negligent national voice: "I don't know what to say. I just hope my wife will raise 2 children well. Hope you can help my wife," Mai Quoc An recalled.
Lawyer Dang Dinh Manh on the evening of October 17 made his comment to RFA regarding the fact that Mr. Hien's surrender was not considered by the court: "With such a final decision, it has virtually invalidated one of the incentives for the offender to surrender. With that factor in mind, people now realize that it turned out to be of no legal value. Then of course it will form a way of thinking for those who later commit no need to surrender, because the factor of surrender will no longer be considered as a factor to reduce the punishment."
Lawyer Le Cong Dinh also said that the Government of Vietnam feared there would be political instability related to the long-term land problem caused by the policy of "common ownership of the people" and can be seen through the death sentence given to farmer Dang Van Hien.
"This is not a real legal case but a political case. Because the Vietnamese government places a political need to punish the reaction of landless farmers and send a message to the society that they will never take compromise in such cases."
Thu Thuy from Hochiminh city – Thoibao.de (Translated)