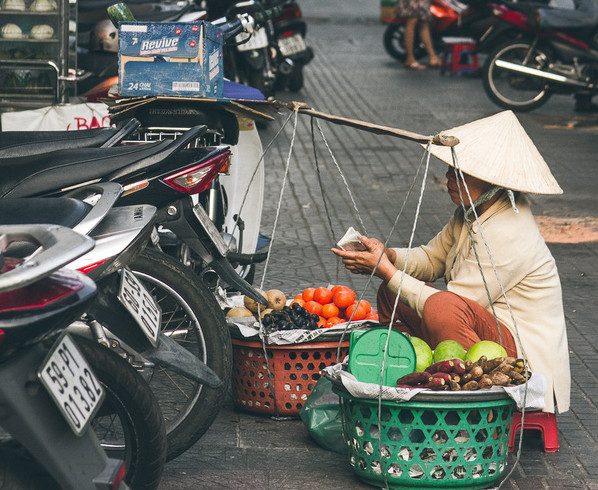 On August 15, 2020, on the VTV website, there was a short video titled "Street vendors struggling to overcome the COVID-19 pandemic to make a living, in which street vendors were called "parasites." This reportage was immediately met with angry reactions from people on social networks.
In an introduction to VTV's Curb Corner section, the reporter said:
"Many times in the section on the Curb Corner, we take you to the streets of Ho Chi Minh City. Tourist streets, or mainly for foreign visitors in Ho Chi Minh City, have become spoiled because of the COVID-19 pandemic. This week's sidewalk corner brings us to another corner, the story of street vendors that are closely tied to urban sidewalks. When the streets are out of life, how will the street vendors, which are considered parasitic on these streets, survive?"
As explained by the encyclopedia, In evolutionary ecology, parasitism is a symbiotic relationship between species, where one organism, the parasite, lives on or in another organism, the host, causing it some harm, and is adapted structurally to this way of life. In medicine, parasites or parasites are organisms that take up the organisms of other living organisms to survive and thrive.
Sociologist – Dr. Pham Quynh Huong stated her comment:
"I don't know what they mean either. Sometimes people just speak impartially, without discrimination, without judgment. If that's the case, then this is just a slip of the word. If VTV is negligent, the public response is correct and necessary.
If they discriminate or judge, it is not advisable. VTV is a formal channel, so it is impossible to show such stigma. In fact, migrant street vendors have clearly been discriminated against elsewhere. Even if we do not want to admit it is true, it is impossible because of the fact that VTV can use words complicit with such discrimination."
According to 2017 estimates by the French Institute for Development Studies (IRD), the informal sector workers (including the sidewalk economy) in Vietnam accounted for a large part of the workforce in the urban area, accounting for a quarter of total employment and half of all non-farm jobs.
According to the IRD, street vendors are everywhere in the cities, but it is impossible to know exactly how many people because they are constantly moving.
According to the same year statistics of the Ministry of Labor, War Invalids and Social Affairs, every year, about 1.2 million people migrate to cities, accounting for 20% of the urban population nationwide. A large proportion of them work in the informal economy, ie, no contracts, no insurance, no taxes and almost no management. Street vendors, for example. This informal economic bloc is said to account for 20% of the country's GDP.
Concerning a VTV reporter's statement about street vendors, Saigon-based lawyer Dang Trong Dung stated his opinion:
"Now in Hanoi as well as Ho Chi Minh City, street vendors are a reality. They sell all kinds of food. Such a trade is socially accepted because it is useful and legal. Calling them parasites is improper and heavy. I don't understand the young reporters at VTV, the editors dare to use the word 'parasite' with street vendors like that, it is insulting them."
Mr. Dinh Quang Tuyen, a street vendor in Saigon, expressed frustration with VTV when comparing the street vendors like him as parasites. He said:
"Street vendors are a human economic solution. They help to lighten the burden on the government greatly. If it were a serious government it would have an obligation to take care of their affairs. If not, then have to worry about social support for them. And here they did not ask for anything, they managed to overcome the difficulties themselves. The government must thank street vendors!
Street vendors are also a cultural feature, not entirely just economic. Street vendors not only help the government in times of economic crisis, but it is also a cultural feature that needs to be preserved."
Mr. Tuyen concluded that street vendors also make a profit for the government and the government has mentioned collecting taxes from them. They are not "parasites."
At the group discussion on socio-economic development and state budget at the National Assembly meeting on the morning of May 22, 2018, legislator Nguyen Manh Tien, deputy chairman of the External Relations Committee mentioned the principles causing the state to fail to collect taxes, resulting in a deficit for the national treasury.
This legislator gave an example that the sellers of iced tea in Vietnam's streets have the highest profit margin in the world, 50-70 times but do not pay any money to the budget, they only pay some symbolic money for the local authorities.
Talking about the report that called the street vendor a parasite, some local experts said that VTV should apologize to the audience.
Dr. Pham Quynh Huong said her opinion:
"In my opinion, if VTV is negligent, it should have an explanation and apologize. It's very good to do that, but in Vietnam, state officials have no culture of apologizing because they don't want to admit their wrongdoings.
Just like that, the person who made the mistake tends to avoid or ignore it so that he/she doesn't have to apologize. I'm also looking forward to how VTV will behave. I hope they apologize!"
Lawyer Dang Trong Dung also shares the same opinion. He said that street vendors are self-esteem people. They find their own way to make a living, not a burden on society. People should respect them. He said:
"Many street vendors raise their children to school. Perhaps what VTV should do is apologize for this. That's what the public is asking for."
Thoibao.de (Translated)
Source: https://www.rfa.org/vietnamese/in_depth/vtv-insults-street-vendors-dt-08172020140318.html