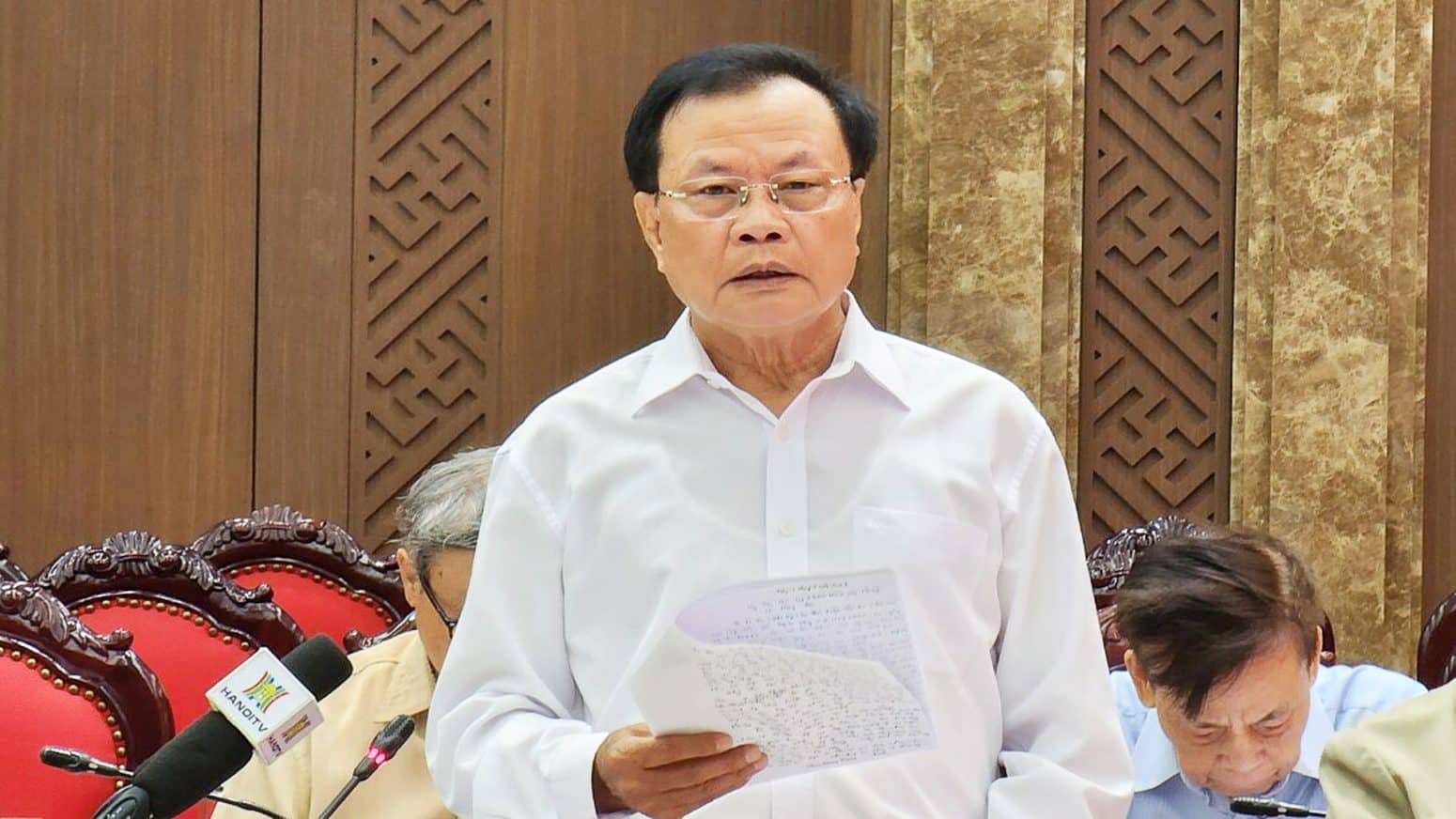 On the night of September 12, a 9-storey mini apartment building with 45 apartments on Khuong Ha street, Khuong Dinh ward, Thanh Xuan district, Hanoi, caught fire which killed 56 tenants and injured 37 people.
After the fire, according to VnExpress, Mr. Dang Hong Thai, former Vice Chairman of Thanh Xuan district – the person who signed the construction permit for the mini apartment mentioned above – said that he had signed a decision to sanction and enforce construction violations for this apartment building, and assigned to Khuong Dinh ward to implement, "I don't know what's next." That is probably Mr. Thai's way of denying responsibility.
According to the construction permit of the People's Committee of Thanh Xuan District, issued in March 2015, this mini apartment building, which is only allowed to build 6-storey individual houses, has a first floor construction area of 167 square meters. However, the investor turned the 6-storey residential building into a 9-storey mini apartment building, plus a rooftop, then divided it into 45 apartments for sale.
It is known that, "thanks" to this mini apartment fire, public opinion remembered that Pham Quang Nghi, former Secretary of the Hanoi Party Committee, "forgot" that in 2013, he once reported to the National Assembly that, Hanoi has ordered firefighting helicopters. However, it has been 10 years now, Hanoi people still do not know where that project is located?
Is it possible that because his name was mentioned, Mr. Pham Quang Nghi suddenly appeared, saying that construction projects that violate the law have their backs? Specifically, Tuoi Tre newspaper said that at the conference to collect opinions from former leaders of Hanoi city, on the draft "Capital Law" (amended) on September 18, Mr. Pham Quang Nghi, former Secretary of Hanoi (2006 – 2016) said that not only was the mini apartment building that burned in Khuong Dinh ward, Thanh Xuan district, built beyond the construction permit, but also many other construction projects. surpass levels and violate, but "behind are the supporting forces."
According to Mr. Nghi, in reality, there are constructions that violate, are fined for, and then left to exist. The investor "hopes to be fined to legalize the violation, because the profit from the violation is much greater than the fine."…
"Therefore, when dealing with it, the government not only confronts the project owner but also the "backing" forces. The city needs to strictly handle the responsibility of officials in allowing violating constructions to exist. If lower levels violate and are not handled, superiors must be considered," Mr. Nghi said.
Also attending the conference, Mr. Nguyen The Thao, former President of Hanoi in the 2007-2015 period, also said: "The policy mechanism has not clearly stipulated or defined what a mini apartment is. Therefore, it must be supplemented to overcome the problem of 'transforming individual houses into boarding houses, creating potential risks'."
Hanoi Electricity Management Authority said that currently in the capital, there are approximately more than two thousand mini apartment buildings operating underground. That means paying a fine to survive. So the amount of money bribed by mini apartment investors can be up to several thousand billion. Everyone knows where it went and whose pockets it was.
Observers and social opinion believe that Mr. Pham Quang Nghi's statement may make current Hanoi leaders feel cold, when the former Secretary of the City Party Committee affirmed that the management of officials, local officials imposed administrative fines and then let them exist, which is a form of legal accomplices and abettors of violations, so it is necessary to consider and clarify responsibility.
Perhaps this is also a way for Pham Quang Nghi and Nguyen The Thao to deny responsibility, to blame their successor leaders of the city. That means, Dinh Tien Dung – Secretary of the City Party Committee – and Tran Sy Thanh – current Chairman of Hanoi – must take full responsibility. As for the two former chairmen, Nguyen Duc Chung and Chu Ngoc Anh, they are in prison and do not know when their sentences will end.
Therefore, in this incident, the mini apartment owners and management officials at all levels in the area definitely committed a crime. Mini-apartment owners are guilty of expanding without permits, turning individual houses into mini-apartments, and doing business without meeting fire prevention requirements. As for civil servants at all levels who signed construction permits, civil servants who manage urban order, as well as manage fire prevention and fighting, etc., why haven't they seen any action?
Currently, only the apartment owner has been prosecuted and temporarily detained. When will the officials who back them be dealt with?
Tra My – Thoibao.de