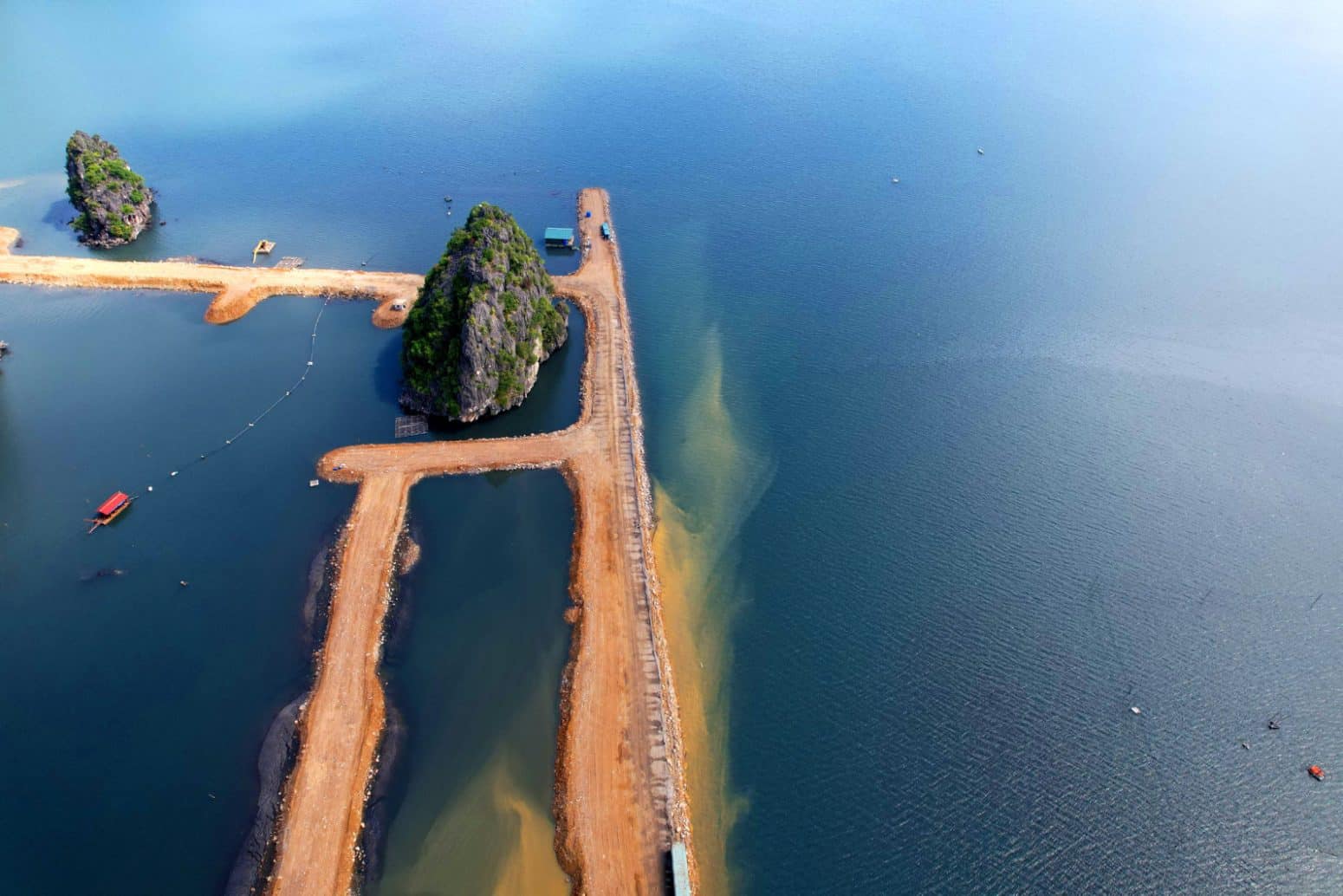 Story of Urban Area 10B Project in Quang Hanh Ward, Cam Pha City, Quang Ninh Province, located in the buffer zone of Vietnam's world natural heritage named Ha Long Bay – is exploited to the fullest by forces within the Party. They want to use this Project to attack Prime Minister Pham Minh Chinh, whom General Secretary Nguyen Phu Trong is determined to "eradicate" before retiring.
PM Chinh was a Lieutenant General of Intelligence, once held the position of Deputy Minister of Public Security, and is said to be a disciple of former Prime Minister Nguyen Tan Dung. Chinh was brought by Dung to become Secretary of Quang Ninh province for the 2011-2015 period, in a list of close figures, to serve the post-war plan.
When Dung was Prime Minister (2006 – 2015), which was also the period when Chinh was Secretary of Quang Ninh, knowledgeable people revealed that his wife Le Thi Bich Chan went to tour Quang Ninh for a week to "collect rent" for her husband for 2 days, the remaining 5 days, she stayed at Prime Minister Dung's house, helping the Prime Minister's wife with housework.
Having said that, it is not redundant for General Secretary Trong to be far away from Chinh. Because Trong, when in the position of General Secretary, made too many enemies and also incurred too much resentment against his comrades.
There has never been a General Secretary of the Communist Party of Vietnam like Trong. Since Trong became General Secretary from 2011 until now, he has often gathered friends and factions to fight with factions to bring down figures he does not like, most of whom are men of Dung or late President Tran Dai Quang.
It is worth mentioning that Dinh La Thang, Tran Bac Ha, Vu Nhom… and a series of deputy ministers of the Ministry of Public Security, juniors of Tran Dai Quang, were disciplined and imprisoned. But even though Trong's people committed more serious crimes, they were still safe and sound, like former Secretary of Ho Chi Minh City Le Thanh Hai is a typical example.
That is the reason why, according to well-informed people, more than anyone else, General Secretary Trong understands the age-old rule "fish eat ants, there will come a time when ants will eat fish." Therefore, initially, Trong intended to sit as General Secretary until his death, to ensure absolute safety. But for many different reasons, Trong's intention seems impossible. Because of his old age, weak health, and as time goes on, the reality shows that Trong has lost prestige in the Party.
Previously, General Secretary Trong had the intention of making a Politburo, of which 2/3 were close people; all four pillars are characters that he can control, after he retires.
But PM Chinh not only blocked the progress of National Assembly Chairman Vuong Dinh Hue, but he himself was equally ambitious. Chinh intends to take the position of General Secretary at the 14th National Congress in 2026.
General Secretary Trong must destroy Chinh at all costs, for such a reason.
However, at both Plenum, the 7th (in May 2023) and the 8th (October 2023), the plan to destroy the Prime Minister failed.
Therefore, the story of Urban Area Project 10B in Cam Pha, Quang Ninh, with an area of about 31.8 hectares, of which 3.88 hectares is in the buffer zone of Ha Long Bay, is said to be the continuation story of the decision to wanted to depose Pham Minh Chinh.
Surprisingly, the PM's reaction was extremely calm. Immediately after the incident surfaced, the Government requested the Ministry of Construction to preside and coordinate with the Ministry of Culture, Sports and Tourism, the Ministry of Natural Resources and Environment, and the People's Committee of Quang Ninh province, to check press reports, and request results to be reported before November 25.
Ironically, the person who signed the document just recounted was Deputy Prime Minister Tran Hong Ha, a member of the Ha Tinh faction, a character said to be a "spite" of Trong and his faction, with the purpose of monitoring the Government activities. At the same time, Deputy Prime Minister Tran Hong Ha, when he was still Minister, was also the person who signed and approved the project that Trong is trying to "examine and find fault with."
Public opinion is wondering, this project is named "Urban Area Project 10B" does it have anything to do with General Trong's reference to class 10B?
There are still doubts that it was a "trap" by PM Chinh and the Quang Ninh leadership, causing General Secretary Trong to collapse?
That is why, the press that sparked the case of filling Ha Long Bay to divide plots for sale, sank very quickly.
It seems that the Trong-Chinh fight still has many dramatic moments, and Trong and his accomplices still have many games to play.
Let's wait and see!
Thoibao.de (Translated)