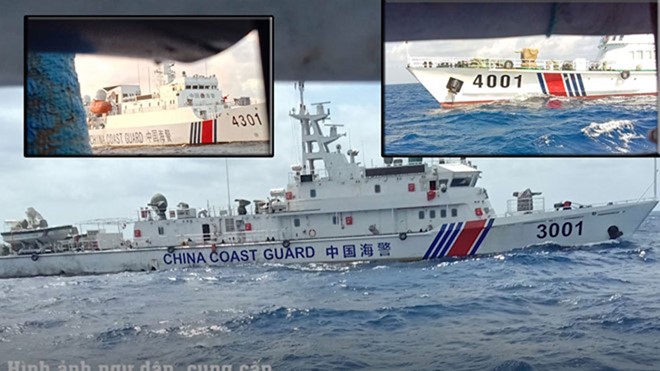 Since last year, Vietnam has been under constant Chinese pressure on territorial sovereignty in the East Sea (South China Sea), but the US under President Donald Trump has expressed its support for Vietnam and opposes China in the most powerful way.
The State Department's official statement regarding China's expansion in the South China Sea is becoming a fulcrum for relevant countries and Vietnam is moving closer to the possibility of upgrading its relationship with the US to defend its national interests when the country is at a weak and stalemate position against Chinese aggression.
In the Vietnamese BBC News article titled "Can Vietnam be pro-American and anti-Chinese?" Journalist Tran Dinh Thu analyzed the above possibility as follows:
More than a year ago, anyone who raised this issue would be opposed. I myself was also opposed to talking about that possibility on my personal Facebook page, although I spoke with reservation.
But the fan page of the Chinese Embassy in Hanoi posted a letter from the editor-in-chief of the Global Times to "Say a few words to the Vietnamese people," which reminded Vietnam not to "develop relations with the US to contain China," in other words, he warned Vietnam not follow the US to fight against China. It makes many people feel that the issue can be discussed more seriously.
The question is whether Vietnam, with a political institution that is so different from the US, can become close to the US like its ally to control China.
Human history has a reference in World War II, when British French and French stood on the side of the Soviet Union against the fascists. At first hesitated, but later for the common interests, those countries accepted.
In principle, if both parties are harmed by a third party, they can work together temporarily to fight the third party.
Theoretically, the case of the US and Vietnam can be considered the same.
Vietnam has been pressured by China in the South China Sea, the US is affected by freedom of navigation, so the two sides can join forces to fight China is not too difficult to understand.
There is a need to worry about changing political institutions?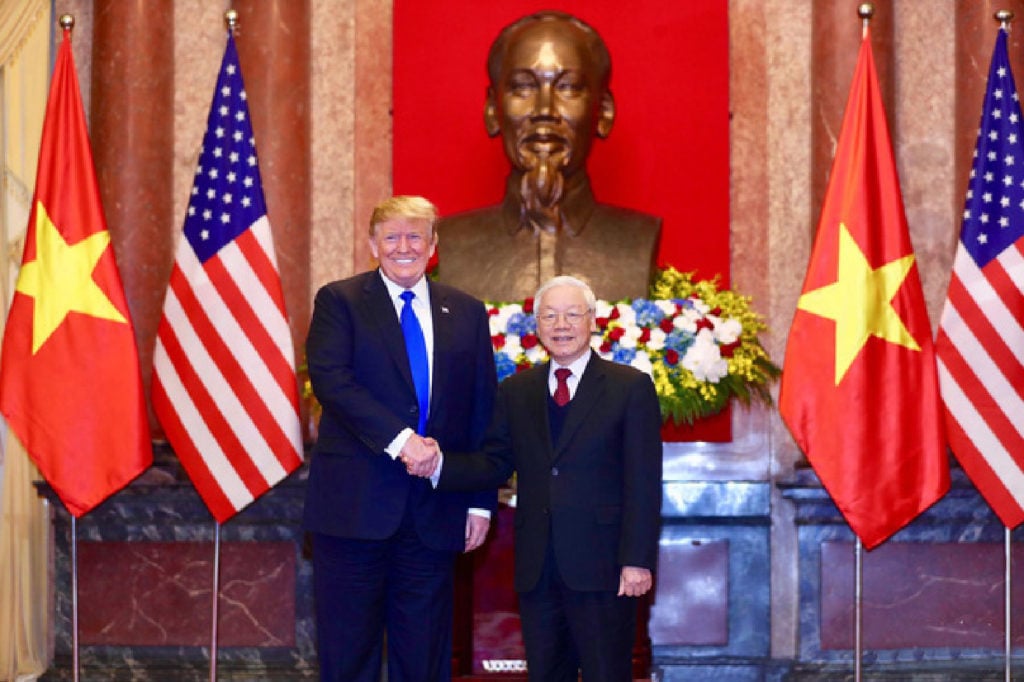 This is the problem by which many people do not believe that the Vietnamese leadership has turned its axis towards the US to restrain China.
And also the editor-in-chief of China's Global Times Hu Xijing reminded the leaders of Vietnam when writing "China and Vietnam are both socialist countries, most socialist countries in the world have collapsed, being a neighboring country of China, Vietnam can maintain a stable political situation, the biggest potential strategic support comes from China's political stability. Vietnam is very difficult to endure for a long time alone."
That is of course a brainstorm that makes Vietnamese leaders hesitate. Will they be able to overcome this warning?
If so, is there any calculation?
Indeed, if they were worried, they would not have become so close to the US today.
But today Vietnam is quite close to the US and has some strong reactions to China on the East Sea (South China Sea) issue. In addition, Vietnam is also cooperating with the US to combat trade fraud from China.
So they didn't need Hu Xijin's reminder that they had already planned.
The problem is how far they will go.
Anti-Beijing, pro-American, but not multi-party?
This may also be a model of Vietnam for the time to come as long as it is appropriate.
Siding with the US to restrain China but keep the old political regime.
However, the color of socialism may fade out accordingly. Partially expanded democracy is possible but there is no multi-party.
But without multi-party democracy in the short term, will it satisfy the people's aspirations?
In conclusion, I would like to share that a previous survey from Singapore showed that 80% of the Vietnamese surveyed said that they liked Vietnam to have good relations with the US. This rate is the highest in ASEAN.
At the same time, Vietnam is also a country with a very high proportion of people who do not trust China.
So if the Vietnamese leadership pivots to side with the US against China, then I think it will meet the people's aspirations and that will have an impact on the development in general," journalist Tran Dinh Thu reached a conclusion.
Global Times: Vietnam will lose all if goes with the US to strengthen forces in the South China Sea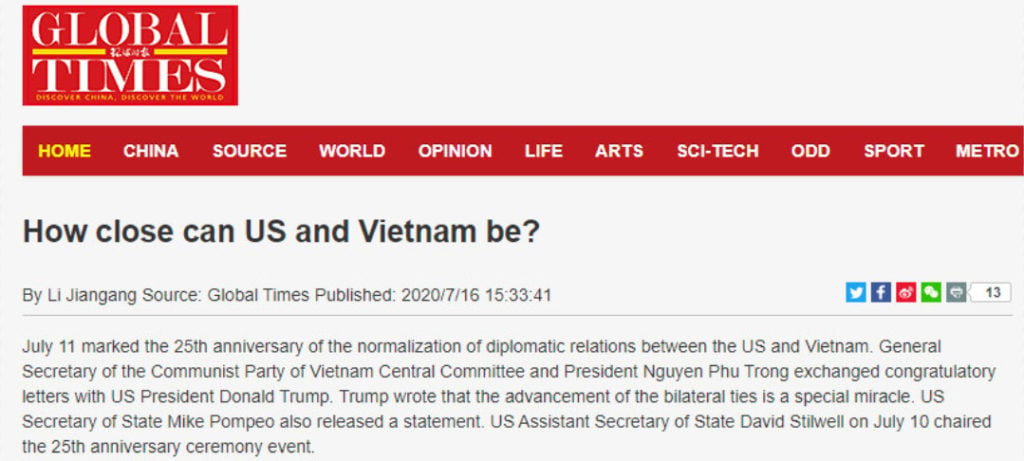 On July 16, China's Global Times warned of a Vietnam-US strategic relationship that Hanoi was pursuing, saying that Vietnam would "have nothing" if US intervention in the South China Sea created more tension or disrupt the balance of Sino-Vietnamese-American relations. While domestic observers told VOA that, "in terms of two relationships, relations with the US must be prioritized."
The article was titled "How close is the US and Vietnam?" by author Li Jiangang of the Institute for South and Southeast Asia and Oceania at the China Institute of Contemporary International Relations, alleges that Washington "does not care about morality and justice," and intervened in issues of Southeast Asian countries, including Vietnam.
"Vietnam has long been a country that the US wants to capitalize on to prevent Chinese geopolitics," the article wrote.
Hanoi hopes to swing with Washington to strengthen its strategic power in the South China Sea … But if US involvement in the South China Sea raises regional tensions or disrupts the balance between China and Vietnam and America, the development of Vietnam will be interrupted. Vietnam's losses will be greater than what the country could gain.
The Global Times wrote: "Hanoi hopes to swing with Washington to strengthen its strategic strength in the South China Sea. This is a strategic choice that Vietnam addresses the needs of national strength and the regional situation."
"But if US involvement in the South China Sea raises regional tensions or disrupts the balance between China, Vietnam and the US, then Vietnam's development will be interrupted. Vietnam's losses will be greater than what the country could gain," the article wrote.
The newspaper also wrote that Vietnam must have been "familiar" with US "tricks," saying that Washington has never given up its efforts to promote "color revolutions" in Hanoi, or "took advantage of various social issues such as democracy and human rights, to vigorously stir up conflicts in Vietnam."
From Ho Chi Minh City, political commentator Quang Huu Minh analyzed with VOA the reason why China does not want the US and Vietnam to elevate their bilateral relations to a strategic partnership as mentioned by the Global Times.
"China needs to prevent Vietnam – US from becoming a strategic partners. Right now, Vietnam – US relations are lower than Vietnam – China relations: Vietnam-China relations are comprehensive partners, while Vietnam – China relations are strategic partnership."
"If China leaves Vietnam to boost defense cooperation with the US, it is likely that Chinese ships will be expelled from the South China Sea, or in Vietnam's waters, to be very large. Because once Vietnam signs a defense cooperation with the US, US warships will be regularly present in Vietnam's waters. But so, strategically, China is at a disadvantage."
"China made up the story that the US wanted to overthrow the Communist Party of Vietnam or disturb the Vietnamese internal affairs. I think China is more likely to provoke a wave of Vietnamese people attacking US President Donald Trump than Vietnamese people who have a real need to attack the American President."
"Considering the three reasons just mentioned in the current context, Global Times is entirely motivated to do so."
From Hanoi, human rights activist Tran Bang said that China has long "never given up the plot to sabotage or invade" Vietnam and that Beijing's tactics are to prevent the ever-closer relationship between Ha Noi and Washington. Therefore, he said that Vietnam should prioritize its relationship with the US.
"Considering the two relationships, the relationship with the US must be prioritized."
"So Vietnam should continue to keep bilateral relations with China, especially in trade and investment, but not political issues."
"I think upgrading diplomatic, political and military relations with the US is good for Vietnam."
At the beginning of the week, Global Times Editor-in-chief Hu Xijin wrote an article saying that "we will oppose the use of Vietnam-US relations against China in any way."
The Chinese embassy in Hanoi on July 13 posted to their official Facebook page an article by Mr. Hu Xijin, with the general idea that the US building a good relationship with Vietnam was purported to be affected Sino-Vietnamese relations," as well as to turn Vietnam into "a pawn in the US strategy of pinching China."
On July 16, responding to a question asking for Vietnam's views on the article by Mr. Hu Xijin, Foreign Ministry Spokesperson Le Thi Thu Hang affirmed: "In a world of integrated development like today, Vietnam believes that the countries' goodwill and the development of friendly relations with each other is an inevitable trend and contributes to peace and stability in the region and the world."
"Vietnam persists in the external policy of independence, autonomy, diversification, multilateralization of international relations and intensive international integration, developing cooperation with all partners on the basis of mutual benefits, respect for international law, for peace, stability, cooperation and development of the region and the world."
"We expect countries to share this view," Ms. Hang said.
According to Tien Phong newspaper, Hu Xijin's post was quickly removed from the Chinese Embassy's page, after receiving a series of condemnations from Vietnamese readers.
Thoibao.de (Translated)