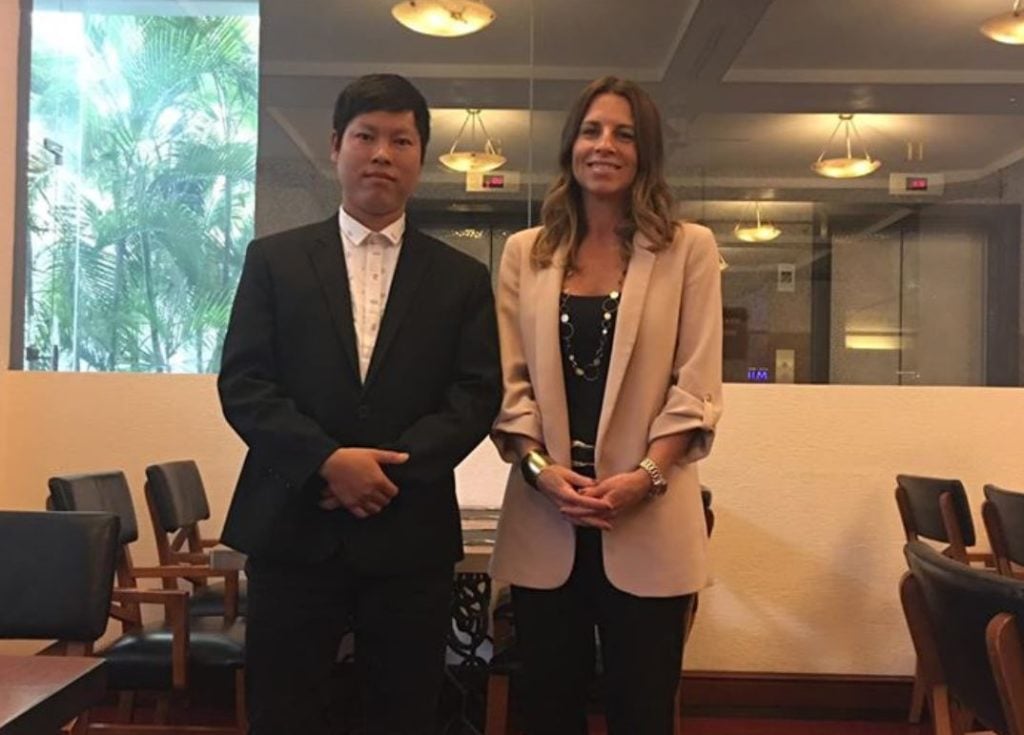 After attacking Hoanh village in Dong Tam commune to brutally kill Le Dinh Kinh and rob all documents and papers of 59-hectare Senh field as well as arrest nearly 30 local residents, the security forces are still holding surveillance to threaten the villagers or anyone who wants to get close to the scene of the massacre.
Social activist Trinh Ba Phuong was the one who gave the earliest and authentic news because he was trusted by people in Dong Tam, while dozens of security guards were always surrounded and even detained him for hours right on the day of the attack (Jan 9, 2020).
Yesterday (Feb 6), Mr. Phuong met with 3 staff of the Political Bureau of the US Embassy – represented by Ms. Michele Roulbet, head of unit
"The meeting lasted for 2 hours, and I reported the story of police's attack on Dong Tam on Jan 9. I also handed over the call of widow Du Thi Thanh for help to US's diplomats.At the end of the meeting, officials asked me what are the requests of me and the suffered families in Dong Tam with the US and the international community, and I answered that the suffering families in Dong Tam asked the international community, especially the US government to pay attention to their case and pressure Vietnam's communist government to carry out independent investigation into the incident in Dong Tam on Jan 9 in a bid to bring justice and freedom of 27 villagers who are held in police custody and charged with murder for the deaths of three police officers who were reported to die during the attack on villagers last month.
People want the Magnitsky human rights act to be applied in this case. It is necessary to punish officials who have ordered and organized bloody persecution of the people of Dong Tam. I hope that the US can monitor and use measures to find other resident being killed along with Mr. Le Dinh Kinh.
US Embassy responded that it will study the proposals carefully.
I also informed them that police and the state-controlled media, including the Vietnam Television (VTV) have been threatening to arrest me. Ms. Michele Roulbet responded 'We do not expect you to be arrested, but if they are arrest you, we cannot promise to get you out, however, we will do everything for you.'"

Mrs. Du Thi Thanh, the widow of killed Le Dinh Kinh, sent a letter caling for help. The content of the letter recorded the horrific incident caused by Vietnam's Ministry of Public Security, headed by General To Lam on Jan 9.
1 / At 3am, I heard a lot of noise outside like cars roar, footsteps, knocks of clothes, etc.
2 / When I look through the glass window, I saw a lot of well-equipped armed forces pointing guns at my family's house.
3 / The police force and the police started shooting and attacking my house with explosives, lumps of smoke and pomegranate grenade, which made it impossible for me and my children and grandchildren to breathe. They fired both guns into my house and continuously fired tear gas and grenades.
4 / I just took a wet towel and gave it to my husband and stayed with him for several hours. My children and grandchildren both ran up and down to breathe because the house was full of smoke and tear gas.
When the policemen moved and dragged my hand to the street, my husband was still alive inside, but did not see them dragging him out.
Next, my descendants were arrested, beaten and dragged out.
6 / – They threw us into the car and drove to the Mieu Mon police station.
They made us kneel down to answer their questions and were willing to beat our mouths and nose if people did not respond to them.
I saw them beat Mr. Bui Viet Hieu to unconsciousness and then injected water to him, but Mr. Hieu was shocked because they made water injection too fast. Mr. Hieu was put on a stretcher and carried out immediately.
I saw all Dong Tam people arrested being hurt with a lot of injuries on their bodies. There were also broken ribs, jaw bone …
Du Thi Thanh myself was slapped by the police repeatedly in the face as they forced me to make a false statement that my husband was holding a grenages in his hand. I was hit in the head to the ear so far still shocked and buzzing in both ears, they hit my shin very badly.
My nephew Le Dinh Uy was shot in the right hand by a bullet at home but when he went to the police station, he was still beaten and tortured miserably.
My daughter-in-law Tran Thi Huong, my nephew-in-law and two grandchildren who were sleeping at their own home were also arrested and taken to the police station in a state of severe tearing, a great-grandchild at 2 and a half years old, a three-month- old great-grandchildren still suffers from severe pneumonia due to the smoke and tear gas.
8 / But it took us nearly 3 days to get into our house because all of them were blocked and surveyed. The home-hunting force took all the evidence to prove that Senh field was an agricultural land that my husband kept carefully for decades. From our house, they took VND5 million we left in a pocket.
The car of my daughter-in-law, who is paying in installments at VTB bank, was also driven away. In addition to their sales, necklaces, and wedding rings, were also taken by police.
The safe of my second son, Le Dinh Chuc, was with VND13 million for his wife to give birth and the insurance certificate of the children going to school also lost, the next day they returned only he paper without mentioning about our money.
9 / I did not see my second son Le Dinh Chuc in the police station on Jan 9. Until now, the police have not informed us about him. Someone said he was shot to death.
Up to now, the police attack on my house has been happening for nearly a month, but my family and other families in Dong Tam commune have not heard anything about the people who were arrested on Jan 9. I do not know who are still alive and who have died.
It was an unannounced trip and had to leave early to be undetected or prevented, said Dr. Nguyen Quang A, he said:
"Actually we came to light incense for Kinh, that is an important motivation. Second, we want to meet his relatives and people who have been arrested to encourage them, so that they do not feel lonely. Another purpose is to see the scene as well. It is said that the families of the detainees still, every day or every few days, are summoned to the police for interrogation and intimidation. They told us and they were very worried."
"When I came to Mrs. Kinh's house, almost all family members were present at that time as well as many of us burst into tears, listening to relatives were very touched. The situation is very difficult for the families where relatives are arrested, especially the two families with both husband and wife being arrested and the children rely on their grandparents. The old grandparents also suffered such a strong shock."
"Going to the cemetery to burn incense for Mr. Kinh, we felt a little heart-warming because we saw many garlands placed in his grave.
Time to visit only takes about 2 hours, Dr. Nguyen Quang A continued, but everyone feels that the gloomy atmosphere there may last forever.
"Before we went we also calculated that we could face difficulties, so we really were trying to go early to minimize the risks. Along the way to the village, the road is difficult, we have to ask two or three places, but the children and the people we asked were very devoted. We didn't encounter any problems along the way to and from the way back."
A companion in the delegation, Ms. Dang Bich Phuong also said the stress, anxiety and fear of the murdered family member was arrested on Jan 9: "I was the first person to enter that house. Seeing people come in, they got up, just saluted and cried. Just know how to hug and cry and can't say anything."
"Back then, a year ago, when we arrived, there was nothing. And by the time they entered, an entire empty house had only the altar there. Just say it is crying. When the mother of the captured children was met, they were forced to send them back to their grandparents. These farmers, they don't really understand the Law, they just say 'Please do something to bring them back.' At that time, I was just crying like that."
According to him, for many people he met in Dong Tam, the gunshots rang in the middle of the night, the instant death of Mr. Kinh and the 23 people arrested were still intact in a big shock:
"I just thought I was simply going to see if people were saying it right. Firstly because of willingness to know the truth, and secondly we want to share with suffering people, including four Catholic followers being arrested.
The main thing is that more than 20 people were arrested and charged with murder. I'm also afraid, but fear doesn't stop me from having to seek the truth, that's more important. "
"Actually, the people there were very scared, I went to the parish church to meet the local priest, however, he was not at home while we do not know local residents. After knowing I am a priest, they began to share, but it is also in the same reserve."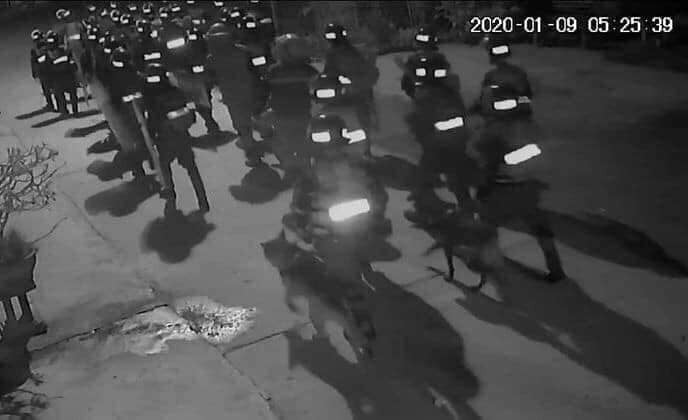 Even though it was just a quick meeting, the priest continued, he still felt something very profound: "People also do not understand why such a thing happened, why the State acted like that. Because for Dong Tam people, they still believed in the State, met everyone they said they believed in General Secretary Nguyen Phu Trong's fight against corruption. They are politically naive. Until the day they were beaten up, they were surprised, they could not understand what the State caused them, especially the killing of Mr. Kinh. For them it is a big shock!"
The propaganda system of the Party and the Government of Hanoi so far accuses Dong Tam people of being a danger group opposing the government.
Therefore, according to Ms. Dang Bich Phuong, to met face to face with victims of violence in Dong Tam, her only and greatest wish for those who care is to ask for independent civil society organizations and the independent media to continue to speak out to bring justice for the detainees from Dong Tam.
Only honest and honest communication can save Dong Tam, Ms. Dang Bich Phuong concluded.
Vietnam is a country with nearly 100 million people, they are still living under the rule of a small group in the Communist Party based in Hanoi.
Closer to the 13th Communist Party Congress, the act of attacking and persecuting people in the whole country becomes more and more fierce, creating unprecedented tragedies, even the lives of aging party members may be taken by senior officials.
People across the country have clearly seen the barbaric face of this bloodthirsty group. When the time comes, the killers will have to pay for all cruel acts against the people.
Trung Hieu from Hochiminh city – Thoibao.de (Translated)