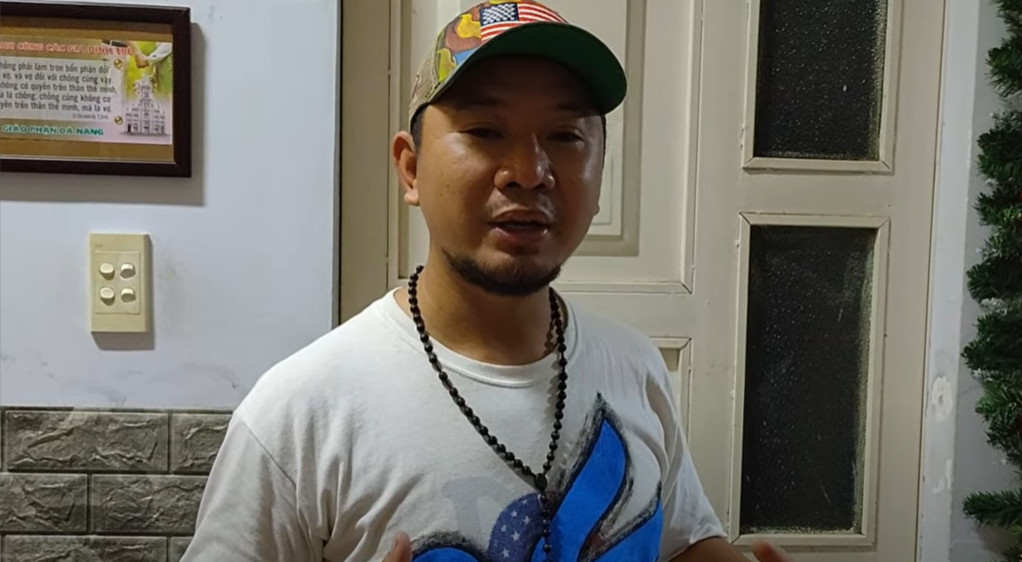 Activist Bui Tuan Lam was arrested on September 7 by the Da Nang police on charges of "conducting anti-state propaganda." Mr. Lam was arrested after being summoned twice for posting a parody video of "Holy Sprinkle Onions" in the style of European chefs serving high-ranking Vietnamese officials.
Ms. Le Thanh Lam, the wife of Mr. Bui Tuan Lam, reported the house search and the arrest of her husband on the evening of September 7:
"They went into the house to mentally suppress all family members, including the elderly and children."
"They read the warrant to search the house, and Mr. Lam came in and said, 'Freedom for Vietnam.' When he went up the stairs, Mr. Lam sang the song Which Way God Walking. But in general, they don't let him sing, they don't let him do anything."
"They rummaged through every nook and cranny, took away 3 human rights t-shirts, 1 karaoke microphone, 1 book of Trinh Cong Son music, and seized Mr. Lam and my cell phones."
Human Rights Watch (HRW) on September 8 voiced the government's arrest of activist Bui Tuan Lam.
Phil Robertson, HRW's deputy Asia director, said in a statement: "Vietnamese authorities routinely refer to any comment they don't like as 'anti-state propaganda', making Vietnam one of the most fragile governments in the region when it comes to public criticism. In this case, they arrested a beef noodle vendor who dared to mock the Minister of Public Security for buying a steak worth $2,000 during an overseas trip."
"Mocking is a legitimate form of expression that should not be considered a crime. Vietnam should repeal Article 117 of the Criminal Code for abuse of power, and immediately release Mr. Bui Tuan Lam and others locked up for simply expressing views that the communist party does not like," Mr. Robertson emphasized.
Mr. Bui Tuan Lam sprinkles onions in a bowl of beef noodle soup, mimicking the style of chef Nusret Gokce, who is famous in Vietnam after serving gilded beef to Minister of Public Security To Lam, in the video posted on his personal Facebook page on November 10.
Mr. Bui Tuan Lam, 38, was summoned twice by the police shortly after in November 2021 he posted a video of himself serving beef noodle soup in the style of imitating a famous Turkish chef, Nusret Gokce, who served gilded beef to the Minister of Public Security To Lam at a restaurant in London. However, Mr. Bui Tuan Lam said that the video "Holy sprinkles onions" that he made was not intended to target a specific individual.
"From 2013 up to now, Mr. Lam regularly uses social networks to post many articles, videos and live streams with content that distort the guidelines, guidelines, and policies of the Party and State; promoting activities against the Party and State," Vietnam's state-controlled media reported.
Mr. Bui Tuan Lam was also accused of posting and sharing "posts that insult the leader, insult the reputation and honor of law enforcement organizations and individuals with the aim of changing the socialist state regime in Vietnam, causing confusion and frustration among the people."
Asked if the video of Thanh sprinkled onions – which later became the name of Mr. Lam's YouTube channel – was the reason for his arrest, Le Thanh Lam, told VOA:
"It is too unreasonable to arrest my husband based on his video clip because that clip does not violate anything. It's just a parody of a salt sprinkler in a foreign country. It doesn't affect anyone at all and doesn't break the law. If they use that clip to arrest my husband, it's too much of a trampling against the law."
Lam said that after posting this video, her husband was summoned twice by the police and the government sent someone to her and her husband's residence to monitor.
From Hanoi, human rights lawyer Le Quoc Quan stated the Vietnamese government's arrest of activist Bui Tuan Lam:
"The arrest of Mr. Tuan Lam is a step forward in the state's actions on terrorism, arresting activists, from those with the names of an organization to independents who dare to dare to speak up."
"This is an increase in the state's repression of civil society organizations or individuals who dare to speak out against society with the desire for a democratic Vietnam and respect for different opinions."
State media quoted authorities as saying that Lam was a member of a number of so-called "Civil Society Organizations" which were in fact "anti-Party, State and other anti-Party and State organizations and exile reactionary groups."
Thoibao.de (Translated)